Janashakthi wins Global Brand Excellence Award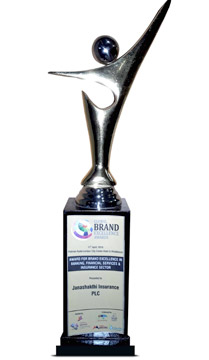 Janashakthi Insurance PLC was awarded the Brand Excellence Award in 'Banking, Financial Services and Insurance' category at the Global Brand Excellence Awards 2016 in Kuala Lumpur, Malaysia recently.
The award recognised Janashakthi's efforts at establishing its brand identity through the use of various communication channels.
Chief Executive Officer, Janashakthi Insurance, Jude Fernando said, "The award is a testament to the tireless efforts and bold choices made by our team to ensure the effective implementation of our brand strategy in delivering high quality service to meet customer expectations on a daily basis."
"Bolstered by recognition on a global platform such as this, we will continue resolutely on our journey of lighting the lamp of insurance in every home and work place," he said.
An endeavour of the World Brand Congress (Asia), the annually conducted Global Brand Excellence Awards recognises brands for its brand equity and performance, strategic market positioning, creation of customer value, innovative marketing campaigns and its vision for CSR and sustainability.
Janashakthi has been recognised locally and internationally at various fora such as SLIM Brand Excellence, CMO Asia Awards, Effie Awards and the World Brand Congress for marketing excellence, CA Sri Lanka and SAFA Awards for financial excellence, NBQSA and BCSCIIT Awards for its IT abilities, and the National Business Excellence Awards for business excellence over the years. Janashakthi was further recognised for its HR training practices at the People Development Awards of the Sri Lanka Institute of Training and Development, consecutively since its launch in 2013, a company press release said.-