D.B. Nihalsinghe's funeral today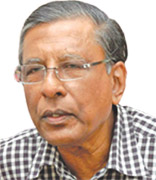 The funeral of veteran film director, cinematographer, editor and producer, Dr. D.B. Nihalsinghe will be held today at 10.00 am, at the General Cemetery, Borella. Marking the end of an era, Nihalsinghe, who was honoured with the title 'Professor of cinema and television' passed away on Thursday, April 21, at the age of 77.
Nihalsinghe was awarded the Cardiff Commonwealth Film Festival award for his first film, Bhakthi in 1971 and Kelimadala (1992). He won a dozen awards at the Sarasaviya Film Festival, the highest number of national awards won by a movie at that time. Kalakeerthi Nihalsinghe's most famous cinemtic production Welikathara was South Asia's second Cinemascope, the anamorphic lens series used, and Sri Lanka's first. It was among the 10 best Sri Lankan films presented at the Sri Lanka Presidential Awards.
He was also the pioneer who introduced professional television production to Sri Lanka in 1979 with Dimuthu Muthu, the first colour teledrama in Sri Lanka.
Apart from being a versatile director, he was also an administrator and a teacher. Nihalsinghe was the founding Chief Executive Officer and General Manager of the Sri Lanka National Film Corporation and together with the University of Kelaniya, he initiated a Degree program in the film and television industry where he worked as a visiting lecturer as well until recently.