The Secrets of the Whirling Dervishes
Ahmed Dede Pattisahusiwa, Master of the Whirling Dervish Meditation and one of the most devoted followers of Jalaluddin Rumi, the great Sufi, Saint, Poet, Mystic and Scholar, will be conducting several Whirling Workshops for the public in Colombo and Galle till May 2. The sessions commenced on April 18.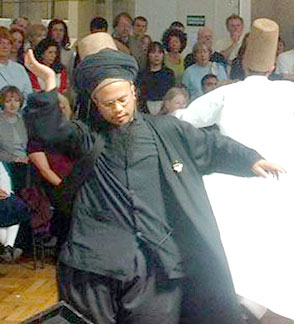 Ahmed Dede Pattisahusiwa, with eastern roots and a western upbringing (Indonesia and Netherlands respectively), presently leads the Haqqani-Mevlevi Sufi Order. He has made it his life's mission to propagate the teaching of Jalaluddin Rumi. Pattisahusiwa travels the world, preaching the spirituality of love and conducting workshops in the art of meditation through whirling. Spreading Rumi's 'Religion of Love', he strives to repose in the hearts of the discerning seeker the secrets of meditation through whirling.
He is guided by Rumi's vision of love that transcends the bounds of cast, creed and colour:
"What can I do, Muslims? I do not know myself. I am neither Christian nor Jew, neither Magian nor Muslim,
I am not from east or west, not from land or sea, not from the shafts of nature nor from the spheres of the firmament,
Not of the earth, not of water, not of air, not of fire. I am not from the highest heaven, not from this world,
Not from existence, not from being. I am not from India, not from China, not from Bulgar, not from Saqsin,
Not from the realm of the two Iraqs, not from the land of Khurasan. I am not from the world, not from beyond, not from heaven and not from hell.
I am not from Adam, not from Eve, not from paradise and not from Ridwan.
My place is placeless, my trace is traceless, no body, no soul, I am from the soul of souls."
Whirling is not just a technique, whirling is not just a dance or simply a meditation. Whirling is learning about Love and connecting the heart with heavens. In reality, behind the 'veil' of whirling there is a spiritual opening. Whirling becomes a 'door' in the form of an active meditation that aims to help the Lord's servants to experience unity and annihilation so that only God's beauty manifests through them.
So:
"Come, come whoever you may be, Come again,
And be you non believer, Magian or idolater, Come again,
For Ours is not a Dergah of despair!
Though you may have broken Your repentance a hundred times
Come Again and Again"
(The above is from the Sufi Poetry of Jalaluddin Rumi)
The dates and times of the workshops:
Colombo:
April 24 - from 7.00 p.m. to 10.00 p.m. at the Sports Ministry Auditorium, 09, Philip Gunawardana Mawatha, Colombo 07.
April 29 - from 7.00 p.m. to 10.00 p.m. at the Women's International Hall, 16, Guildford Crescent, Colombo 7.
Tickets available at: at the counter, at www.ticketslk.com, ticketslk office
For further details,
please contact:
Imtiaz: 0777578884, Rasheda: 0777351622, Rose: 0769122778
Email: [email protected]