Minimalism and purity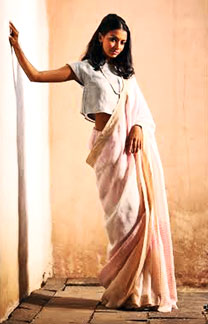 Defining the quintessence of 'pure' in Sanskrit, the organic purity of textured linens in Anavila saris will be brought to life at Colombo's exclusive sari store Rithihi on April 29 and 30. Renowned for its' soft fluidity which complements various drapes and silhouettes, the all natural linen textures makes wearing a sari easy, with a touch of the youthful.
With a design aesthetic that embeds minimalism and purity as the brand itself characterises, Anavila's design philosophy is constructed through pure organic detail, harmonising textures and technique inbuilt into the fabric, to draw out a subtle beauty that lies at the heart of its delicate primitiveness.
Anavila Misra, the Founder and Textile Designer of Anavila Mumbai has showcased a number of collections in India including the collection titled, 'The Secret Life of the Forest' at the Spring Resort 2014 Collection of Lakme Fashion Week and the 'Santhal' collection inspired by the Santhal women of Jharkand.
A sari wearer herself, she says, "I like it comfortable, unstarched and unclipped, with a free falling pallu which you can drape around yourself the way you want."
This is the sari she promotes in her design, soft linen drapes that are contemporary and rustic in its elegance, swathing the silhouette in its femininity, reflecting the strength of a woman through her linen and fusing it with her unique aesthetic to echo a woman's innate beauty.
There will be a limited collection at Rithihi, each hand-picked to suit the contemporary tastes of the Store's customers, reflecting the exclusivity that remains its signature hallmark.
With Rithihi's ethos this year built on 'Celebrating the weave', the Anavila form, feel and detailing that imbues the asymmetry of nature to each thread that crafts these masterpieces is well aligned to the Store's philosophy of celebrating indigenous craftsmanship.
The fact that Anavila saris also promote sustainable craft with artisans working in sustainable employment in sustainable clusters, adds to its luster.
Anavilas therefore is well aligned to Rithihi's concept of promoting sustainable arts and craft, while enabling the sari wearer to be swathed in organic luxury knowing full well that an Anavilas sari defines what it is to be a woman: pure, strong, naturally beautiful, unbound and liberated!.