Avurudu fun for the visually impaired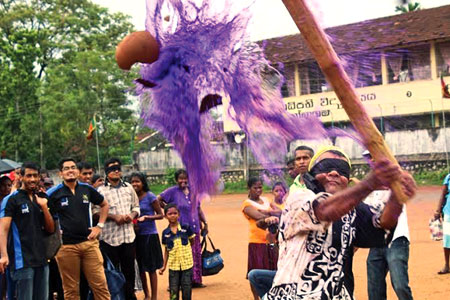 SocialService.lk, which last year presented the visually challenged community with a wonderful platform to enjoy their New Year celebration, are gearing up to host the second annual 'Avurudu Uthsawaya with the Visually Impaired' at the Henry Pedris grounds, Havelock Park on April 30. The fun filled events will begin at 9.00 a.m. and continue till 4.00 p.m.
Designed to challenge the physical fitness of the participant, festive games often unwittingly sideline the visually challenged.
Not many visually challenged would have had the opportunity to be part of the fun-filled avurudu activities such Kana mutti bindeema, Andayata kiri kaweema or Aliyata eha thebeema, which ironically require the participants to be blindfolded.
SocialService.lk, which was the first humanitarian organisation to facilitate festive fun for the visually impaired, has since inception in 2014 completed more than 80 projects ranging from immediate relief assistance to long term sustainable community schemes. It serves the deserving needy regardless of religion, caste, race, ethnicity or gender, and its activities are spread across the nation, working towards creating lasting change in the lives of children, families and communities in terms of alleviating poverty, eradicating injustice and ensuring basic living standards are met.
With 'Avurudu with the Visually Impaired', SocialService.lk is hoping to create awareness among the general public about a society which has been isolated for many years.
For more information and volunteering please contact 0772333287 or 0770136068.