Brayan Perera shines in Formula open wheel event
17 year old Brayan Perera who took part in the inaugural round of the Formula Junior Series held in Coimbatore at the Kari Motor Speedway.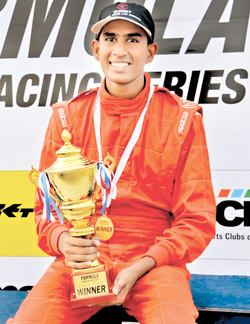 created history by becoming the 1st and the youngest Sri Lankan to win in the prestigious Formula category in India.
After qualifying second on the grid for race one, he was quick to get ahead of his opponents to win the first race of the weekend.
The second race started with a twist as the grid was reversed for the top 4 meaning Brayan Perera started 4th on the grid for the top 4 as Brayan Perera started 4th on the grid for the 2nd race.
He eventually climbed to 2nd place finishing behind his fellow competitor Alex Bora.
Perera started on pole for the 3rd race as he had the second best timing in qualifying. He started well as he blazed through , but due to an unfortunate driver error he ended up with a DNF. This led him to start from 8th on the grid for the 4th race.
It was a thrilling race as Brayan displayed enormous skills overtaking moves that propelled him from 8th to 1st place. He started on pole for the final race of the weekend and maintained it throughout the race regardless of many safety car deployments due to incidents on the racetrack.
Brayan Perera now leads the championship 39 points and is ahead of his competitors by 12 points giving him a comfortable lead. Brayan is a student at Gateway College Negombo and is pursuing his dream of representing his country in the international arena and bringing back glory and fame to his country. He will be taking pari in the 2nd round of FJRS at the end of this month.