Cambrian Kusal Mendis won title in 2013
Yet another Observer-Mobitel Schoolboy Cricketer of the Year top award winner has made Sri Lanka proud with a fighting century! It was just three years ago that an outstanding top order batsman from Prince of Wales College, Moratuwa, Kusal Mendis was adjudged the Observer-Mobitel Schoolboy Cricketer of the Year 2013 for his outstanding performance with the willow in the 2012/13 school season. The surname Mendis and the town of Moratuwa have been greatly associated with Sri Lanka cricket.
Heading that prestigious cricketing clan from Moratuwa is none other than former Sri Lanka captain and ex-Chairman of Selectors Duleep Mendis. Another Mendis has emerged to take the rich traditions of the Observer-Mobitel Schoolboy Cricketer of the Year contest which began with Ranjan Madugalle becoming the first-ever winner in 1979.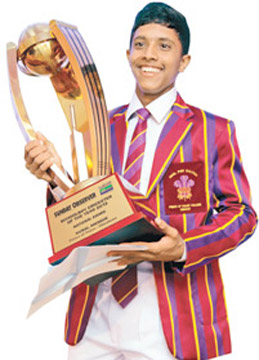 Kusal Mendis became only the second Cambrian to win the top award of the Observer-Mobitel Schoolboy Cricketer of the Year series after Sahan Wijeratne 2002, who had reached a golden milestone in Sri Lanka cricket history in the first Test against Australia that concluded in Pallekelle yesterday.
Trailing by 85 runs on the first innings, Sri Lanka were reeling at six runs for two wickets in their second essay when Mendis walked into the middle as No. 4 batsman.Things looked gloomy for Sri Lanka when Mendis lost his partner Kaushal Silva as Sri Lanka slumped to 45 for 3.But the 2013 Observer-Mobitel Schoolboy Cricketer of the Year played a majestic innings of 176 and showed the fighting qualities . His marathon knock of 176 came off 254 balls and included one six and 21 fours.
Thanks to his fighting knock, Sri Lanka was able to score a respectable 353 all out in the second innings. If not for Mendis' brave knock, Sri Lanka would have surrendered meekly. Mendis has been a regular team member in almost every age category during his school cricket career at Prince of Wales and many felt that he is a future Sri Lanka player right from his early days .When he won the coveted Observer-Mobitel Schoolboy Cricketer of the Year title in 2013, he stated that his ambition is to play for Sri Lanka in the future. Having won the prize for the Best Batsman as well in that year's mega show, Mendis declared that playing for the national team and making his country proud are his ultimate goals.
In less than three years of his most memorable moment as a schoolboy cricketer, Mendis not only secured a place in the Sri Lanka team but also scored a sparkling century when Sri Lanka needed such a big innings badly! Sri Lanka coach Graham Ford has rated Mendis' innings as "one of the best" he has seen and has commended the batsman's temperament.
Young Mendis had a plan to counter Australian bowling and an option against each and every Australian bowler. Playing only in his seventh Test, Mendis showed the qualities of an experienced batsman as he negotiated Australian bowling in exemplary manner. It was great for a youngster who has scored just one half century in his 12 Test innings before to show the temperament of a seasoned player.
Prior to his great knock at Pallekele, Menis had just one first class century to his credit But the 21-year-old played like a champion batsman, following the footsteps of those great cricketers who had won the Observer Schoolboy Cricketer of the Year title before - such as Madugalle, Arjuna Ranatunga, Roshan Mahanama, Asanka Gurusinha, Marvan Atapattu, Sanath Jayasuriya and Thilan Samaraweera.
Since making his Test debut against West Indies in October last year, Mendis has largely filled vacuum of the all-important one drop spot in the Sri Lanka batting order since the retirement of Kumar Sangakkara. Mendis' knock of 176 is the highest individual innings by a batsman, surpassing Pakistani Younis Khan's unbeaten 171 against Sri Lanka last year. The previous highest score by a Lankan in Pallekele was DimuthKarunaratne's 130 against Pakistan last year. Mendis also became the second highest scorer for Sri Lanka in Tests against Australia behind Sangakkara's 192 in Hobart in 2007.
Nevertheless, Mendis also accounted for the highest Test innings by a Lankan against Australia on home soil, erasing the previous mark of 137 by Asanka Gurusinha at SSC grounds in 1992.
We should see more from Mendis' willow in the years to come and his knock in Pallekele is just a harbinger of what yet another Observer-Mobitel Schoolboy Cricketer is capable of.