[Ridiyagama Safari Park]
A novel experience for nature lovers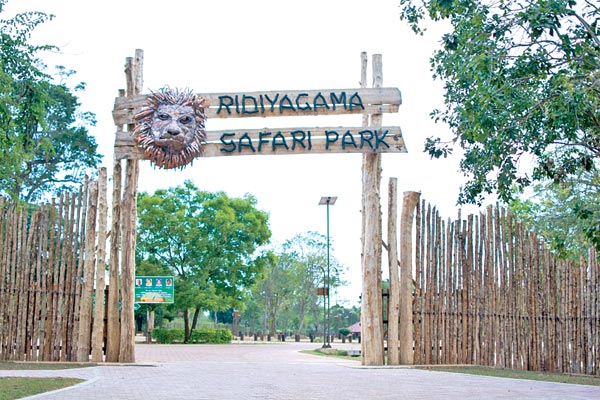 Hambantota is a district that consists of many interesting places to visit. However, most of them are not famous. Ridiyagama Safari Park is one such place designed for nature lovers. The Department of National Zoological Garden opened this first ever safari park in Sri Lanka in March 2016.
This magnificent park covers an area of about 500 acres. Ridiyagama drive-through safari park was established with the intention of relocating animals in the Dehiwala zoo, introducing an animal conservation centre and developing tourism in Sri Lanka. Currently, there are three zones in operation, which include the Lion Zone, World Herbivore Zone and the Asian Elephant Zone. It will be expanded to six zones in the future. The animals move around freely in their respective zones and are protected by automated gate systems to minimize the risk to humans.
Visitors are taken through the park by buses and a guide is each bus explaining about animals. African lions are in zone 1. There are four lions currently residing in the park. Two of the older lions are from the Dehiwala Zoo, one of the younger lions was born in the Zoo, and one was brought from abroad. Herbivorous animals such as different types of deer, oryx, palm civets, zebras, camels, ostrich, hippos, donkeys, buffaloes and elks are found in zone 2. Asian elephants are in zone 3. The elephant "Dinudaa" that was born on the day we won the ethnic war is also in the park. It is said that there is a black panther too but it is still in the cage and will be released to the natural environment soon. It takes about 45 minutes to drive through the park. It is worth to visit this place, so allocate a time lapse in your busy picnic schedule next time you visit down south.