Creating the ultimate warrior
An exclusive on S.W.A.T (Special Task Force) :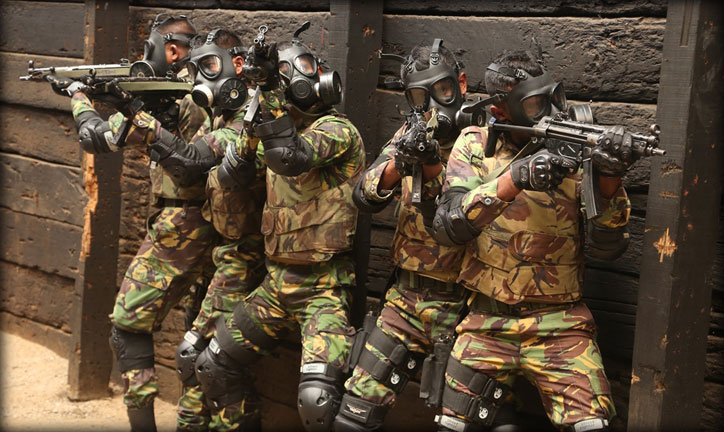 A rapid response in an emergency is vital toward a positive outcome. Law enforcement officers are confronted with scenarios that pose a serious threat. Back in 1965, a motor vehicle arrest of an African-American soon spiralled out of control resulting in a riot that left 34 persons dead in Los Angeles. The Watt Riot unleashed sudden mass violence. It was this solitary case that provoked Inspector John Nelson (LAPD) to envisage the concept of using a special weapons action team to mitigate such threats. Today, he is venerated as the 'Father of SWAT'. The primary mission of this concept is a ready response by SWAT members in a scenario beyond the capability of law enforcement.
Sri Lanka has been scourged with insurgent and terrorist activities. The Police department was burdened with an assortment of duties. In this backdrop there was an incident at a factory in the Biyagama Free Trade Zone. An executive was taken hostage by some disgruntled staff that remained defiant. After a brief standoff with the local police, it was time to call in the Special Task Force. Responding to the call a quick response team (QRT) was sent to the location, and the issue settled. Subsequently, in 2002 a few hardcore inmates of the Tangalle Prison had overpowered the Jailors and stolen their uniforms and attempted an escape. Once again the QRT squad responded and brought the situation under control. It was such scenarios that dictated the need for the full formation of a SWAT Team.
Capability
Over the past few years the SWAT teams have improved and streamlined their operational capability to deliver a fully effective counter strike to dispel the deadly threat of terror and criminal elements within seconds. The teams are made up of the toughest men with loads of stamina, discernment and focus driven determination. They train at their academy located at Katukurunda, Kalutara. The STF conducts other training courses here. The Director Training (DT) who shoulders this massive responsibility is Superintendent of Police Athula Daulagala (Msc) a well seasoned veteran.
The training school maintains and equally expects a high standard of discipline from all officers. The finely maintained turf and gardens are a testament to the immaculate neatness of this complex and its environs.
Radioactive
SP Daulagala went onto explain about the diverse role of SWAT in hostage rescue, protection of VVIPs and secure transport of radioactive materials. There was an incident years ago where Parliament was subject to a grenade attack. Since then, the SWAT teams have been deployed at a nearby location to respond to any threat.
Emphasizing on the special duty they carry out, adhering to international rules of the International Atomic Energy Authority (IAEA), the SWAT crew safely transport a radioactive capsule in a lead casket, primarily used in Sri Lanka for a medical purpose. The sensitive transportation takes place at a time of day when the flow of traffic is low. The container taking the radioactive material is sealed with a track lock which emits a signal similar to a GPS device.
The chief instructor who coordinates and supervises training at the school is Chief Inspector R.M.Wimalaratna.
He explains to me the importance of training recruits in Close Quarters Battle (CQB), the dangerous scenario which is where the SWAT team very often has to respond, both, during day and night : in an office, a floor of rooms in a hotel, a luxury passenger bus or even an airplane.
Paired
The CQB strike must combine the element of surprise, speed, violence of action and accuracy.
I was able to witness the aspiring SWAT members display their prowess in clearing a room.
They can work in teams of two, four, six and eight: depending on the situation.
The SWAT member never works alone. He is paired with another member, and they remain 'buddies' throughout their service life. A four man team approaches the room with stealth and alert eyes, scanning potential danger. The doorway to any room poses a risk, the point of entry is referred to as the ' fatal funnel', where an assaulter is most vulnerable.
Power
As squad members 1 and 2 storm into the rooms with MP-5 weapons , number 3 always looks upwards to neutralize any attack from upstairs.
The number 4 man makes the rear completing the '360 degree' total safety of the team. The rapidly unwinding sequence which takes only a few seconds flows as- Clear the breech point, eliminate threat, clear the near corner, run to the wall, collapse set of fire and communicate.
All raids are undertaken with as much ground intelligence that is available. It is important to remember that an armed hostage taker can hide anywhere inside a room, therefore, the objective is to unleash all offensive action before the party being engaged has time to react. Physical and psychological momentum is very essential during a strike. Teamwork is most vital.
The Teams use the HK/MP5 sub machine gun (its size being perfect for use in restrictive rooms),Uzi( open bolt-blowback operated submachine gun made in Israel),Glock17 and Browning high power pistol, 12 bore shot guns (used to burst open a locked door) and Sniper rifles.
The Heckler and Koch MP5 is a dependable weapon first made in Germany, with a capacity of 900 rounds per minute.
The men who desire to serve in SWAT must already be members of the regular STF, with three years of unblemished service. They must endure 10 weeks of extensive training where they also become expert swimmers, drivers and riders.
They must pass tests including a Psychometric test that evaluates their personality characteristics and cognitive ability, scenarios that evaluate their reaction time, firing skills, IQ test and a test that defines their ability to smell things in a cloistered environment.
They are taught vehicle assault, raids, anti ambush drills and urban operations. The present SWAT course officer is Inspector P.G.M.Osanda.
After the 10 weeks training the men who endure and pass must follow another 4 weeks of training that hones their skills. SAWT can take pride in its airborne capability.
The local SWAT teams have trained and formed a SWAT team for the Maldives, on request.At present the Commandant of the Special Task Force is Senior DIG M.R.Lattif, a pioneer combat veteran and prudent tactical strategist. The daring members of SWAT remain primed and ready for action.
Photo credits- Gamini Pitagampala (STF)