100th birth anniversary - Rev. Dr. W.L.A. Don Peter
Simple, disciplined and exemplary
It is indeed a great privilege to write a brief biography of a prominent personality. The person of whom I am about to write could be referred to as Dr. W.L.A. Don Peter since he held two doctorates, a PhD from the University of London and another from the University of Colombo. He could also be referred to as Monsignor Don Peter, for; he was made a Prelate by Pope Paul VI in 1967 in recognition of his services to Catholic education.
Today (25) it would be 100 years since the birth of Rev. Dr. W.L.A. Don Peter, a renowned Catholic priest, writer, author, educationist, journalist and patriot. He was a leading Catholic scholar and historian who lived in Sri Lanka.
Hamlet
Rev. Dr. Welgama Lekam Appuhamilage Don Peter was born on 25 September 1916. He hailed from Kondagammulla, a hamlet five miles from the coastal town of Negombo. His father was W.L.A. Nicholas Appuhamy, a fiscal officer. He had one brother and two sisters. He had his elementary education at the village school and had his secondary education at Maris Stella College, Negombo, where the late comedian Eddie Jayamanne was a classmate. Don Peter was a brilliant student. At every prize giving he carried away all the prizes for the subjects he studied. He had the unique distinction of having been the first in class at each of the three term tests in the school year, for six consecutive years. Once he was offered a double promotion but he declined and preferred to go steadily. Don Peter offered Latin for his junior and senior Cambridge examinations.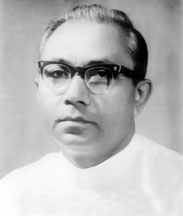 The mother tongue was not taught at school. But Don Peter had a liking for Sinhala. A French Oblate Missionary who had thoroughly mastered the Sinhala language taught him Sinhala.
In 1935 Don Peter entered St. Aloysius' Seminary, and attended St. Joseph's College, Colombo. He had his priestly formation at St. Bernard's Seminary and was ordained a priest on 25 March 1941 by Dr. J.M. Masson, the then Archbishop of Colombo. After a five-year period as Asst. Pastor at Grand Street Church, Negombo and St.Thomas' Church, Kotte, Fr. Don Peter joined the staff of St. Joseph's College in 1946.
Fr. Don Peter studied Pali on his own at the Seminary, and began to lean towards oriental studies and evinced an interest in the field. While leading a busy life at St. Joseph's he spent his leisure hours in studying oriental languages, history and culture.
In 1947, Dr. Thomas Benjamin Cooray became the Archbishop of Colombo. He had been the teacher of Fr. Don Peter at both St. Joseph's College and St. Bernard's Seminary. He knew the talents of Fr. Don Peter and sent him abroad for higher studies in 1950. Fr. Don Peter studied Missiology at the Urbanian University in Rome for one year and proceeded to England and joined the School of Oriental and African Studies at the University of London where he achieved a BA Hons degree in 1952, a Diploma in Education in 1953 and an MA in Education in 1955.
Subsequently, Fr. Don Peter presented the thesis "A comparative study of the influence of Buddhism and Christianity in Ceylon Education" to the University of London for his PhD. It was an educationist Fr. Don Peter shined most. He became very prominent as an educationist. On his return from London Fr. Don Peter was appointed as the Rector of St. Aloysius's Seminary, Colombo 8, where he served for over 5 years from 1956 to mid-1961.
Difficult
In 1961 he was appointed as the Rector of St. Joseph's College. He was the first Sinhalese and the first old Josephian, and the first Diocesan priest to hold that post. The same year the then government took over all Catholic schools. Financially, it was the most difficult time for the College. The great Rector did not falter. He steered St. Joseph's as a private non-fee-levying school without resorting to any fat donations for admissions unlike in the present day. Fr. Don Peter while exhorting and appealing to the teachers to remain as teachers of the College, distinctly enumerated the disadvantages and drawbacks they would have to face if they remained: Problems regarding payments of monthly salaries, no pensions, no EPF, no ETF, no promotions, etc.
During his period he inaugurated the Welfare Association which functions to date with millions of rupees in compulsory donations. If not for this great Rector and the dedicated past teachers St.Joseph's College would have been a Maha Vidyalaya or Maradana Central College. We must also remind those old boys who may have forgotten and those young ones may not be aware that they have the privilege to call themselves Old Joes and be proud of their Alma Mater, because of Fr. Don Peter and the past teachers who ran the College without handing it over to the Government.
After having steered St. Joseph's to greater heights Fr. Don Peter had to bid farewell to this prestigious institution and assume duties as the Rector of Aquinas. He functioned as the Rector of Aquinas College for Higher Studies from 1971 to 1976. When he assumed duties at Aquinas, the discipline there was at a low ebb. Once the lecturers of the Science Faculty stopped lectures demanding higher pay which did not materialize. Then they created a pandemonium instigating the boys to share the common room with girls. The Rector warned both the lecturers and students several times. They being stubborn he was forced to close down the Science Faculty in the interests of order and discipline.
In May 1977, Fr. Don Peter took up residence at "Bethany" at Bolawalana, Negombo, to have a period of rest. He spent the time in his literary pursuits and it was here that he produced one of his major research works, 'Education in Sri Lanka under the Portuguese' in 1978. In deference to a request made by the Archbishop of Colombo he accepted the post of Rector at the Aquinas College for another period.
As the Rector of Aquinas for ten years from 1979 to 1989 Fr. Don Peter succeeded in raising Aquinas to a degree awarding university status. But it was dropped at that time as a matter of Church policy. In 1986, the church authorities named the new Auditorium at Aquinas as 'Don Peter Auditorium' in appreciation of his services to the institution.
Fr. Don Peter has also written a series of novels for children and some of them have been re-printed several times. His novel 'Vana Gatha Lamo', a story of jungle adventure, has gone through six re-prints. His novel for children 'Tekkawatte Kathawa' won the Presidential Award for the best children's novel in 1998.
Fr. Don Peter was the Director of Daham Sarana Institute from 1990 to 1995 which he set up to produce religious literature for the laity. He managed to get foreign funds for the project and the books released by this institution, most of them written by Fr. Don Peter himself, were made available at a nominal price.
Research
Fr. Don Peter with his research on Church history was frank to admit that the missionaries made use of political power of the Portuguese to spread the Catholic religion in Sri Lanka. But he refuted the charge that there were conversions by force. He vividly described how the Catholic faith strengthened and deepened down its roots in the country during the Dutch persecution. In his writings Fr. Don Peter showed the impact of Catholic institutions on education, culture and morals of the people. In his comparative studies on Buddhism and Christianity Fr. Don Peter always emphasized the spiritual aspects of religions, their religious orders and monastic life.
Fr. Don Peter as a man of God always projected a spiritual outlook on religion. His every endeavour as a scholar, educationist, administrator and social reformer was in harmony with his priesthood. He never transgressed on things where angels trod. He practised what he preached and led a simple, disciplined and exemplary life in accordance with Gospel values. Although he retired from administrative work he spent his twilight period at the Piya Sevana, Tewatta, but continued with literary work until he was called to rest in peace on 24 April 2008.
Fr. Don Peter was a true representative of Christ and a good shepherd who could guide and lead the laity. We need priests like Fr. Don Peter if the church in Sri Lanka is to maintain spiritual vigour in the modern world.
- A.P. S.
---
My dearest brother Nadeepa Dharmasiri
A borrowed angel
It was the night before Christmas
And as I knelt beside the crib
I prayed for a baby brother,
He was my Christmas wish.
Along came September the following year
A bundle of joy arrived with full cheer
The light of our home; my baby brother
He filled our hearts with love and laughter.
Little bro, you were always there
To lend a hand when life wasn't fair;
Through thick and thin we laughed and cried
The loving bond was never untied.
A life so young, and yet so sweet;
A boy with a gift, a gift of love
When God called you home you didn't think twice
As Glorifying God was always your choice.
I miss you so, I cannot lie
But I'll go forward with my head up high
For in my heart you'll always be
Moving forward you with me.
You are an angel in heaven above;
Safe in the arms of God's pure love,
Watch over us with a glorious shine
Rest in peace little brother of mine.
Loving Akki
Navodi Dharmasiri
---
First death anniversary - Manodara Ariyawansa: She lives in our hearts
I still remember Manodara, popularly known as Mano in two tiny pigtails, wearing a pretty dress and matching shoes, coming close to me at school functions. Manodara was a cousin of my good friend and classmate, Manel Wickremasinghe, at Anula Vidyalaya. From the time I heard the name Manodara or Mano, I felt as if I had known her for ages. May be I had known her in my past birth. It was in 1966 that she came to Anula Vidyalaya as a Grade Seven student. I was in a higher Grade but went to meet her with her cousin Manel during the interval. From the very first instant, I knew she would be my friend. .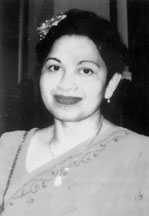 One day Mano had to go for a wedding with her mother and elder brother. I stitched her a frock with the help of instructors at the Kathleen School of Dress Making. I still remember that frock, white nylon, with a low waist, and a bunch of red roses and red buttons at the back.
She used to visit me when I was in the university, too. We became close friends, and later on I got to know her family, and eventually married her elder brother. She was the bridesmaid at the wedding and became my sister-in-law. She helped me in bringing up my two daughters, who loved her very much.
Manodara married a chartered engineer working at the Naval Base, Trincomalee as a senior commissioned officer. My two daughters were always ready to go to Trinco for a holiday at Mano's, their only 'Nanda'.
After sometime, Mano and her husband migrated to Australia and lived in Melbourne for twenty five years. She was popular with the Sinhalese community there. A devoted Buddhist, Manodara was an active 'dayaka' of the Melbourne temple for many years. She worked for the hospitality department of Monesh University, and was at one time the Vice President of the Anula Vidyalaya OGA branch in Melbourne.
Manodara never said 'no' to anybody, and was always prepared to help whoever sought her assistance. She supported many Sri Lankan students in Australia in their higher studies. Her house was full of children from Sri Lanka and she became a mother to all including my younger daughter Lankika, studying in Australia for nearly five years.
She was in very good health from her childhood. But, suddenly found that she was suffering from cancer. My husband and I went to Australia several times to see her. Her brother Subash and his wife Pearl also visited and assisted her when she was sick.
Even when she underwent treatment, she did her housework by herself. She was doing regular exercise, cooked delicious food and invited her friends for lunches and dinners. She came to Sri Lanka and we took her to Buddhagaya and visited all the holy places there. She prayed that she be born a Buddhist in all her future births. Although she was suffering from cancer she never lost her charming smile that she had from her teenage days.
As the karmic forces cannot be changed, suddenly her health condition worsened. I immediately flew to Australia and by the time I arrived at the hospital my daughter Kanchuka who was a doctor was at her bedside. I chanted 'Pirith' and tied a Pirith Noola on her arm. She opened her eyes and said 'Thank you, Sriyanthi akka'. Manodara knew her condition was not good but did not show that she was worried, or suffering. Before we arrived the next morning she had breathed her last, in sleep. She was fifty-nine years.
Though Manodara, my beloved sister-in-law is no more, she will live in our hearts for the rest of our lives. I pray that she be born a sister to me in my next birth. All those who knew her will remember her with love and gratitude and the void created by her sudden demise will be compensated with sweet memories in which she is very much alive.
May she attain the supreme Bliss of Nirvana.
Sriyanthi Wickremasinghe,
Colombo 5.
---
Edmund Dissanayake: One of Wesley's greatest sons
With the death of Edmund Dissanayake Wesley College lost one of her greatest sons.
An icon in every respect, Edmund Dissanayake passed away one year ago on the 18 September 2015.
Appreciated by everyone who knew him; his peers, past pupils and he minor staff who appreciated his kind and unselfish demeanour he was one of the teachers who never used corporal punishment on his students. He had the aforethought that is now used in most schools around the world.
Instilling discipline was through conversation and advice not corporal punishment.
As a very loyal old Wesleyite he spent most of his life from childhood as a school-boy and over 25 years on the teaching staff.
His pet subjects were Geography, History and Civics (the education of how Governments work).
Kumar de Silva another famous Wesleyite: Father Justin was on the teaching staff had this to say of his favourite master.
"My earliest recollections of Edmund Dissanayake go back to my Grade 01 years in 1968. He was my father's friend and colleague on the staff at College. Always impeccably dressed in brilliant white, he was one who instilled in us, sound values and 'moral accountability' to ourselves, which formed part of the foundation during those formative years. It is this childhood experience which has always come in good stead in later adult years, and for which I bless him and thank him very much, even to this day."
The war years from 1939 to 1945 had denied Ceylon schools of school's cricket although the war was being fought thousands of miles away. Wesley College was billeted and jail cells constructed in some class rooms. The school was closed down as so many others were and used as military barracks. After the end of the war he joined hand with Shelton Peiris - Wesley's greatest Historian – and together they revived the school cricket team. Already and accomplished all round cricketer he set about creating a team that would beat the favourites Royal and S. Thomas' single handedly.
His career was however brought to an abrupt end when he bravely chose to field at a very short mid-wicket and was struck on the forehead by Ronnie Weerakoon brother of the famous civil servant Bradman.
This a life threatening blow, put paid to a certain career of an all-round cricketer who would have been an asset to any club team between 1950 and 1964 at least.
He then dedicated his life to coaching Wesley college while being the Master-in-charge first of the school's junior cricket teams in the golden era from the mid-fifties and then the senior team in the sixties. The top order batsmen from these years developed the "Textbook cricket" that would put a lot of English Test cricketers to shame. Personal impediments forced him to give up coaching but later on the 14 October 1964 he married Amara Weeratunga a Southern Belle issue of a Sinhalese Buddhist family."
The fond memories overlapped by those of a young lady teacher from the Matara Convent who fortunately was a friend of Edmund's sister.
It was love at first sight and soon after their meeting they were united in civil matrimony. They are both practicing Buddhists and that they have not been converted despite the Colonial attitude is thought provoking and shows a lot of character. Impossible is not a word she will allow into their lives. While his wife Amara stood by his side we have to remember the Dissanayake Family's contributions to Wesley Cricket."
Danesh his son was an excellent all round cricketer was the fourth in the Dissanayake family to captain Wesley; Edmund his brother Graham then Mahendra and Danesh from the next generation.
I had the pleasure of having him as my class teacher who also was my cricket coach from the age fifteen to eighteen. His vision of Sri Lankan History was not evaluated from colonial text books but from a perspective of a patriot.
He retired from the Teaching staff having sacrificed the legal profession over the years then worked as an attorney until a grave accident hindered his movement. In the years that followed he walked with the help of a cane but was as sprightly mentally as he had always been.
I was extremely fortunate to have spent some time with him to elicit his memoires; a quiet conversation in his residence where I realised that he had a photographic memory where Wesley College was concerned.
His students many who live in England, Canada or Australia have nothing but praise for their old master. Culled are some of the tributes paid by Sextus Taylor, Azahim Mohammed and Ma Hung none cricketers but his students: "He was the best teacher we had".
Colin Kellar, Dion Herft and Brian Weeraperumal echoed praises of the school master best known to the boys as "Pigeon"
- Peter Casie Chetty