The rambunctious: Bengal Bungalow!
On September 10, the boards of the Wendt bore some heavy duty mayhem as Jehan Aloysius's Bengal Bungalow boomed to life with pervasive vivacity. Works such as these are a credit to the Sri Lankan theatre, bringing to life original scripts in English that are praiseworthy crowd pleasers. Bengal Bungalow is a hilarious riot of a comedy set in the days of the British Raj aka Colonial British India, written and directed by a Sri Lankan!
In my opinion, Bengal Bungalow is an admirably scripted and deftly played 'farce' that can stand shoulder to shoulder with a Ray Cooney comedy without any qualms. One could argue, what Aloysius presents through this work is theatre set on a formula based on the European 'farce' genre. As a counterpoint to such a take, one may say, following a formula to reach a successful outcome is no mean task. The art of the recipe is for both emulation and constructive deviation towards innovation. I would venture to say, Aloysius grasped the 'farce formulae' to bake a cake that can deliver its own flavour.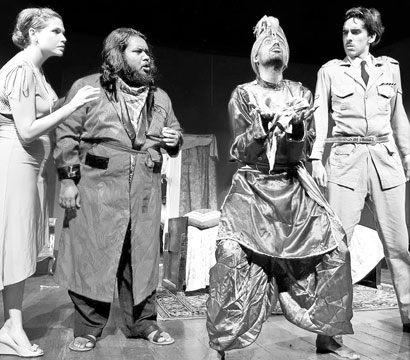 Stagecraft was remarkably good, of a convincing realist theatre mode and truly an aspect to be celebrated. Costumes were attractive and commendable, deserving special mention and applause.
Realist
The visual facet of the performance together with the aforementioned aspects was further heightened with a scheme of physical motion that unfolded on stage. There was thus in this work a notable dose of dynamism at play to deliver the 'action' as the storyline progressed. The two Indian servants Rama and Rahul played by Michael Jayawardana and Prabhath Dhevindra, respectively, displayed some hearty acrobatics that enhanced the fabric of performance. They were among a host of other facets, demonstrative of the directorial skill that wove the performance of Bengal Bungalow.
There is no doubt that every actor on stage that evening delivered a performance worthy of applause. The symmetry of acting talent on stage didn't show severe disparities, which thus stands to add to the directorial credit. However, I do believe Patrick De Kretser who played the pompously colonial and bogus chivalry of Charles made a striking impact and drew much ardour worth citing. On the matter of citing the more notable performances of Nadun Dissanayake, even with his face covered with a ski mask, managed to steal most of the spotlight, playing the 'Bengal bandit'. His stage acting skills are exceptional.
Cast
From what I have seen of his performances in No Sex Please We Are British, Grease Yaka, and Dracula, this young actor evinces innate talent that one hopes will attract callings from quarters, far and diverse in the sphere of acting.
The cast of Bengal Bungalow consisted of Michael Jayawardana, Prabhath Dhevindra, Shehan Wijemanne, Anabella Brochard, Patrick De Kretser, Julian Anderson, Roshane Jayampathy, Nandun Dissanayake, Jordan Bryan, Tayhani Kannangara, and Reihan Stephen. It is with much pleasure that I, as a viewer who sat in the balcony under the gentle darkness that evening, offer hearty applause and salute the cast and crew who brought to life Bengal Bungalow. I would say without reservation this is a show well worth your money, and time, and a must see for theatre lovers.
Stagecraft was remarkably good and of a convincing realist theatre mode... umes were attractive and commendable...
---
Maraka Linde Savariyak
(A trip in the Well of Death)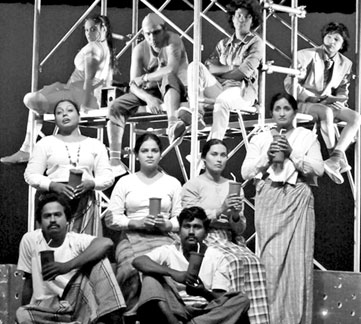 The award winning Sinhala stage play Maraka Linde Savariyak (A trip in the Well of Death) will go on the boards at the Moratuwa OLV Convent on 1 October at 3.30pm and 6.30pm. A hilarious and thoughtprovoking political play written and directed by Chalaka Ranasooriya, it features in its cast acclaimed actors such as, Malkanthi Jayasinghe, Jagath Chamila, Umayangana Wickremasinghe, Lanka Bandaranayake.
---
Nethuwa Beri Minihek returns to the Wendt
Following its critically acclaimed premiere in early September, Rajitha Dissanayake's latest play, Nethuwa Beri Minihek (A Man Much Needed) returns to the Lionel Wendt Theatre on October 2 at 7.00 pm.
Nethuwa Beri Minihek revolves around the family of Jayantha, a Sinhala nationalist businessman who enjoyed close ties with the previous regime, and worries for his future in the transformed political climate. Jayantha's son returns from London with a Tamil friend who is in search of his mother who went missing during the war. Meanwhile, Jayantha's daughter is trying to make contact with her estranged mother, who left when she and her brother were toddlers. Nethuwa Beri Minihek depicts the ultimate fate of these individuals, who embark on a quest for lost power and love.
The music design is by Kapila Poogalarachchi and make-up by Priyantha Dissanayake. The lighting is by Ranga Samarakoon and costume design by Nalin Lusena and Samadara Mabulage. Vijith Nuwan and Nalin Lusena are the stage managers.
Tickets for Nethuwa Beri Minihek are now available at the Lionel Wendt Theatre and online at www.lionelwendt.org (with home delivery).
---
'Full Face' cinema discussion on Motor Bicycle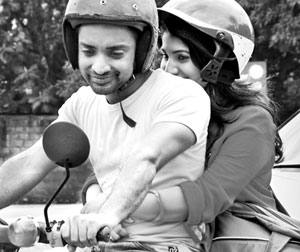 A discussion on Shameera Rangana Naotunna's film Motor Bicycle will be held on September 28 at the National Film Corporation Theatre from 3.00pm. The discussion is organized by the Independent Cinema Movement. W. Jayasiri will moderate the discussion addressed by Ajith Galappaththi, Boopathy Nalin Wickramage and K. K. Saman Kumar. Entrance is free.