Kotiyagala Bithu Sithuwam
A book titled Kotiyagala Bithu Sithuwam, written by R.D. Arunashantha, has been published by Godage Publishers for sale during the Literary Month.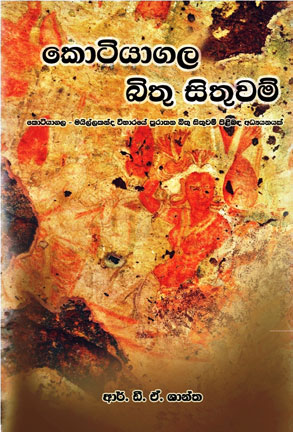 The book is about the paintings found at the Kotiyagala Mailla Viharaya which is situated in Siyambalanduwa in the Monaragala District. The frescoes which contain 'Apsara' figures date back to the Anuradhapura period. Despite many research studies being conducted into the frescoes since the 1970s, it appears that not much attention has been directed at it from a contextual point of view. This scholarly treatise by Arunashantha appears as an attempt to fulfil this need.
This approach appears broader which, while doing a comprehensive documentation of the frescoes, has directed its attention on the depiction of figures, thematic elements, dating of these frescoes and aesthetic features.
It is available for sale at leading bookshops.