Recognising talents of schoolboy cricketers...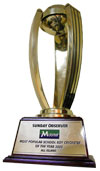 The Observer Schoolboy Cricketer of the Year Contest, which has produced Sri Lanka's cricketing legends for the past 30 years, has gained national status.
The Mega Awards Show which recognises talents of schoolboy cricketers is organized by Sri Lanka's flagship English newspaper with the largest circulation – the Sunday Observer, in association with Sri Lanka Cricket (SLC), Sri Lanka Schools Cricket Association (SLSCA) and Sri Lanka Cricket Umpires & Sorcerers' Association (SLCUSA).
The present sponsor of the Schoolboy Cricketer of the Year Contest is Sri Lanka Telecom Mobitel, Sri Lanka's national cellular network.
It is the original show that goes on and on, maintaining its rich traditions for the last three decades.
Over the years, the contest has produced some of the greatest Sri Lanka cricketers - Ranjan Madugalle, Arjuna Ranatunga, Muttiah Muralitharan, Roshan Mahanama, Asanka Gurusinha, Marvan Atapattu, Kumara Dharmasena and Sanath Jayasuriya, to name a few.
Chief ICC Match Referee and former Royal, NCC and Sri Lanka captain Ranjan Madugalle was the first recipient of the prestigious award in 1979. Sri Lanka's World Cup winning captain and former Ananda and SSC skipper Arjuna Ranatunga, has twice won this coveted award in 1980 and in 1982.
It is the dream of any schoolboy cricketer to win the Observer Schoolboy Cricketer 'crown'.
The Associated Newspapers of Ceylon Limited – Sri Lanka's oldest and the largest newspaper group which publishers the Sunday Observer, has been in the forefront of sports promotion, recognising the talents of schoolboy cricketers and motivating them to step into the big league.