Zeenat Aman :
A mottled shade of grey
by JAYANTHI LIYANAGE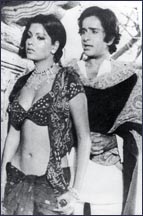 Zeenat as the scarred Dev Dasi in Satyam Shivam Sundaram
Pix: By Surang Bopitiya and courtesy: Zeenat Aman
Into the staid, humdrum social fabric, there suddenly comes a woman who numbs you with amazement or indignation at her rendition of the effervescence of life. Either you are secretly pleased, or you are outraged, but there is nothing you can do about it except to let her flow along on her course. And, once she moves away from the scene, you still remember her for those different vibrations she made and her part in changing the direction of the portrayal of womanhood. Zeenat Aman is one such woman.
If it was significant that Indian film Director Amit Saxena was here, championing his New World woman who would break all the male-set parametres, then it was a masterly co-incidence that Zeenat, a Bollywood actress singularly credited with bringing the quality of sensual liberation to the then jaded Hindi film heroine, happened to visit Sri Lanka at the same time.
Zeenat, still remembered nostalgically by Sri Lankan audiences for her bodily and spiritually revealing portrayal of the scarred Dev Dasi in Dev Anand's "Satyam Shivam Sunderam", (The Truth is Always Beautiful), of 1973, was here as guest of honour at "Saree Splendour" show held at Hotel Hilton by Preethi Fernando of Prenita Fashions. Obviously, Zeenat still radiated the glow of the trend setting icon she was elevated to be, by her 1970s performances of the modern woman unafraid of her sensuality.
Opinion goes that she is matched only by Bipasha Basu in recent times.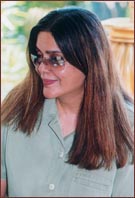 "If I had not believed in it, I would not have been able to do it," is how Zeenat feels of the emboldened heroine she gave life to on the largely conservative canvas of Hindi cinema. "I believe in my director and my project and I did whatever I thought was necessary for that particular role." Zeenat's advent into film was at a time when winds of change were blowing across the Western continents, the ruffles of their wake creating furrows in the tastes of the orthodox Indian public.
The offshoots of the youth culture of 1960s and 1970s were radical social attitudes, rock music, drugs, sexual liberation and black nationalism. Flower power generation, Woodstock Rock Festival, hippies, swingers, psychedelia and acid trips were the hyper links of the era. Western school drop-outs flocked to the East to find salvation in the chants of "Hare Rama Hare Krishna" only to lose their direction in LSD and marijuana. Such social ruffles naturally reflected also on the large screen.
Zeenat was raised to limelight with her tragic portrayal of the conservative Hindi girl who turns hippie hooker in Dev Anand's "Hare Rama Hare Krishna" - 1971. After that, there was no turning back. She received a succession of non-white "off-kilter" roles, cast in the mould of the "alternative woman" different to the generally accepted heroine.
"Maybe, in me the directors saw a performance that would fit the 'not strictly traditional' bill at the time," says Zeenat. "At that time, the actresses were defined as either black or white, heroine or vamp. I came in a mottled shade of grey. I could be the heroine, and still have traces of the vamp.
But I am basically the heroine at heart. I think I brought the element of grey into the heroine." The result is that in the Indian film history, Zeenat ranks besides Shabana Azmi and the late Smita Patel, the other two actresses who made the crucial difference at the time. In the Zeenat wave which went on for ten years, she acted in 80 movies, one being "Qurbani" (1980), familiar to Sri Lankans, where she played a club singer. Was it her higher education in California that gave her that unfettered stance? "My father was a Muslim, mother was a Hindu, my step father was German. I went to a Catholic school with a European influence and my best friend was Jewish. So I had wide exposure and I played Indo-Western roles I could have identified with."
Asked to evaluate her screen career, she says,"I grew from girlhood to womanhood in the entertainment business, meeting very talented and intelligent people, having the opportunity to travel a lot and earn a fair amount of money. I look back to it as a big period in my life, not as an evaluation. And I look forward to what is around the next corner!"
Are the 2000s beginning to exude the paradigm changes of social trends and life styles as experienced in the 1970s? "There is always evolution in society," answers Zeenat. "Society is always changing, at different places and times. I am sure the films which are being made reflect the social climate at large right now."
She is quite articulate on her stand on overtly expressive sexual imaging in cinema. "If they are made for the sake of projecting and propagating vulgarity and cheap thrills, just to draw people into semi-pornographic films, that is wrong. Projected artistically and with integrity, for the right reasons, yes, they would be all right," is Zeenat's opinion.
Back in movies after 15 years, consequent to the death of her actor husband, Mazhar Kahn, Zeenat, the mother of two teenage sons, was cast in an all-black role as Alice in "Boom", directed by Kaizad Gustan.
There, she played the right hand sidekick ("a feminist persona") of gang leader, Bada Mia, played by Amitabh Bachachan.
She also plays a mistress who blackmails her lover, in stage play "Chupke Chupke", directed by Ramesh Thalwar and has done several performances in Bombay. "We are performing in Dubai, Singapore and the UK, so why don't you invite us to Sri Lanka?" asks Zeenat.
"I don't think the modern Asian woman is heading for any kind of disaster," is Zeenat's final verdict. "She is very bright, intelligent, smart, attractive, knows how to package herself as a woman and has the opportunity to educate herself at all levels.
Even if women are in traditional roles, they are basically very strong. They manifest it in different ways. Some women are more outgoing and some less. They may be kind, gentle and soft but inside they are very strong. I think they should be portrayed as such!"