Sanath Jayasuriya lights up Eden Park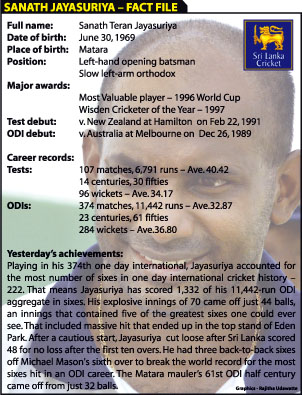 CRICKET: The Sri Lankans played excellent one-day cricket to thrash the New Zealanders by 183 runs in the fourth game and level the series 2 - all with one to go on Tuesday in Hamilton.
Not only did the Lankan inflict defeat on the Kiwis, but also humiliated them by bundling them for the second lowest total in the abbreviated form of the game. Their worst was 64. The Lankans got them for 73.
The Lankans rallied to make a formidable 262 in their 50 overs and the Kiwis could only last 26.3 overs.
After Sanath Jayasuriya lit up Eden Park with a blazing 70, supported by a cultured 79 from the always consistent Kumar Sangakkara, Chaminda Vaas and Lasith Malinga shelled them with some disconcerting seam, swing and fearsome pace and had them grovelling and collapsing like a pack of cards before a wildly cheering crowd of 15 thousand spectators.
The morning dawned warm and sunny, which was to the liking of the Lankans and skipper Mahela Jayawardena won the all important toss to give his team first lease of a perfect pitch where the ball came on nicely to the bat and was ideal for the free scoring and stroke making Lankan batsmen.
Incidentally had Dilhara Fernando held on to catch offered by Kiwi top scorer Craig McMillan when the score was on 58, they would have been bundled out for their lowest ever score.
Jayasuriya the man of the match who has a fondness for the Eden Park pitch - he slammed a magnificent century on the previous tour started where he left off on that tour, and he did not hit the Kiwi bowlers but whipped them with some dazzling stroke play that saw fours and sixes raining on the Park.
In one over Michael Mason, whose action raised questions, he hit the piece for threes sixes in a row. It was a hat-trick of sixes and one wonders if this feat has been performed before. The first drive sailed over mid on, the second and third over mid wicket. He jet proppled the Lankan innings hitting 7 fours and 5 sixes in a 44 ball innings of 70.
His innings was the prop on which the Lankan innings was built. Together with Upul Tharanga he put on 102 for the first wicket before he mishit a pull to be caught at fine leg. The 100 came in just 86 balls.
After his dismissal 102 Sri Lanka lost two more wickets that of Jayawardena for no score and Tharanga for 22 while the score moved to 103. But Sangakkara and Atapattu with steady stand of 91 kept the momentum going. Sangakkara played another top knock for his team making 79 with 8 fours and 1 six. Atapattu made a slow but important 34. Sangakkara made his runs in 103 deliveries.
With the conclusion of the Lankan innings, the weather changed and it became overcast which was to the liking of the Lankan seamers, Chaminda Vaas and Lasith Malinga.
What an exhibition of bowling the two produced. They made the Blackcap batsmen look kindergarten and none of the batsmen could read them and play with any semblance of confidence. Vaas had them by the jagular and Malinga strangled them and was a sad sight to see the Kiwi batsman dejected and making their way to the pavilion. Vaas moved the ball in to trap the batsmen and Malinga bowled dead straight and with tremendous pace to catch them in front.
Vaas had the grand figures of 8-3-10-3 and Malinga 8-3-14-3. Muralitheran had 2 for 7 in 2,3 overs.
In all there were six LBWs in the Kiwi innings.
Upul Tharanga b Gillespie	                 22
Sanath Jayasuriya c Mason b Gillespie	 70
Mahela Jayawardene c Fleming b Gillespie	  0
Kumar Sangakkara c Taylor b Bond	 79
Marvan Atapattu c McCullum b Adams	 34
Chamara Kapugedera not out		 10
Farveez Maharoof c Adams b Bond	 21
Chaminda Vaas not out		  5
Extras (11lb 6w, 4nb)	 		21

TOTAL (for 6 wkts)			262
 
FALL OF WICKETS: 1-102, 2-102, 3-103, 4-194, 5-232, 6-256.
BOWLING: Mason 10-1-62-0, Bond 10-2-47-2, Gillespie 10-1-39-3, 
	Adams 9-2-53-1, Patel 9-0-41-0, McMillan 2-0-9-0.

Brendon McCallum c Sangakkara                        
b Maharoof	 			17
Stephen Fleming lbw Vaas		  0
Ross Taylor lbw Vaas			  0
Peter Fulton lbw Malinga		  9
Hamish Marshall lbw Vaas	 	  3
Craig McMillan not out	 		29
Andre Adams lbw Malinga		  1
Shane Bond c and b Malinga	 	  2
Mark Gillespie c Sangakkara b Fernando	  0
Jeetan Patel b Muralitharan	 	  6
Michael Mason lbw Muralitharan	 	  1
Extras (2lb, 1w, 2nb)	  		  5

TOTAL (all out)			 73

FALL OF WICKETS: 1-5, 2-17, 3-17, 4-25, 5-37, 6-39, 7-49, 8-54, 9-71, 10-73.
BOWLING: Vaas 8-3-10-3, Malinga 8-3-14-3, Maharoof 4-0-27-1, 
	Fernando 4-1-13-1, Muralitharan 2.3-0-7-2.