Is begging an offence?
When I go to buy my break-fast, there are plenty of people I come across at the food out-let every morning, half a dozen or one or the other are the beggars standing at the door step of the pastry shop.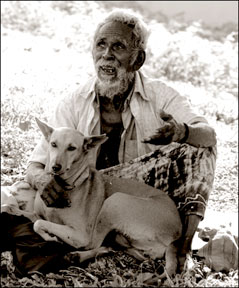 Many of you may have similar experiences in the morning when rushing to your work place. Beggars are omnipresent in our country at traffic lights, outside the cinemas, restaurants, religious places or any other place you name it and they are there. I really feel unhappy about this situation, an average part of our society is beset with animosity.
Like any other profession, it boasts of proper moving hands, varying according to the convenience of the beggar and the potential of the alms-givers. Beggars also employ different tactics to gain your sympathy and extract maximum of you.
Most of us are aware that, begging like any other business, is being run by highly organised gangs and is a big industry by itself says Police.
Different types of beggars are around: the aged overs are seeking for help, attributing their advanced aged to begging; the handicapped girls and boys are highlighting their physical disability as an excuse for begging.
The young women carrying infants, begging on behalf of their child. A slightly different class of beggars moves from door to door, seeking money or food. Another group of beggars, holding a picture of god or goddess. There might be plenty of other types of beggars who come to your mind while reading this article.
Attirely a beggar is able to earn anywhere around Rupees four hundred to five hundred per day and at times, even more. It is not a bad figure viewed against the daily earners of the society. Recently I was able to have a chat with a gentleman who is professionally a hotelier and is originally a citizen of India.
According to him "Begging is taken as an offence in India. Some well organised set of groups kidnap the innocent civilians or more over children and they break their limps and make them disable. The above mentioned groups do carry these as a business, early morning they drop them at one destination and pick them during the night.
By that time their hands are filled with a considerable amount of money like Rupees two hundred to three hundred per day. I remember when I was in the ninth grade, there was this gypsy boy who use to follow me from my college to home. So, as my mother was very kind she used to give food for him to eat. I even asked my mother to send him to school.
But he was never interested of atleast trying out a new life. Some of these families even carry this as a family business and it is indeed a pathetic situation to see adults giving wrong examples for the younger generation.
But now the relevant authorities have taken necessary steps to cut down the beggars on the streets. Comparing to last ten years at least in the city limits 70 per cent of the beggars has vanished. I think conclusions and allegations cannot change this situation but a proper system should be launched" he said.
Did you know that Singapore is a country which is out of this miserable situation. There is not a single beggar to be found in this Island. People say that it's because of the less population in the country. But how about in countries which are also having a small population.
There is an important question arising at this stage, what can we do to tackle this problem? Finding the answer for this is not that easy, atleast for me.
Watching the pitiable faces tapping on your car and looking towards you with hope and fear leaves one filled with guilt, where one would not be able to ignore these faces. But by giving alms for these people will worsen the situation rather than solving it. In my point of view the problem of begging should be tackled at the grass roots.
Leading a respectful life is the right of every human being. But these people have left behind their self- respect and vanity before coming to this so-called profession.
Can we hope that soon there will be a day arriving for these beggars to walk out from the dark to the light, to help them to do so the initial measures should be taken by the top authorities. Why not turn an impoverished person into a self-rellant individual?
Pic by Saman Sri Wedage