Strictly for girls:
The Darcy complex
Are you too a 'victim'?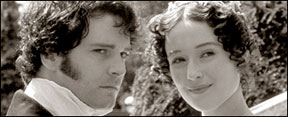 Neither can I reveal her actual name, nor can I give her a fictitious name. So I'll simply refer to her as "She".
None of her class mates were aware of her secret love until their teacher revealed it. "I don't know about Elizabeth. But I am sure that you have fallen head over heals in love with Mr. Darcy!" To her utter amazement her A/L English Literature teacher came out with the remark after going through one of her answer scripts written on Jane Austen's 'Pride and Prejudice.'
She could have easily dismissed the 'allegation' if her eyes did not light up at the mere mention of Darcy's name! In fact she started 'loving' the man when she was in her early teens. It developed gradually and reached its climax when she had to study 'Pride and Prejudice' for A/L English. Though several years have passed since the incident, still Mr. Darcy remains her 'ideal man' or Mr.Right.
Is it possible to love a man who lived in Jane Austen's literary world far back in 1813, in England during the Elizabethan age? At least we could have forgiven her if she got attracted to the actor who plays Darcy's role in 'Pride and Prejudice' movie. But she is in love with 'Darcy' whom she has in her mind -a tall, handsome proud man with noble qualities.
Do you want to believe that she has even said "no" to quite a few 'suitable' guys simply because neither their appearance nor qualities are similar to those of Mr. Darcy? So could any other complex be so dangerous as 'Darcy complex'?
"It is quite natural for a girl to develop an interest towards a film star, singer or such a popular figure or even towards one of her close male cousins. Then he would be her 'ideal man' or the 'model' and she would love to have a man who has similar qualities as her future husband" says Sujatha, a woman in her early thirties "But if you tell me that there is a 'silly' girl who loves a fictitious character in a novel, a person whom she has never seen, that is really strange."
But how can my protagonist explain to Sujatha that Darcy is not a fictitious character- but the Mr. Right whom she is in love with and that she always feels his handsome presence. Even Darcy's pride though despised by many a girl is pleasing to her as it was built on reasonable grounds.
"Waiting for the perfect man is anyway dangerous." voices another stern woman. "I have read Austen's novel. I too like Darcy's character. Darcy may be the first man who appealed to her. So he is her 'ideal man'.This is sheer infatuation." She made a face and added: "No man is perfect in this world. You will never find a man who is perfect."
As Nilanthi observes you do not feel like saying 'yes' to any other guy if you have a 'Mr. Right' in your mind. That is why certain girls reject boys who seems to be perfect in every sense. "But there are even girls who reject a boys' offer out of sheer pride. In the end it is they who lose, not the guys." She smiles.
Anyway 'marriage of convenience' is not a fine solution. The story of Shehani which was revealed to me by one of my friends may be just one example which proves that. She had to tie the knot with a guy for practical reasons.
Since the guy was from a well-off family, her parents insisted that she should say 'yes' to him. So, though he was the complete opposite of her 'Mr. Right', she had to marry that dark, boring man who is even shorter than her.
Even today, despite all the comforts, she still repents as she could not wait till she meets the 'right' guy. "My husband loves me a lot. In fact I am the apple of his eye. At times I even feel guilty."
But Shehani assures that it is not her fault. She had even advised my friend to wait till she meets the right guy and not to enter in to a marriage of convenience." You have to be strict even with your parents regarding the matter. After all it is your future and you have the right to take a decision."
According to Nandani- a mother in her late forties, there is a great difference between outward appearance and reality. "Though we assume that certain couples are living happily it is not always so in reality."
As she says this normally happens when you are forced into marriage solely for practical reasons. "Even if a girl marries a man for genuine love, problems may arise. That is a different matter. But problems may rise right from the beginning if you marry a man whom you do not love."
Anyway Mrs. Ranasigha, who has a daughter of marriageable age dismisses 'Mr. Right concept' with scorn. After listening to her story I realized that she had valid reasons to be angry!
"You know my daughter goes on refusing marriage proposals saying that 'he is not my type'. Her friends told me that she had even said 'NO' to quite a few guys in the university. "I have become sick of this game now. "Ideal man" maha vikarayak (What nonsense.) "I think it is simply because she does not want to marry anyone."
It seems that she knows quite a lot about girls. "Girls in present society think they know everything. They are much more educated than women of yesteryear. It can be problematic at times. I don't think even "Socrates" can argue with my daughter."
Another elderly woman too had a similar view. "You should never listen to what your daughters say. They live in a fairyland waiting till their 'ideal man' comes to take them to the fairyland." She wanted to address all the 'difficult' girls thorough the article. "At the end you will understand that "Mr.Right" only exist in your dreams. But you are too late by then."
But Sonali has a different story. As an adolescent she had spent hours and hours dreaming of the happy family unit that she would surely build one day with her Mr. Right. In the end she met her "Mr. Right."
"Beauty lies in the eyes of the beholder. Similarly the qualities one wants to see in her partner too vary from person to person. So better to wait till you find the right man." With great interest I listened to her story. She had always wanted to marry a tall, handsome, kind-hearted man who has a mesmerising smile. I preferred to marry an engineer.
Believe me or not, I met the man whom I had in my dreams accidentally." Back in the late 90's as she was doing shopping she saw her 'dream guy' waiting in the queue to pay his bill. Her eyes lit up as she narrated her 'love story' to me. "Shall I call it '1998 Love story'" I asked. "Well, that is the year we met eachother. But better to call it 'An eternal love story." She smiled.
As Sonali says you can fake anything, but not affection. "So better to wait till you meet the right guy."
"Hers is an exception." was the response of many. Life is not so smooth for everyone. "Many tend to waste the most important period of their lives waiting till they meet the perfect man."
Nalini quoted the words of her grand ma. Her grand ma had once told her that she too would have remained unmarried had not her mother (Nalini's great grand mother) intervened. "Sometimes you gradually develop a love and regard for your partner after marrying him."
Also according to her it is not only your husband's love that matters. As you get children they become the centre of your interest. In later years you get immense happiness when you are with your grand children. "It is the extended family that matters a lot. We should be aware of our responsibilities."
Though young, Saveen-the only 'guy' whom I spoke to, had an important message to give. "More than boys it is girls who wait for the "Mr. Right". But I think a girl should always marry the man who loves her a lot. " Hardly does one can find a perfect man."
So will my protagonist ever be able to find her 'Mr. Darcy'? What can she do with those self promoting "Mr. Darcy's" who hang around her forcing her to give her consent? Do not they know that she eagerly waits till 'Mr. Darcy' comes to her and say" Dearest, Loveliest (Elizabeth), What do I not owe you! By you I was properly humbled."
"Merely being tall is insignificant, just being handsome does not count.. A proud man is not her concern. Only Mr. Darcy and Darcy alone. Can we blame Austen's Darcy for being so 'romantic' amidst his seriousness. Then can you blame my favourite writer Jane Austen for 'producing' such a character? Best solution for her is to carry "Pride and Prejudice" with her wherever she goes and flip through its pages when the necessity 'arises'!
(Names have been changed)