Lanka, a success story in malaria control
Sri Lanka, once among Asia's worst affected nations for malaria, is now close to eliminating it.
The sharp drop in the number of reported cases to 196 in 2007 - with no deaths - demonstrates that the national malaria control programme has been effective even in the traditionally disease-prone northern districts, portions of which are controlled by Tamil Tiger separatists.
About four million people, a fifth of the population, dispersed(scattered) over the largely rural dry zone - with rainfall of 250-500mm a month - are still vulnerable(exposed to infection) and could serve as a reservoir for the malaria parasite, said Rabindra Abeyasinghe, acting director of the government's anti-malaria campaign.
"Elimination means we have to get rid of the pockets of the disease that we have now," Abeyasinghe said. "Without the conflict it would have been very easy, but with the conflict it is more challenging," he told IRIN. "But it can be done - after all, Sri Lanka has already eliminated leprosy and poliomyelitis even with an ongoing conflict."
The Health Ministry is seeking an estimated US$40 million in donor aid and government counterpart funds to cover a five-year elimination programme in seven of the island's nine provinces. The budget will also include strengthening a control campaign in the other two conflict-hit northern and eastern provinces.
While overseas aid, mainly from the multi-donor Global Fund to Fight AIDS, Tuberculosis and Malaria, has helped bridge the shortfall in government expenditure, the low rate of malaria incidence threatens to undermine foreign financing.
"Up to now, donors have helped us control the disease, but our success could work against us when it comes to getting much-needed funds to carry out an elimination programme.
"If people are not dying, donors might not see it as an urgent issue any more," Abeyasinghe said. But the World Health Organization (WHO), which has supported the malaria control programme since the late 1940s, thinks Sri Lanka has a solid case.
"Sri Lanka is a success story in Asia, because, despite all its problems, it is one of the few that have come close to eliminating the disease," said Supriya Warusavithana of WHO. "International donors like the Global Fund are, in fact, looking for such striking stories to draw more donor funds for themselves."
According to WHO statistics, the declining trend began after 1998, when cases peaked at about 275,000 and 117 deaths.
In subsequent years, casualties were kept down through house spraying with insecticides, treated mosquito nets, improved testing and treatment facilities in rural hospitals and mobile clinics. Warusavithana also attributed the achievement to widespread improvements in socio-economic conditions and infrastructure and better access to basic healthcare for the poor.
"Malaria has always been linked to poverty," she said. "For instance, the rural poor used to have houses with thatched roofs, mud walls and unpaved floors, which encouraged mosquito breeding. Now, many of them have tiled roofs, brick walls and cement floors."
Due to the conflict, eradicating the disease in the north and east is set to begin only after the programme has been implemented in the other provinces.
Aiming for total elimination will also have to include screening and monitoring at entry points to the island to prevent introduction of imported parasite strains to the country. -IRIN
---
Guide books for teachers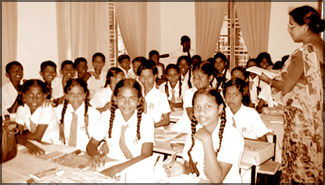 Guide books for the country's teaching professionals will soon be distributed by the Education Ministry. The 'Teachers Guiding Hand Books', which contain the new curriculum, will be distributed to all teachers in 87 zonal education officers out of the 90; they will also be made available on the internet. The Teachers' Hand Books for GCE Ordianry Levels have already been sent to schools.
The Ministry is also working on the shortage of textbooks that have occurred in some schools in the island. Only 50 per cent of the required textbooks have so far been distributed by the Ministry and schools in several parts of the island are reportedly experiencing a shortage of textbooks on Science and History for grade 11. The shortage is expected to be rectified within two weeks.
---
Teaching the second language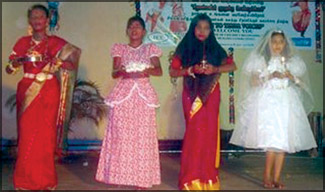 The problems that this country is undergoing, as you yourselves may well know, are mostly to do with the different ethnic groups and communities not interacting with each other and not learning and understanding each others' language, culture and traditions. If the Sinhalese had associated freely with the Tamils, Muslims and other ethnic groups and vice versa, there may not have been room for such tension.
Better late than never, it is said. The Education Ministry has now implemented a second language evaluation scheme for Sinhala and Tamil medium students. The idea is that the ability to communicate in each other's languages would help eradicate ethnic barriers and bridge the gap between diverse linguistic groups and communities.
Both Sinhala and Tamil languages have now been declared State languages. From 1999, it has also been compulsory for Tamil medium students to learn Sinhala and vice versa in accordance with Education Ministry regulations. From 2007, the second language has been declared as a compulsory subject from grade one.
A problem encountered in this regard by the Education Ministry is the shortage of teachers to teach the second language. As a measure, teachers specialising in other subjects are currently being utilised to teach the second language, on a unanimous decision made by zone and provincial education directors.
---
One of the world's longest bridges in China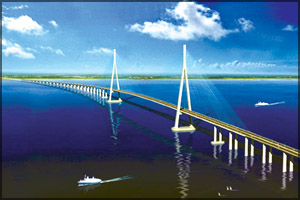 China inaugurated one of the world's longest bridges, which will provide an important new route into Shanghai, state press said.
Presented as the "world's longest sea bridge", the 36 kilometre (22-mile) structure connects Jiaxing city near Shanghai to the port city of Ningbo in the eastern province of Zhejiang.
It is slightly shorter than the 38.4 kilometre Lake Pontchartrain Causeway Bridge in the southern United States, which is often billed as the world's longest. The 11.8 billion yuan (1.7 billion dollars) bridge will cut the length of the road trip from Shanghai to Ningbo by 120 kilometres, the official Xinhua news agency said. Construction of the six-lane bridge started in November 2003 in an effort to reduce traffic congestion in the booming area, Xinhua said. - AFP