Pet Den
Caring for a baby squirrel
Part 2
In the last Pet Den page, we discussed caring for an orphaned baby squirrel including how to hydrate it and how to start off feeding it. Let's look at the rest of the things that one will need to pay attention to, when caring for a baby squirrel.
Once feeding starts, you must watch out for diarrhoea, constipation and dehydration. If you see signs of diarrhoea, a remedy would be to give it mashed bananas. The opposite can also happen and the squirrel may get constipated(difficulty in emptying bowels).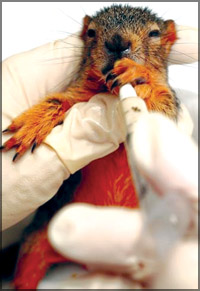 In such an instance, you should closely monitor the squirrel's urination and defecation rounds(bowel movements), and if you see any sign of constipation, a few drops of diluted apple juice would help most of the time.
With all the milk and other foods you are introducing, having the squirrel properly hydrated is something you must always keep an eye on. The methods described in the previous edition can be used to check for dehydration; take any remedial action if required.
Squirrels are normally said to wean on their own. Weaning means, substituting other food in place of mother's milk. This can be initiated by stopping feeding it and giving the milk in a shallow lid. In addition, during the weaning period, a shallow lid of water should be kept closeby at all times to avoid dehydration. Then you can start introducing unsalted nuts and raw fruit and vegetables like grapes, apples, bananas and sweet potatoes.
High-protein baby cereal mixed with water can also be given from time to time. It is also important to keep the baby squirrel warm at all times, using a baby blanket or other suitable cloth to form a coil for it to sleep in.
This can be set up inside a box and kept in a warm part of your home. If the box is placed directly over the heat source, such as a heating pad, never allow it to exceed 100 degrees Fahrenheit. Heat only one half of the box's floor area. Also, never allow direct light to shine on the baby because its eyes are very sensitive at this early stage.
Cleanliness of the squirrel as well as yours is important. Always wash your hands well with soap after nursing the squirrel, for your safety, and in addition, keep an eye on the squirrel for any infections. If you see any signs of infection, an antibiotic ointment may help the squirrel to get rid of it.
At this stage, the squirrel will be teething and you should provide a hardwood branch for it to chew on. And it would be advisable to keep it contained in a large cage or you will risk damage to your home and furnishings. You should also provide an 8x8x12 inch nesting box with a three inch entry hole.
It can even be a cardboard box, although wood is best. Give your squirrel small twigs, straw or bits of cloth so it can try to build a nest for itself. This box is important since it needs to have a place where it can hide as well as sleep.
All this time, we were discussing about taking care of an orphaned squirrel. However, according to the law of nature, it belongs in the wild. Unless you really want to, and would take care of it well till the end of its life, it would be your duty to return wildlife to the wild, ensuring that they have the necessary tools to survive.Animals do not belong in cages!
---
Pets in my heart
Earlier my pet was a dog named Blackie. I still remember those fun-filled times with it. But Blackie was gone forever on January 7, 2005. I felt such loneliness in my life from then onwards.
But, in the year 2007, a pet joined my life again. It was a cat! Actually, it arrived at our house as a new guest. We named it Pussy Buhl. Ever since then, I have shared all my things with Pussy Buhl. It is also just as joyful as my earlier friend. But my dog wasn't this selective with food.
My cat has a completely different eating style. It prefers to eat rice without curry, the yolk of the egg, papadam, small fish and some selected varieties of biscuits. It doesn't like milk, but loves to eat yoghurt. It has round, bright blue eyes and a funny tail. Its coat is a mixture of three colours-white, brown and black.
Sometimes, Pussy Buhl sleeps on my lap. When I do my studies, it jumps on to my table and walks all over it. I love too play with it.Although Blackie is not here now, it still lives in my heart. I love both my cat and my old dog so much.
---
Beautiful Binthi
My pet is a dog. Its name is Binthi. It's brown and very beautiful. It drinks milk and likes fish and beef.
Sometimes, Binthi jumps right up to my head. One day, it had jumped up over our fence. I like my dog very much.
---
Good dog, Rubi
My dog is Rubi. It is big and black. It likes milk and it also likes to play. It is a good dog. I like my Rubi.
---
My pet dog
My pet is a dog. Its name is Jonee. It's white and brown in colour. Its favourite foods are meat, milk and rice. Jonee is very playful; I play with it a lot. I love my pet.