The first ever gem-studded bridal dress
| | |
| --- | --- |
| | |
| Nandani Jayasuriya | Wasantha Jayasuriya |
Have you ever heard of a gem-studded bridal dress? Certainly not because this is the first ever gem-studded bridal dress in the world. Ratnapura is very famous for gems and it will receive global recognition with a gem-studded bridal wear.
Sri Lankans are quite familiar with the gem-studded seat which two kings Chulodara and Mahodara fought over. This gem-studded bridal wear is the brain - child of one of Sri Lanka's very own bridal dressers who now share the limelight globally too.
Nandani Jayasuriya with her husband J. M. Wasantha Kumara Jayasuriya has kept a step forward to record their names in the Guinness book of records.
Nandani is a bridal dresser by profession who is also the proprietor of Nadeethera Beauty Centre and Garments at Pallebedda, Balangoda. Her innate talent working intricate bridal wear was given the finishing touches by her teacher Sumana Wijedasa. She has also followed beauty course at the Youth Centre.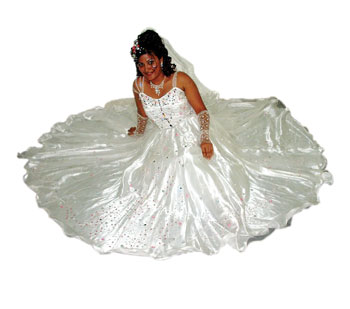 She has been in the dress making and bridal dressing field for the past decade. With her creativity, ability and the availability of precious stones in Ratnapura, she directed her creativity towards a different dimension of bridal dress-making.
As Ratnapura is famous and known as the `City of Gems' familiarising themselves with `gems' and Nandani's creation is expected to showcase an exclusive work of artistry.
Nandani, a designer of much repute and is very keen on turning out trendy bridal wear, in keeping with the very latest trends. She often browse the internet for updates on the new trends she says.
Sometime ago while she was browsing the internet she had come across a diamond-studded frock. That inspired her to do more research in order to find out if there infact were gem-studded dresses.
This was what gave her the inspiration to go for something `unique', something exclusive: a gem-studded bridal dress which turned out to a total success.
Verified With Guinness office she was informed that it was the first ever made gem-studded bridal wear.
This masterpiece took almost three months to complete. She worked painstakingly with little rest and sometime even missing many orders too. She explains how difficult it was to find equal stones to match. "The most difficult part was to find precious stones of equal size and colour. Since the jacket is symmetric and both sides have to be equal to look beautiful.
It was not an easy task for her. Precious stones on the other hand cannot be trimmed because it is a waste and a loss.
When one stone is pasted it takes as long as 52 hours to dry'. She adds "So I had to wait another 52 hours till that particular stone dried and pasted well." Precious stones were very hard and hard to remove too. Nandani said that it requires a special chemical to remove precious stones from a frock.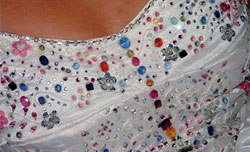 "Many gem vendors in the area helped me a lot in this endeavour". She smiles.
This frock is made of 560 precious stones consisting of gems from a superb class gems called Corundum. They have used precious stones such as blue, red, Viroid, Pushparaga and Ratnagomedha.
Wasantha Nandani's husband who has 20 years experience in the gem industry elaborates" What ever creation on the exclusive bridal dresses sold to the customer given with a certificate of guarantee from the Authority of Gem and Jewellery".
I asked them at what price they are going to sell the gem-studded bridal frock. They smiled and said "No miss we are not going to sell this because this is our first creation.
We hope to keep this as a souvenir. But the bridal dress cost five millions rupees. They are very proud about the recognition this dress would bring Sri Lanka as the first ever gem-studded bridal frock in the world.
Nandani said she is getting prepared for her next bridal dress since she has already got many orders from abroad as well. "I have got an order for another gem-studded bridal dress from a Sri Lankan living in the UK and also two orders from Sri Lanka. I hope this will become popular very soon".
They have already applied to get Patient from Guinness for their the gem-studded bridal dress. They also hope to hold exhibitions of their unique creations in the Europe as well and hope there will be a satisfactory market for their gem-studded clothes in future.
"We need a sponsorship from the government and hope the government will extend their fullest support for this because we already have a good demand" Wasantha says.
Apart from gem-studded bridal gowns she plans to work gem-studded Kandyan sarees and the Kandyan Mul Anduma for brides groom as well to promote Sri Lankan culture.
The gem studded Kandyan Mul Anduma would cost around Rs. 85,000 to Rs. 100,000. They are currently designing gem -studded Kandyan Mul Anduama for `Basnayaka Nilames'. They are the only one in the Ratnapura district who make Kandyan Mul Anduma for brides grooms.
Having to rush back to Pallebedda from Colombo to get prepared for another felicitation ceremony in the area the following day the couple left with hope for a bright future.