Beyond fantasy: Deviation from the traditional
Thushara Peiris is an up and coming youthful director who received his education in filmology at the Cine Film Academy in Italy.
`Prabhakaran' his maiden film has been attracting a huge crowd to cinema halls simultaneously in Sri Lanka and twenty seven cities in countries including Italy, Germany and Switzerland. Below is the pow wow the Sunday Observer had with the budding director.
What is your background knowledge with regard to cinema?
I learned on filmology at the Cine Film Academy in Italy with main stream being script writing. There were many students in my class from all corners of the world.
Here I won the script writing competition and this award gave me encouragement to return to my motherland and go for my own creation. I engaged myself in making films at the academy which I think gave me the knack of making my own creation. The creations of mine were adored by many at the academy.
Most of the budding film directors tend to go for fantasy and romantic themes in their maiden venture. But your's was a deviation from the tradition. Why did you chose such an in -depth theme like terrorism as your maiden endeavour?
I would agree with you. Fantasy and romantic films can be done easily which are less problematic. But I wanted to emerge a new break in the tradition and at the same time to take up a challenge. Every one has their own capabilities. I have identified what my standard is.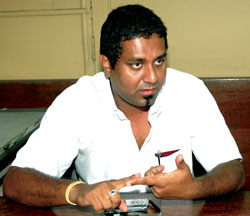 `Terrorism' is a globally affected predicament. I wanted to depict my perspective on terrorism through that film. I think `Prabhakaran' is a successful portrayal in that aspect. Democracy is best preserved in Rome compared to any other country in the world.
I have met several members of terrorist group there. One of my best friends in Rome was Nadan who was a member of LTTE. I gathered a lot from his personal experience and also material for my film, since I got along well with him.
Every one knows what a terrorist organisation is but only a few know how it functions, problems which they encounter, how suicide bombers are trained and so on. One of the important things I have learnt in that a terrorist organisation cannot to survive in the long run, without child soldiers.
Child soldiers are the base of a terrorist organisation. And especially for suicidal purposes child soldiers are best trained when they are young. Most of the people know the outward picture of a terrorist organisation but to get a good idea as to how it works is a rare experience. That invaluable experience helped me tremendously to produce `Prabhakaran'. Another reason to choose such a serious theme is that I wanted as a patriotic citizen, to do something responsible for my motherland.
Q: What is your notion on suicide bombers?
A: They are psychologically very strong category of people. You and I can never ever think of dying. If a soothsayer says that you only have two or three days to live, how would you feel? Could you even imagine that death is hanging over your head? But those people with a strong psychological base are ready to accept any challenge. Needless to say, accepting death is the biggest challenge for any person!
They are also good goal achievers. Determined and dedicated. They are different from the ordinary. The ordinary people are affected by trifles of day to day life. What I could say about suicide bombers is that he or she is a deviation from the ordinary who could do things which ordinary people can not do.
Q: Were you not afraid to choose novice actresses and actors for your maiden creation?
A: Not at all. When I write the script I visualise who could fit into for each role. If I were to choose experienced people in the field they might not have served my purpose. As long as the actor or the actresses put his or her heart and soul to bring out the real meaning of the creation, their experience is less significant.
I have selected many people living in the North who were previously attached to the LTTE. They had no experience in acting but they could represent each character successfully.
Q: What made you use people in the North who were initially attached to the LTTE?
A: In order to preserve the originality. Apart from letting child soldiers act in the film I also tried to do charity work at the same time. I put some of the child soldiers in a rehabilitation centre at my expense. I think it is a good investment and they could face society with confidence. Actually it is very pathetic to hear from them their past agony and present grievances.
Q: How much assistance did you receive from the veterans in the field?
A: Sad to say that they tried to throw cold water on novices. I never got a word of encouragement from them.
Q: Are you disappointed about the field? Will not your audience see any product of your's in the future?
A: Yes. I am disappointed a bit, but I don't consider much about that anyway. I am not going to take a step backwards. I am going to start my second film in the not too distant future.
Q: What is your next film going to be about?
A: I have named it the `Italian Express'. That is quite similar to my first creation. It is about a rebellious group of people who are on an expedition to Italy from different corners of the world. That story shows the reason why people take flights and boats to go to Italy. It will also be a unique experience to my audience.