Entertainment
Sri Lankan reggae - their speciality
Teenage courage and determination to face the challenge saw Jayasri venture to Vienna, Austria to spread Sri Lankan songs in their special reggae rhythm. They were the only Sri Lankan band who for the past fifteen years have entertained Austrian music lovers with their original music.
The popularity they enjoy has enhanced their fan base on the Continent, England and now they have spread their wings to take in Canada and US as well. Jayasri will be touring North America singing at concerts and club gigs which according to the band has been organised by Entertainment Unlimited in Toronto.
"We are happy to present our own unique Jayasri sound at all these shows and we are told that a large Sri Lankan fan audiences are awaiting our arrival," comments Rohitha.Apart from these gigs in Canada and the States, Jayasri will be a familiar sight at the European Summer Festivals, which will take them to Italy, Greece, Cyprus, Germany and France.
Whilst in Italy "we have decided to go with Sri TV- Italy they will cover most of our shows in Italy and Greece." We will be at the Rototom Sunsplash Reggae Festival in Udini, Italy."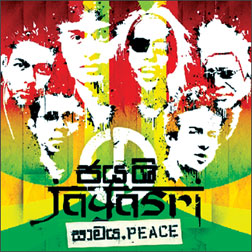 Italy is a lucky charm for the band because soon the international film "Machan" directed by Uberto Pasolini will be released with the music of Jayasri where six of their songs have been used.
The music score was handled by Lakshman Joseph de Saram and the film produced by Prasanna Vithanage. Rohitha also informs us that there are other films which will be released in Sri Lanka in which their songs will be featured. The films are Pitasakwala Kumariyai and Pancho Hathai.
On their return from Canada Jayasri will also be featured at the Cultural Festival in Polten and the Afrika Festival in Vienna's Danube island this summer - Sri Lankan ambassadors in song.
---
A CD launch and concert by Petronella
The magnetic pull of music vibes has brought Petronella Fernando back to her motherland to launch her second CD Oba Nisa 2. The event will be celebrated with a concert by her at the Lionel Wendt Theatre on May 25 at 6.30 pm.
"I will be singing the songs there are sixteen on the CD plus some new ones and a duet or two with Upali Kannangara. It's going to be a different kind of a concert with attractive visual effects and choreography handled by Chandana Wickremasinghe" reveals Petronella when we caught up with her for a musician's pow wow.
Leading names have involved themselves in the creation of the music on the CD which is being launched with M. Entertainment.
"I had the assistance of Rohana Weerasinghe, Jagath Wickremasinghe, Neela Wickremasinghe, Stanley Pieris, Ernie Pieris and Upali Kannangara and I'm thankful to them" continues Petronella, for whom music is now a full time involvement even though she is a trained SOS Provider attached to the United Nations in the States.
Petronella made her impact when she recorded the song for Tsunami in 2005. This was a tri-lingual song (Sinhala, Tamil and English) titled Chanda Sayuru dedicated to the survivors of the Tsunami. Since she is a counsellor for those affected by critical disasters she was able to reach out to many with her song and was able to make a difference in their lives.
When did you decide to get involved in music? "Actually in Sri Lanka I was a National athlete, a discus thrower and a National Basketball player. I was also interested in music. I was a member of Lylie Godridge's Choral group and I played the piano, organ and guitar. No I had no formal training. I played by ear. When I went to the States I started singing Sinhala songs and am largely influenced by Neela Wickremasinghe.
In fact when Neela or Annesley Malawana came for concerts in New York, I sang with them whenever the opportunity came my way. Soon I found myself actively involved in music. I released my Oba Nisa 1 CD and have been performing at cultural events organised by Sri Lankans".
Determined and committed to make a success of her music career, Petronella extends an invitation to music lovers to be with her at her launch on May 25. She'd be happy to see young enthusiasts because some of her songs reach out to parents and their children focusing on the value of observing the traditions of our country.
---
A 'bouquet of happiness' on Mother's Day
The saying goes that no one has given more to your life that your Mother... the pain, heartache and joy they deal with on a daily basis is unbelievable... Trans Asia goes personal on Mother's Day. Treat her to a scrumptious lunch at Summerfields, with special brunch music by the Cool Set at the lobby. Children have the opportunity to bake cookies, ice them and present them to their mother. Fun wise there's plenty for children including the ever popular face painting.
At the Galadari the Coffee Shop offers a fabulous dinner buffet and complimentary dinner for Mum for every table of four. Special Mother's Day cakes to spoil your mother are available at Cafe 64. At the Ceylon Continental treat your Mum to an exciting international lunch buffet at the Emerald Coffee Shop.
The Governor's Restaurant at the Mount Lavinia Hotel is the place to be for a Mother's Day lunch. You can spoil your Mum with a ten minute complimentary spa treatment and also take home a discount voucher for Father's Day lunch. At the Hilton Colombo a bunch of happiness awaits your Mum.
A family brunch at the pool, a special one at Spices with all the savoury delights. Or perhaps an exciting family outing at Il Ponte with delicious BBQ kiddies corner, magic shows for the children and free cocktail for mums. You can end the day with an elegant, stylish dinner at Spoons and a complimentary box of chocolates for every Mum.