[Photo Feature]
Local talent unfurled
'The nation re emerges through inventions and innovations' :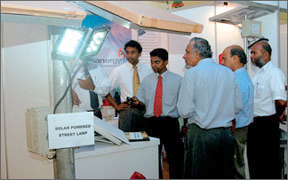 Solar powered street lamp by Snergy (Pvt) Ltd.

Banana Fibre Stripping Machine by Piyasena Kodikara.
Pix by Chinthaka Kumarasinghe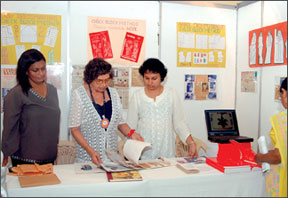 Check Block method - an easy method of dress making by Barbara Wijesinghe.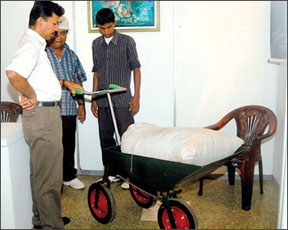 Efficient wheel barrow by B.A.N.T. Wijethunga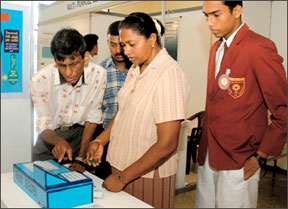 Memory developer by Rasika Chandima Pathirana.
"It will always do to change for the better.' Creativity is after all the mother of invention. Thus, the recognition of the innate talent and expertise of society; their contribution in the field of inventions and innovations and the untiring effort to build a niche in modern innovative technology with unique Sri Lankan character to uplift the nation's living standards is being encouraged and promoted annually by the Sri Lanka inventors Commission fulfilling yet another of the Mahinda Chinthanaya pledges to set aside 1 per cent of the country's GDP for inventions and innovations in the Science and Technology field.
This year too 30 concepts of such inventions were displayed at the BMICH at the Inventions and Innovations exhibition 2008. A competition is conducted annually to resolve problems relating to nationally important projects.
This year's Presidential award, the Grand Challenge were awarded to the innovation of a water purifier: a solution to the problem of purification water in the Anuradhapura and Kurunegala areas where kidney disease is rampant while a herbal tube for the mosquito menace and bitter melon used in instant food varieties for school children was also awarded.
The exhibition also had on display many interesting inventions and innovations such as the banana fibre stripping machine which could turn out vibrant handbags and travelling bags to the memory developer, a memory developing device for the thinker which was well patronized by students.
A critical care assistant: a decision support device for critical illness in medical practice saw many medical professionals gather to check out the mechanism while the Robotic arm, the Blind stick connected to a three wheel moving platform and the semi autonomous wheel chair : a better way of mobility for handicapped and elderly to move around easily without depending on others was also some of the inventions on display.
An automatic lightning surge diverter, the inverter welding machine -a voltage converter which allows the use of very small transformers, Bench power supply, a highly reliable micro controller based analog to digital conversion for both voltage and current display, the Switch Mode Battery Charger - a low profile modern design switch mode power supply, Reed industry machineries, introducing new tools and technology to develop the reed industry and the Automatic Exhaust Fan Controller, a system that can detect the presence of a person and activate automatically were some of the other interesting inventions.
The Pressed Brick Maker a low cost and strengthened pressed soil bricks, the multipurpose slicer, a manual cum electrical device where thickness is adjustable, the string hopper or bit fabricating machine using different shapes, bites and pellets, manure spreader with slurry maker-a very economical way of spreading manure, the medicinal plant solar drier for drying plants, the Nursery bag filling machine where a large number of seedlings can be made during the seed production season the automatic cinnamon processing machine, automated loading system for coconut husk chopping, automated coir dust briquette maker, Intelligent electronic spot welding machine, automation of Bristle fibre production to maximize the length of the fibre and a Geo textile machine, were some of the other appliances that were also much sort after.
From a high capacity furnace producing char from saw dust and paddy husk to an Efficient wheel barrow which can be used to carry heavy things easily to a virtual mouse- a wearable and wireless replacement the exhibition and an innovative check block method of dressmaking a simpler method of dress making with just two measurements was spread over a hundred stalls.
Meanwhile, Commissioner of the Sri Lanka Inventions and Innovations Commission, Director Academic Studies, General surgeon Kotelawala Defence Academy and Senior lecturer of the Dept of Mechanical Engineering, University of Moratuwa, Dr. Kapila C.K. Perera speaking to the Sunday Observer said since 1993 many programs have been deviced to encourage the inventors at all levels.
Young inventors circles in the schools, villages and institutions working for the upliftment of the standards of society have been selected and awarded for their contribution from time to time in keeping with the priorities of the government at this forum organized by the Sri Lanka Inventions Commission to assist experts in different fields with their innovations.