"Breaking Ramar Sethu will be another scar like the Babri Masjid demolition" -J. Venkatesan
NEW DELHI: "The Babri Masjid demolition [at Ayodhya] is a scar on Indian secularism that will never be removed. Similarly breaking Ramar Sethu will also leave a permanent scar on the Hindu faith and belief," the former Attorney-General K. Parasaran said on Tuesday.
He was arguing before a Supreme Court Bench comprising Chief Justice K.G. Balakrishnan and Justices R.V. Raveendran and J.M. Panchal, which is hearing petitions challenging the Sethusamudram Ship Channel Project on the ground that implementing it would cause damage to Ramar Sethu (Adam's Bridge). Mr. Parasaran, appearing for Hindu Munnani leader Rama Gopalan, said: "Ramar Sethu is considered by large sections of believers a holy and a sacred place.
That part of the sea in the area of Dhanuskodi, Rameswaram, Tirupulani and Devipatnam is considered a holy place by reason of the existence of Ramar Sethu, believed to have been constructed to enable Lord Rama to have passage to Sri Lanka. To interfere [with] or destroy even a part of the said causeway would be an interference with the right of liberty of belief, faith and worship."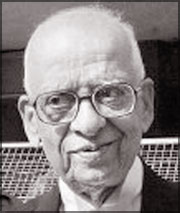 Earlier when Soli Sorabjee, former Attorney-General and senior counsel, was making his submissions, Justice Raveendran asked "whether even a small portion of Ramar Sethu [300 metres] can't be touched for purposes of development."
The judge said: "In our country, the Himalayas, Goverdhan and Tirupathi hills, rivers and land [Boomatha] are all worshipped. Do you mean to say that the land can't be touched, dams can't be constructed across rivers and hills can't be touched for stones?"
Answering this question, Mr. Parasaran said: "This is a matter of established customs and faith. An idol, object, place, river or city may be held sacred. Sethu and Ganga are considered the most sacred places in the country. Special sanctity is attached to the whole area of Sethu and we offer worship in four places — Dhanuskodi, Rameswaram, Tirupulani and Devipatnam — all connected with Lord Rama. You can't defile a place which is considered holy. If you cut across Sethu, you are defiling that place.
Even if one millimetre of Ramar Sethu is removed, it will amount to defiling the sacred place."
He quoted extensively from various documents, texts and puranas which had a reference to Ramar Sethu as a place of worship, and said a duty was cast on the government to protect it.
When Mr. Parasaran was explaining the role assigned to each community in society, Justice Raveendran jocularly asked, "Are you arguing the reservation case or this case?"
Referring to the arguments of Mr. Sorabjee, who is appearing for S. Kalyanaraman, Mr. Parasaran said: "Before taking up this case, Mr. Sorabjee had read three volumes of Valmiki Ramayanam and the Ramayana written by C. Rajagopalachari."
Justice Raveendran retorted: "Do you expect judges also to become experts by reading these volumes."
Mr. Parasaran said "the present case involves two aspects of the public interest, viz. claim of right to religious belief, faith and worship, on the one hand, and the claim of economic and commercial development in the matter of providing convenient passage for ships [on the other]. Every attempt should be made to accommodate both aspects of the public interest. But there is complete abdication of responsibility and non-application of mind by the government."
On August 31 last, the court, acting on Janata Party president Subramanian Swamy's application, passed an interim order restraining the Centre from causing any damage to Ramar Sethu in carrying out the project. Among the other petitioners are AIADMK general secretary Jayalalithaa and the Dandi Swami, Sri Vidyananada Bharati.