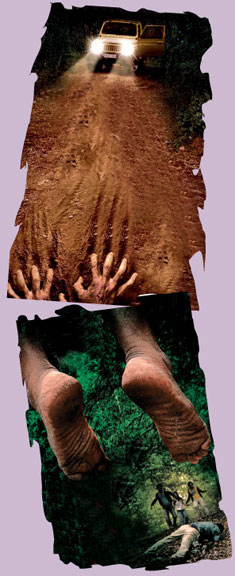 Jungles are scary, even more so in movies. Remember Predator where an alien attacks a team of commandos? Or the Blair Witch Project in which creepy things happen? Jungles seem to have a life of their own, especially if you are alone.
This is the premise behind the Hindi movie Agyaat (Unknown/Fear), released worldwide last Friday. Directed by veteran horror master Ram Gopal Varma of Bhoot fame, it is movie about a film unit that goes to a location deep in the forests of Sri Lanka. A film within a film, more or less. Yes, the film was shot on location in the Sigiriya jungles, though a few scenes were shot in Kerala too. Thatís just another incentive to watch this movie, then.
The storyline is simple: A film crew is in the Sigiriya jungles to shoot a movie. The shoot is put on hold when a camera malfunctions and they have to wait for a replacement. To kill time, they decide to go on a trek into the jungle with the caretaker of the jungle.
When the caretaker is found mauled one night, the panic and fear of the darkness and the unknown sets in. The movie piles on the horror as each crew member has to fight an unseen force. This unseen enemy is faster, smarter and is out to kill them all. Can they prevail over the darkness and the creepiness?
Agyaat stars Nitin Reddy and Priyanka Kothari, two rising South Indian stars, in the lead roles. The film has been dubbed into all South Indian languages. Despite the ghostly backdrop, Agyaat does have item numbers (including the already famous Kiss You Day and Night) and other such elements you expect in mainstream Hindi cinema.
RGV has apparently kept the climax as a top-secret even from the lead stars of the film. In fact, he had shot about five different climaxes. You will have to visit the theatre to see the ending, of course. But this raises the tantalizing possibility of a DVD version that will offer seamless branching into the alternate endings with directorís commentary.
The director has said that Agyaat is technically his best film till date.
Scary sound effects, solid editing, new camera movements and an apt background score are said to be the key elements, not to mention the acting.
In fact, lead actress Priyanka Kothari has told an interviewer that the film is all about sound effects, as one cannot see the (unknown) adversary on screen. Be prepared to be scared at a cinema near you.