Many at home like to make their own pizza, but the proper art of making the ideal pizza can be quite a formidable task especially when you have to bake it at the right temperature.
Speaking to the Sunday Observer Magazine was Harpo's Pizza Executive Chef Saroj Kaluarachchi who gave us some helpful pointers. "When making a home-made pizza, the ideal temperature should be from 2750 C to 3000 C or else the pizza could become roasted", he said. Furthermore, Chef Saroj said that the home-made pizza dough should be half-cooked before adding the toppings to make sure the base is strong enough to handle the weight of the topping.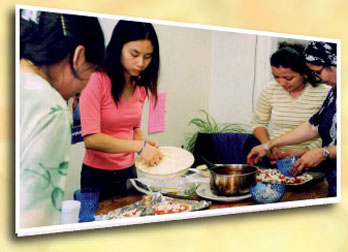 The chef said: "When a pizza is half-baked, it will be easier to make the topping 'stick' to the pizza dough". In addition to having a good base, the pomodoro sauce or tomato sauce base should be light in consistency. "However, if customers do not want tomato to be used in the pizza, then a light pesto or green chilli base should be used but tomato gives the best taste", he said.
When making a home-made pizza make sure you don't overdo the toppings by adding too much ingredients. Chef Saroj said: "you need the right amount of cheese, especially mozzarella to make a pizza base. Using fresh ingredients helps and the right length of pizza dough is thin as possible - only a few millimetres", he said.
Pre-cooking the toppings should be done in a light way as well. "You need to make sure the topping is cooked well enough to eat but not overdone to make it soggy and melted. Once you cook the various toppings you wish to fill your pizza with, make sure they are done properly as you don't want the toppings to make anyone sick".
"A good home-made pizza needs around 10 to 15 minutes to be baked and when the pizza begins to rise only, should you take it out of the oven" said Chef Saroj. In addition to this, it depends on the capacity and the temperature of your oven to make the best pizza.A good hot pizza is good for any meal and it also is a good fast food.
"For children and adults on the move or just a housewife who needs a break, a home-made pizza is easy to make if you have plenty of leftovers from lunch and in the Sri Lankan case, curries", said Chef Saroj. In keeping in tune with traditional Italian cuisine, Chef Saroj says that Sri Lankans can make pizzas with Sri Lankan ingredients if they like. "Obviously, the traditional Sri Lankan rotti is similar to the base where Italians like thin crusts and Americans like thicker ones and so you can use any toppings that you desire", said the Chef. Simple pizza recipe:
For the pizza dough, mix one and a half cups warm water with two and a quarter teaspoons of yeast (sprinkled lightly) in a large bowl and wait for five minutes until the yeast is dissolved. Stir to dissolve completely if needed at the end of five minutes.
Then mix in two tablespoonfuls of olive oil, three and a half cups of flour, a pinch of salt and sugar slowly. Knead the dough until it is smooth and elastic with the hand or mixer. Then place the ball of dough in a bowl that has been coated lightly with a tablespoonful of olive oil.
Turn the dough around in the bowl so that it gets coated with the oil. Cover with plastic wrap. Place it in a warm place (75-85F) until it doubles in size, about 1 to 1 1/2 hours. If you don't have a warm spot in the house you can heat the oven to 150 degrees, and then turn off the oven.
Place the bowl of dough in this warmed oven to rise. For the topping, start with a light tomato base and then add cheese, and small ingredients first before chunky sized ingredients. Bake pizza until the crust is browned and the cheese is golden for about 10-15 minutes.
Bon Appetite!
Harpo's winners
1. P.Shymala, Dehiwela
2. Jasmine Cooray, Battaramulla
3. Poorna Pemasena, Pita-Kotte