NLDB takes lead role:
Lanka to be self-sufficient in milk soon
Sri Lanka spends over a staggering Rs. two billion annually to import milk when it has the capacity to be self sufficient in the commodity.
The country has green fields, technical know how, investors and companies in the local and private sector to help achieve this goal. What the country needs is to fine-tune operations so that milk production could increase.
While the government played a secondary role and the private sector made great inroads in milk production, this pattern seems to be changing.
Over a decade ago government farms were sold to the private sector making the dairy industry lose its competitiveness..
It is sad to note that the very farms that were condemned and privatised, have successfully been turned around by companies such as CIC, Nestle and Kotmale.
However, in fairness to the private sector it should be mentioned that, they not only made loss making entities profitable but also provided employment for several thousands of families and found them a permanent source of income.
The out grower concept introduced by these private companies where cattle were provided for farmers to nurse and provide milk back to the owners, were very successful. This was a win win situation for both parties with the farmer receiving a high earning self employment avenue, without making an investment.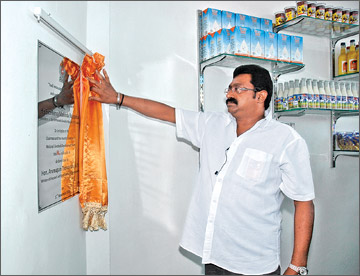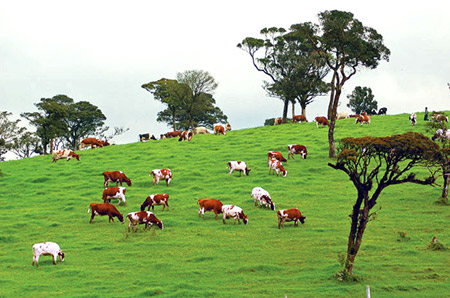 Cows grazing on green grass upcountry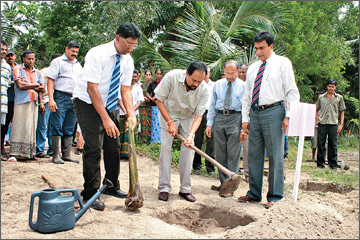 Director General NLDB Lakshman Hulugalle plants a sapling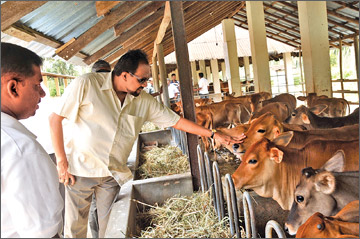 NLDB Director General, at a NLDB dairy farm
With the Mahinda Chinthana, giving high priority to dairy, the government sector woke up with the National Livestock Development Board playing a lead role taking Sri Lanka towards becoming self sufficient in dairy.
"Our aim is to make Sri Lanka self sufficient in fresh milk and we have got a very good opportunity with the ending of the war", said Director General, National Livestock Development Board (NLDB) Lakshman Hulugalle.
He said that with the ending of the war against terrorism and the humanitarian operation the country was able to open out the North East for development. Fertile land is being used once again for various projects. The country also got more manpower and most importantly for the dairy industry it was gifted with several thousand cows that were left to idle.
Hulugalle who is also the government media spokesman said that the NLDB is now in the process of rounding up these cows and putting them in the NLDB farm in Welikanda. "We would give them proper nourishment and make them productive", he said.
He emphasised that they would not sell or slaughter in their farms even if the cows are redundant and become a white elephant to the NLDB.
He said that it was sad to note that over 3,000 cattle perished in the recent North East floods.
One of the reasons for Sri Lanka to lag behind from being self sufficient in fresh milk production is that the cow's full potential is not being reaped. "In Sri Lanka a cow produces only around three to four litres of milk per day. In countries like Australia and New Zealand it is around 26 litres per day. With new technology Israel milks around 40 litres per day from each cow.
"We have done studies and shared knowledge with these nations and have found that our cows are being neglected and are made to find food on their own. The cows should be fed, given vitamins and should be looked after well."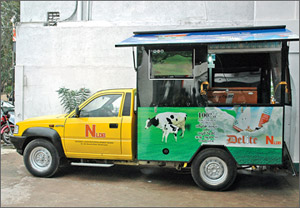 A mobile fresh milk van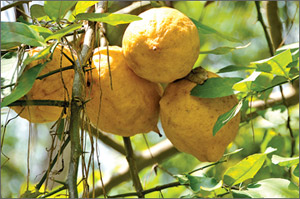 A high yielding fruit tree at a farm.
He said that the NLDB through research has found new methods to increase milk production up to eight litres per day. "This would help to double milk production in Sri Lanka and would help to reduce the import of powdered milk to some extent saving millions of rupees to the country."
He said that there is a new trend for fresh milk consumption and this is very encouraging.
And it was to meet this trend that the NLDB decided to launch a tetra pack, the cheapest in the market. "It is in very high demand."
There was a census on Sri Lankan cows carried out in 2001 which said that there were around one million cattle in the country and when this study was done again in 2009, it was found that the number stood the same. "This shows that the cattle population has not increased significantly. This is why we decided to import 2,000 cattle from Australia, New Zealand and even Pakistan."
He said that the recent Cabinet decision that halts the slaughtering of cows too would help to increase the cattle population in Sri Lanka and research is going on to introduce more productive breeding methods.
NLDB neglected
Hulugalle said that when he took over the NLDB, it was badly managed and neglected. "I also managed to erase a Rs. 98 million financial obligation. NLDB, thanks to prudent management and dedication of workers is no longer a financial burden to government coffers. However, he admitted that there are two farms in the red and promised to turn them around by the end of the year.
"We converted the NLDB sales outlet in Narahenpita from an almost ghost building to a very up market sales outlet bringing in very high profits."
Our sales have increased by over 30 percent and it is one of the best revenue generating centres for the NLDB. I am proud to state that we would be able to recover this investment in less than two years
Hulugalle said that the NLDB has also decided to join the Divi Neguma agricultural program of the government and has decided to allocate 10 acres of land from each of their 32 farms to plant fruit and vegetables.
The NLDB owns 38,000 acres in various parts of the country. "The program would also help to swell our bottom line."
He said that the Divi Neguma program is an unique concept mooted by the Minister of Economic Affairs, Basil Rajapaksa which would once again reactivate the home garden concept and help to check vegetable prices.
"Our first priority would be to provide fruit and vegetables to farmers at a very concessionary rate in a bid to lower their cost of living. The excess would be sold at our outlets Rs. 20 cheaper than the market price."
"With fruits and vegetables being marketed at our outlets at a lower price it would help bring down the price of fruit and vegetables drastically. We are not looking at earning huge profit margins."
He said that plans are also under way to open several other NLDB centres in Sri Lanka.
Hulugalle also said that in the past few years, NLDB resources were left to idle and its potential unutilised.
"We have now decided to introduce agricultural tourism and are in the process of refurbishing our bungalows in a bid to market them to local and foreign tourists.
"My aim is to make these bungalows self sufficient with our farm produce. The visitors would also get an opportunity to witness how things are being done on our farms."
With milk production increased the dairy farmer would be able to gain a steady income and most importantly it would help to produce a healthier nation, taking the country closer towards being the Wonder of Asia.