Supreme Court order warns of punitive repercussions for violators:
Accessibility to all in new buildings, a must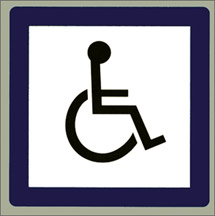 The country is certainly on an upward glide as the focus on many important things which were misconceived as trivial in the past are now grabbing satisfactory attention. April 27 was a momentous day in this regard as the Supreme Court ordered that accessibility in public buildings was mandatory, in response to a motion filed by accessibility advisor and Chief Executive of IDIRIYA Ajith C.S. Perera.
Pessimism around the court order still lurked among many but an awareness program where Ajith Perera's book titled Accessibility to All was launched assured those with restricted mobility that good times are ahead.
Faith is taking the first step even when you don't see the whole staircase, read the World Health Organisation's Representative of Sri Lanka Dr. Firdosi Rustom Mehta a quote from his mobile phone and said President Mahinda Rajapaksa and his Government is keen to uplift the quality of life of all Sri Lankans.
Samitha Samanmali, another well-known activist who became paralysed due to an accident at the 'Deyata Kirula' exhibition at BMICH on February 15, 2008, told the Sunday Observer that the court order was another step towards a hopeful tomorrow for those with restricted mobility.
The moment one talks of restricted ability the logo that comes into mind is a person on a wheelchair, says Ajith Perera. "This is a misconception. The court order is not to cover only those on a wheelchair. It is to cover anyone who has restricted mobility, this can be an elderly citizen, a pregnant citizen, those who suffer temporary restrictions due to accidents at home or on the road and many more. This is a victory for everybody.
Q: What was the biggest challenge you faced in fighting for your cause?
A: The biggest challenge was correcting the misconceptions. When I began the struggle, all were under the impression that I am concerned only of those who are on wheelchairs or crutches, and they account for nearly 6 percent of those in need of accessibility, and businesses didn't want to incur costs to accommodate such percentages.
However, adding elderly citizens and all other categories I mentioned to you before brings the total percentage of those in need for accessibility to about 20 percent. I believe this made them re-think, but it took a very long time.
Q: A similar order was passed in 2009. What is your opinion attracted ignorance to this order and how do you think the new order will avoid a recurrence?
A: The previous court order read 'Design new buildings to provide reasonable access for disabled people' but the new one has made it mandatory that constructions follow specific regulations. Further, it holds owners of new buildings accountable for any violations as much as it holds the constructors and says that 'Any offence will attract punitive repercussions'. This is surely a huge step forward and will act as a stimulator for us to contribute to the economy better because we will waste less time trying to get in and out of buildings.
Q: Accessibility in buildings is one aspect of contribution, but accessibility in the transport network is still a huge hurdle, how can this be resolved?
A: That's true. When I visited England in 1992, I realised for the first time how tiny changes to our surroundings hugely impacts our quality of life.
Their transport systems revolve around accessibility, contrary to what we find here. We will address this eventually but I don't think it will happen in the immediate future because we need to make the most of the court order and instill discipline in construction and then gradually extend it to other areas such as transport, road access and etc which are vital to promote accessibility.
Q: Inaccessibility is not the only factor that deters those with restricted mobility to contribute to the economy. There are other factors such as social stigma and mental motivation too. How can these problems be tackled?
A: The feeling of being restricted to an area is not a very pleasant one. That is why we emphasise on social inclusion. When the wider community accepts and allows us to make our contribution, the country has the opportunity to make maximum use of our abilities. I do not encourage using words like disabled or differently abled people to identify us. The more sensible word to use is diversely abled people because everyone in the world is diverse. So working against all the odds is compulsory.
Had I sat and sulked when I met with the accident, I wouldn't have been able to form IDIRIYA nor exert pressure on authorities to make this change
Q: What you have achieved is commendable but do you think someone who has restricted ability by birth will have the same levels of motivation such as yours or Samitha's who acquired the restricted mobility after establishing yourselves in the society?
A: We were established but I think the pain and the suffering is the same. If at all those who acquire this condition are irritated than those who have the condition by birth.
But I will not deny that there is social stigma as you claim. It is a struggle and I am sure we will be able to conquer it.
My appointment as a safety consultant to the Health Ministry means that all efforts are being acknowledged so I will continue to ensure wherever possible that all State and private institutions abide by what is enforced.
The enforcement also gives provisions for anyone to file action against those who violate the order. So the cause is now of national importance.
Q: Most of our shopping complexes, super markets and even some private hospitals do not conform to regulations specified in the court order and the order is aimed at new buildings. Does this mean that the former buildings will function without undergoing the necessary refurbishment?
A: Head of architecture department of the University of Moratuwa, Prof. Harsha P. Munasinghe revealed that over 70 percent of the country's buildings are not designed by qualified architects. This is shocking and truly I am not surprised why the previous court order was overlooked.
The enforcement covers new buildings. So non-conforming building which were instructed prior to the court order have no obligation to adjust but I believe they feel the responsibility to adjust.
There is a hospital with a 90 degree turn and an inclination which is very steep with railing only on one side of the pathway. If they decide to go ahead and make the necessary changes, it's better for us but I understand that the intricacies around these adjustments can make matters worse.
So what I expect is a fresh start and anyone who wants to adjust are welcome to do so but if they are unable to, we will bear up with it.
As you know I have been appointed as the safety consultant for Taj Samudra Hotels as well, so I will be able to initiate changes in the hotel sector too. This will increase the number of retired tourists who visit Sri Lanka.
This will boost the already booming trade. My intention has always been to ensure the physical, social, mental and emotional well-being of all who strive for social inclusion.
I am elated that it is gradually becoming a reality and I am confident our country is on its way to becoming the wonder of Asia as we are taking every issue into account in our quest towards development.