TRAVEL
Maalu Maalu to open in Pasikudah
Maalu Maalu Resorts & Spa, the first boutique hotel in the East Coast will open in Pasikudah next month, making it the first ever boutique hotel to commence operations in the area.
The boutique hotel initiated under the post war Nagenahira Nawodaya campaign is in its final stages of completion and the ceremonial opening is scheduled for May 20.
Maalu Maalu Resorts & Spa will have 40 chalets overlooking the ocean.
The elegant chalets have been designed in traditional Sri Lankan style, blending with the environment in the most natural and picturesque way.
Inspired by Sri Lankan traditions and eco-friendly architecture, Maalu Maalu reinterprets the style of a Sri Lankan fishing village or Wadiya.
It will be the first eco and family friendly boutique resort exclusively designed according to green building guidelines on energy and environment.
Maalu Maalu will have two restaurants to wine and dine - Karadiya - an open-air restaurant/coffee shop with a view of the ocean and Dheewarayo-Habala restaurant.
The Ruwala pool bar will resemble traditional Sri Lankan fishing boats.
Recreation options include traditional ayurveda therapy, snorkelling, diving, windsurfing, deep-sea fishing and other water sports.
Guests could enjoy canoeing trips to the lagoons and mangroves for bird watching, or enjoy a spectacular view of Pasikudah bay from the resort's Infinity pool.
In addition, Maalu Maalu also has a state-of-the-art conference room to provide the ideal venue for small or medium conferences and functions.
The government has plans to build approximately 1,000 hotel rooms in the East to cater to the increasing demand of tourists visiting the area. A 13-room hotel project is in the pipeline, which will help establish Pasikudah as a top tourist beach destination.
Chairman Connaisance de Ceylan Chandra Wickramasinghe said, "We are happy to contribute towards the government's Nagenahira Nawodaya initiative which is aimed at bridging the gap between the East of Sri Lanka and the rest of the island. Maalu Maalu strategically fits into the government's ongoing development plan for the East.
The government is committed to rebuilding the East following the end of terrorism and we believe that Maalu Maalu assist in positioning the area as a prime global tourist destination."
Guests to the hotel could visit Kalkudah village, Hindu temples and village markets or they could go on a half-day tour to Polonnaruwa. The Connaissance Group which owns Maalu Maalu used resources of the area when building the hotel. The contractors were also from the area.
The project will provide direct and indirect employment to residents of the area.
Manager - Marketing Sanjaya Bandara said "Already more than 150 people have been involved in the project and the hotel will provide jobs to the youth in the area within the permanent cadre".
In addition, the Directors of Connaissance will operate an NGO - Reconstruire et Vivre to provide educational and English language skills and will also open a computer centre in the village of Kalkudah.
As a committed, socially responsible company, Maalu Maalu Resort & Spa will also contribute $1 from the occupied rooms per day to a fund to develop, educate and cultivate skills of the youth of the area.
---
SriLankan to commence services to Moscow
SriLankan Airlines will commence a new service to Moscow on September 15, making the Russian capital, the 52nd destination of the airline.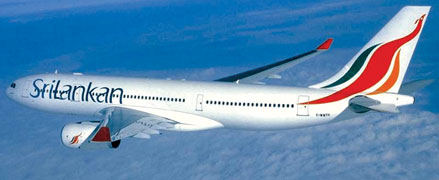 The new service will operate via Dubai, and will commence initially with two flights per week on Thursdays and Saturdays.
SriLankan Airlines Chairman Nishantha Wickremasinghe said,"We are delighted to announce the launch of services to Moscow.
This will be the first time in history that our national carrier will serve Russia, and will serve to strengthen the close relationship between our two nations."
SriLankan Airlines has been expanding steadily over the past several months and launched services to Shanghai last July, Guangzhou in January, and Kochi in March.
It will acquire at least six aircraft this year and has been increasing capacity throughout its global route network since last December.
The new aircraft will include state-of-the-art Audio Video On Demand (AVOD) entertainment systems.
Tourist arrivals grew by 34 percent in the first quarter of 2011, after setting an all time record of 654,000 in 2010. Sri Lanka offers excellent value for money for leisure travellers - especially those from Europe - with hundreds of miles of golden beaches, mist-swathed mountains, ancient cultural sites, and bargain shopping.
The airline recently re-launched its domestic service SriLankan Air Taxi, making many parts of the island accessible within an hour on its floatplanes.
Tourist arrivals from Russia grew by 21 percent in the first quarter of 2010, and by 22 percent from other countries in Eastern Europe.
The airline already serves five European cities - London, Paris, Frankfurt, Rome and Milan - with plans to commence services to several more.
Asia is fast becoming a favourite destination for travellers from Russia, the world's fastest growing outbound tourist market.
According to the World Tourism and Travel Council, Russia is well placed to become one of the world's travel and tourism powerhouses by 2016.
SriLankan is also the largest carrier into the Maldives, which is another firm favourite among Russian travellers. SriLankan operates six flights per day into Male, which is just over an hour's flying time from Colombo.
The new service would also be useful for the significant number of Sri Lankans studying in Russian universities.
---
JKCS implements Zhara HS at Bentota Beach Hotel
Zhara HS - the latest hotel management software designed and developed by John Keells Computer Services (JKCS), was successfully implemented at the four star Bentota Beach Hotel on the Southern coast recently.
Bentota Beach, which offers 130 rooms and three suites, was designed based on an ancient Dutch Fort by the famous architect Geoffrey Bawa.
With the growing demand for accommodation in Sri Lanka, Bentota Beach was faced with the challenge of reducing overheads and creating more efficient processes for service delivery to its guests.
To streamline processes, optimise revenue and create further efficiencies in operations Bentota Beach decided to install Zhara HS.
The Zhara Hospitality Suite is an all-in-one hotel management software that enables a resort or a hotel chain to run its entire operation by simply logging on to the Internet.
The Zhara HS offers all the trappings of an Enterprise Class Multi-Property System and comes complete with an Internet booking engine, a central reservation system and a property management system. This state-of-the-art system is a result of the expertise gained by JKCS in developing travel distribution systems for the aviation industry.
JKCS initially started operations as an airline software provider to some of the leading airlines of the world.
With over a decade of experience in this field, JKCS has now ventured into the hospitality industry and has created the first Sri Lankan state-of-the-art hotel management system to reach the global market.
---
Royal Jordanian increases flights to Colombo
Royal Jordanian has increased its scheduled flights to Colombo from three flights a week, to four.
The newest flight will be on Mondays, adding to the flights on Wednesdays, Thursdays, and Saturdays, to cater to the many travellers to and from the Jordanian capital of Amman and Colombo. Royal Jordanian has become an important link between Jordan and Sri Lanka, as air traffic has significantly increased due to the rise in tourism and trade between the two countries and the many economic migrants from Sri Lanka.
Established in 1963, Royal Jordanian has transported more than three million passengers and in 2010 had a registered net profit of JOD 9.6 million (approximately USD $13.5 million).
It has won many prestigious domestic and global awards for its modern technology solutions and strategic contribution to the aviation industry.
With a fleet of 30 modern aircraft and 58 international destinations, Royal Jordanian connects travellers to more than 750 destinations.
It is currently following a long-haul fleet modernisation program, and will have flights to the United States, Canada, and the Far East with 11 Boeing 787s by 2014.
Royal Jordanian began operations in Colombo in 1991. Since 1998, Expolanka has represented Royal Jordanian in Sri Lanka as its General Sales Agent.
GSA
---
63,835 tourist arrivals in April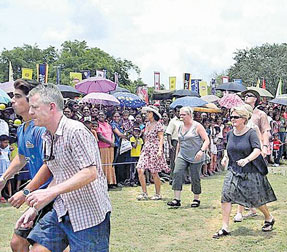 April saw yet another surge in tourist arrivals.
Overall April arrivals were 63,835 compared to April 2010 which was 38,300.
Total arrivals from January to April this year were 278,959.
In the period under review, the closest neighbour India generated 52,181 visitors to Sri Lanka with a 90 percent increase for April mainly due to the vacation period, followed by traditional markets UK (37022), Germany (20,928) and France (19,577).
Healthy growth was also reported from the Middle East, Eastern Europe, Scandinavia, and North America.
"A strong selling point we toss into our markets is that Sri Lanka is one of the safest destinations in the world," said Acting Director General of the Sri Lanka Tourism Development Authority Vipula Wanigasekera.
"In addition to the regular promotions to create awareness and interest and also to meet with stiff competition, the Authority has significantly focused attention on matters within the country towards Investments, Product and Infrastructure Development. Current strategy of the Tourism Authority includes 'ensuring a happy stay' taking into consideration that the tourist is the best promoter of a destination for where he had spent a holiday."