The Royal Wedding:
When a fairy tale became a reality...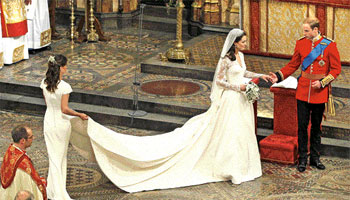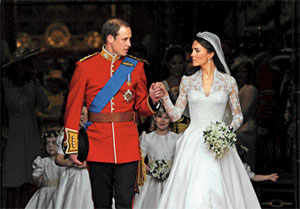 Sprawling palaces, glamorous carriages driven by strong white horses,beautiful princesses and handsome princes are what fairy tales that fuel the imagination of little children are made of.In this ultra modern era we expect such fairy tales to be confined to books, but in reality it was certainly not the case.
The world's oldest monarchy, the British royal family made such a fairy tale become a reality once again after thirty years.
The entire world waited in anticipation for the much talked about royal marriage between Prince William and Catherine (Kate) Middleton at Westminster Abbey in England.And when the day finally dawned on April 29, millions of people the world over feasted their eyes on the pomp and pageantry that was associated with the entire marriage ceremony, as is customary with any royal wedding.
The event kindled nostalgic memories of yet another such magical wedding that of Prince William's parents, the heir to the throne,Duke of Cornwall,Prince Charles and the late Lady Diana Spencer, (the latter was simply simply adored by many in the world).Now,it is the Duke and Duchess of Camebridge - William and Kate's turn to captivate the world with their own special charm...
Perhaps, most of you who eagerly watched the fairy tale wedding which was telecast live was filled with awe ...Wasn't it all magical like many of the stories you have read in fairy tale books? Remember how Cinderella was whisked away in a beautiful carriage by her handsome young Prince who finally married her after all the efforts taken by her wicked step-sisters and step mother? Of course, Kate had no such worries even though she did not belong to royalty and was a commoner, because the Queen of England, Elizabeth the Second was glad to see her grandson get married.