Diaspora and diasporic literature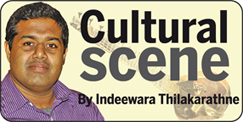 In this week's column, I want to briefly discuss an emerging, but an important concept in world literature which has only begun to receive attention of academics and critics alike. The concept is diasporic literature that we in Sri Lanka have not fully grasped due variety of reasons. This week, I want to provide a brief outline on diasporic literature including a case work based on a recent publication that provides valuable theoretical framework on the Indian diasporic literature.
What is diaspora?
The word diaspora originates from the Greek word, diasporá meaning, a dispersion (scattering). Diaspora may be defined as dispersion of people, language, or culture that was formerly concentrated in one place. When an individual or group of people start producing literary production about people or language they may have disinherited but writing in another language, they may be defined as diasporic literature. As a result, we hear about Indian diasporic writings in UK or Canda or Sri Lankan diasporic literature in Australia and so on.
The Oxford English Dictionary (1989) traces the etymology of the word 'Diaspora' back to its Greek root and to its appearance in the Old Testament (Deut: 28:25) as such it references. The Dictionary commences with the Judic History, mentioning only two types of dispersal: The "Jews living dispersed among the gentiles after the captivity" and The Jewish Christians residing outside the Palestine.
The dispersal signifies the location of a fluid human autonomous space involving a complex set of negotiation and exchange between the nostalgia and desire for the Homeland and the making of a new home, adapting to the power, relationships between the minority and majority, being spoke-persons for minority rights and their people back home and significantly transacting with the new "Sense of Place"; a new unknown geographical space.
The search for a definition of diaspora could be a complex task because of each individual or group of people's historical experiences, routes and agendas. One of the foundation approaches into diaspora had been undertaken by Safron (William Safran's typology, 1991) who developed a definition using the elements of trauma, exile and nostalgia. However, it became evident that compiling a definition based on the memories of one diasporic community may be difficult and thus, turning it into an archetype could be less productive. New approaches followed examining an ethnographic approach, focusing on different roots and routes (Clifford, 1997) pointing not only to the diversity of the histories, but also to the wider politico-economic conditions that prompted transnational movements and also, the epistemological framework (the need for the creation of a new field having its own methodologies) that tries to figure out the latter with the re-launching the term diasporas.
Sarfan points out that the term Diaspora can be applied to expatriate minority communities whose members share some of the following common characteristics examining diaspora as the people:
1.whose ancestors have been dispersed from a special original 'centre' or two or more 'peripheral' foreign regions;
2.Who retain a collective memory, vision or myth about their original homeland and its physical location, history and achievements;
3.Belivers who are not fully accepted by their lost society, and therefore, feel partly alienated and offended from it;
4.Who regard their ancestral homeland as their true, ideal home and as the place to which they or their descendents would (or should) eventually return when conditions are appropriate;
5. Who collectively committed to the maintenance or restoration of their homeland and its safety and prosperity; and
6.Who continue to relate, personally and vividly to their homeland and their ethno- communal consciousness and solidarity are importantly defined by the existence of such a relationship. ( Safren Willam cited in Satendra Nandan: 'Diasporic Consciousness' Interrogative Post-Colonial: Column Theory, Text and Context, Editors: Harish Trivedi and Meenakshi Mukherjee; Indian Institute of Advanced Studies 1996, p.53)
Diasporic literature
Diasporic literature could be examined using several key features. First, it is based on the idea of a homeland; a place from where the displacement occurs. Secondly, diasporic literature provides narratives of harsh journeys undertaken for various reasons. Thirdly, diaspora provides accounts of another "sense of place" away from home land. Fourthly, one could read how "homeland-made" protagonists behave in a far of land either adopting or rejecting new cultural codes of their new "sense of place". Therefore, when reading diasporic literature, we can learn why and how some people choose to migrate to another country either voluntarily or due to other reasons, and how they get used to living perhaps, "peacefully" elsewhere, but losing home and homeland. Diasporic literature may also represent and delve with concepts such as nostalgia, memory and even lamentation of losing one's native language, homeland and friends and so on.
Indian diaspora
Australian academic Vijay Mishra in his recent book, "Literature of the Indian Diaspora - Theorizing the Diasporic Imaginary "(Routledge 2007) is a path finding work on this new emerging discipline. It is not only a major study of the literature and other cultural texts of the Indian diaspora, but also an important contribution to diasporic theory in general. Mishra examines both the 'old' Indian diaspora of early capitalism following the abolition of slavery, and the 'new' diaspora linked to movements of late capitalism. Mishra argues that a full understanding of the Indian diaspora can only be achieved, if attention is focused on locations of both the 'old' and the 'new' in nation states. Applying a theoretical framework based on trauma, mourning/impossible mourning, spectres, identity, travel, translation, and recognition, Mishra embraces the term 'imaginary' to refer to any ethnic enclave in a nation-state that defines itself, consciously or unconsciously, as a group in displacement.
In his study on diaspora, Mishra, examines the works of key writers, many now based across the globe in Canada, Australia, America and the UK, c overing V.S. Naipaul, Salman Rushdie, M.G. Vassanji, Shani Mootoo, Bharati Mukherjee, David Dabydeen, Rohinton Mistry and Hanif Kureishi to explain how they exemplify both the diasporic imaginary and the respective traumas of the 'old' and 'new' Indian diasporas.