Highest financial allocation for science and technology sectors:
Good times ahead for scientists, researchers
Technology and Research Minister Pavithra Wanniarachchi said President Mahinda Rajapaksa has allocated Rs. 1,000 million from the previous budget to set up a fund to provide a helping hand to the scientists and researchers to conduct their research activities. The Minister in an interview with the Sunday Observer said this means of the total GDP, 5 percent has been reserved by the Government for scientific research conducted by the Ministry. Of that five percent, two percent has already been released. According to the Minister this is a great victory achieved in the fields of science and technology, because no former Government had made such a massive financial allocation to develop the science and technology sectors.
The Minister also stressed the importance of producing more scientists to conduct research and further develop the researches. conducted in laboratories up to the industrial level.
Q: What are your plans for the science and technology sector in Sri Lanka?
A: President Mahinda Rajapaksa is a leader who has reached that position from the country's ordinary masses. Under Mahinda Chinthana Idiri Dekma, the Government's economic strategy is to first uplift the village economy and develop the country's economy later. Therefore each research conducted by the scientists will be targeted to achieve this goal of empowering the country's economy as annunciated in Mahinda Chinthana Idiri Dekma. There are 10 institutions which come under this Ministry's purview. We have given guidelines to the scientists and researchers who work in these institutions to go for projects which would lead to uplift the country's economy. The world's technology is developing daily. Therefore all our new inventions have to be made by targeting the future world trends. We have given high priority to promote nano technology in Sri Lanka. This would help us properly utilise the materials available in the country for economic development.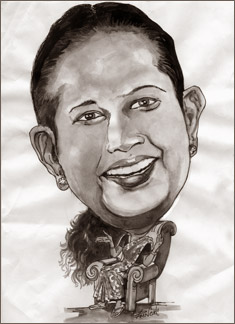 There is a large scale mineral deposit in the North. The research conducted by the Ministry has revealed that the world's best mineral which can be used to make porcelain products is in the North. But this mineral deposit should be used for productive purposes with nano technology. The Ministry also intends to use nano technology to get carbon from Bogala and Kahatagaha graphites which are considered as the best carbon deposits in the world. If the nano technology is infused for these two deposits, we can make precious products by using this carbon. We have already conducted research in these areas. Our intention is to go up to the level of industries by effectively using these natural resources. We have a mineral sand deposit in Pulmudai as well. Therefore Sri Lanka is a treasure island.
A lot of precious national resources are available in Sri Lanka. The products made by them with the use of modern science and technology can be sold to very expensive rates. But at present most of these resources are exported only as raw materials. We have not touched even some of the deposits in our country such as titanium oxide. The products gained from other deposits are also exported as raw materials, not as value added products. So many natural resources available within our land can be utilised to develop the country. However, modern technology should be properly utilised and we should reach upto the level of manufacturing goods by utilising these precious natural resources. There is a need to further develop the researches conducted in our laboratories up to the industrial level. This what the Ministry is doing at the moment.
There is a need of producing more scientists to conduct more research in Sri Lanka. Countries like China, Korea, Malaysia and Singapore have developed to that extent with the help of their skilled human resource specially in the field of new technology. We have a lot of intelligent people. So more interest and awareness should be created among the people on the importance of science and technology sectors.
Q: How do you plan to strengthen scientific research institutions in the country?
A: There are two mineral sand deposits in Matale and Buththala. Still these are remained as untouched areas. At present research is conducted by the Ministry to use nano technology to these two deposits. I hope there is a possibility of obtaining the results of some research conducted by the Ministry during this year. After that the Ministry would discuss the outcome of those research with the industrialists in Sri Lanka. President Mahinda Rajapaksa has aimed to take forward the country based on the development of science and technology sectors. That is why the President at the previous budget allocated Rs.1,000 million to set up a fund and requested the researchers to commence their research activities.
As the President said at the previous budget, of the total GDP 5 percent has been reserved to carry out scientific research. Of that 2 percent has already been released to conduct the research activities of the Ministry. This is a great victory achieved in the field of science and technology sectors. There won't be a problem to allocate money to conduct research for the next year. Therefore I have instructed the institutions which come under my Ministry to submit their research proposals. In addition if any private sector institution has invested money for some scientific researches, it has been given a tax concession which is double the money invested for that research. I believe we never had a Government or a leader like this which has given such incentives to conduct researches.
Q: How can we involve universities in more science and research projects?
A: Actually this is not a Ministry which can function solitarily. There are a lot of research labs in universities, Agriculture Ministry and Plantation Ministry. Therefore I think this Ministry should function as a coordinating arm to all Ministries. At present the Ministry has formulated the strategic plan required for this and it will be implemented shortly.
Q: Is there a program to recognise and promote inventors and their inventions?
A: The Ministry has laid special emphasis to promote new inventions. We have not yet appointed a chairman to the Invention Commission. But a chairman will be appointed to it shortly. The Ministry has planned to issue patent rights to new inventions and will take such inventions up to the level of industries. The inventors can be more confident that the Government will provide necessary assistance to viable inventions. I can't give the assurance that being a new invention, all that inventions can be turned into the industries. As a Government, we will extend our fullest assistance to bring the inventions up to the industrial level which suit our economy and national requirements.
Q: Are there programs to encourage more local investments in the technology sector?
A: We have already discussed with MAS Holdings, Hayleys, Dialog and Brandix. Because the private sector has also realised the importance of infusing modern technology to further develop their industries in this modern world trends. At present the Ministry has made a close coordination with these private sector institutions. I should also extend my thanks to some of these leading private sector institutions towards their assistance made to our scientists to conduct their research. This joint effort made between the private sector institutions and the Ministry would facilitate to increase the production and the productivity in the private sector. The Ministry is helping the leading corporate sector industrialists to further develop their industries. We have already started a project with Hayleys. This project called "slow fertiliser project" would educate the farmers how to minimise the use of fertiliser to their cultivation with the help of new technology. We have also planned to introduce a new sensor system which would help doctors identify the medical condition of people such as ECG, pressure via mobile phone.
The leading private sector industries like MAS Holdings are working with the Ministry to further develop their textiles and garments in keeping with the international demand.
Q: How about encouraging the export of more electronic and electrical goods from Sri Lanka?
A: At the early stage, the countries like Malaysia and Korea could catch up with this trade. As a result, they have been able to introduce quality products to the world. These countries have reached the highest level of manufacturing these electronic and electrical goods. Therefore if we try to start the production of these goods at this stage, it will be a failure. So we have given priority to promote nano technology and move forward. We have also made a proposal to establish a major Science Centre in the Colombo city. It would provide a perfect understanding to those who are keen to study on science and technology sectors.
At present we are in the process of formulating the project report while a request has been made from the Urban Development Authority to provide a land for this project. This project would also become a key source of income to the foreigners and tourists who are interested in ascertaining information on the historical and recent developments taken place in the fields of Sri Lankan science and technology sectors specially in the areas of construction and irrigation. Even during our ancient times, we have been able to use a well developed technology for construction and irrigation sectors which is sometimes very similar to the technology used today. Therefore we should try to introduce this technology to the world by combining it with the modern technology.
Q: Are you working with Education and Higher Education Ministries to popularise science and technology subjects in schools and universities?
A: At present the Ministry in collaboration with the students who follow science subjects for their Advanced Level Examination are forming Science Clubs countrywide. We intend to discuss this with Education and Higher Education Ministries. The analytical thinking of a student who has followed science subjects is different compared with other students. Because he sees the world from a different perspective. I think this thinking is needed for a country to move forward. Singapore has pledged the National Science Foundation to conduct a science and technology exhibition in Sri Lanka. This would focus more attention on the practical sides of science rather than to its theoretical side. We should create an interest among children on science from his childhood. The Ministry hopes to conduct exhibitions at countrywide schools to educate the children on the practical side of the science subjects instead of teaching their theoretical side in schools.
Q: Has the Ministry planned to introduce a national policy on science and technology?
A: At present there is a lack of national policy on science and technology. The Ministry is exploring the possibility of introducing a national policy on science and technology.
Q: There is a lack of scientists and resource persons to conduct research in Sri Lanka and most of them have migrated to foreign countries. How is the Ministry going to address this issue?
A: This is a long process. Sometimes the salaries offered to scientists in Sri Lanka are very low compared with other countries. In addition, there aren't enough places in Sri Lanka for scientists to conduct their research. Therefore we should also provide assistance to the private sector institutions to further develop their research activities. Even today a lot of Sri Lankan scientists are working in some of the private sector laboratories.
We should move these things towards the right direction. More laboratories should be established in Sri Lanka to assist scientists to do their research. At present the Ministry is preparing the necessary mechanism required for this. Even though some scientists live in foreign countries, steps should be taken to create a close coordination between them and our scientists in Sri Lanka.
At present, we are in the process of collecting the data of Sri Lankan scientists domiciled in foreign countries and conduct an international level workshop in Sri Lanka with their participation by the end of this year.
Q: When Sri Lanka is going to turn into the "wonder of Asia" under the Mahinda Chinthana goals, science and technology sector too has a vital role to play. How has the Ministry planned to face this challenge?
A: We have given priority identifying and giving due priority to the various skills possessed by our people in relation to science and technology sectors.
We also intend to introduce modern technology used in the world to our country and provide necessary financial assistance to our scientists to conduct their research. If our scientists are willing to go to any foreign country to further study on their subject, the Ministry will also provide its assistance to them.
We also hope to infuse modern technology to our resources in the country and get their maximum contribution towards the attempts made by the Government to turn Sri Lanka into the "Wonder of Asia".