After Govt destroyed the LTTE :
Merciless killing days, a thing of the past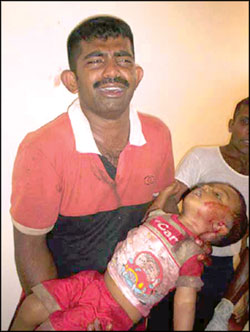 Velupillai Prabhakaran and Osama bin Laden were the most ruthless terrorists who caused the death of thousands of innocent civilians including one heads of State and a former Prime Minister apart from colossal damage to State and private property.
Prabhakaran's terror began with the killing of former Jaffna Mayor Alfred Duraiappah in 1976 which culminated in massacres in subsequent years Prabhakaran and his criminal gang consisting of Pottu Amman, Soosai, Tamil Chelvam, Ramesh, Charles Anthony, Malathi had to pay for their sins of mindless killings eventually.
Although Osama bin Laden was killed by the American forces the rest of the Al Queida members are alive to commit terrorist acts.
Kebithigollewa massacre in Anuradhapura district on June 15, 2006 on Prabhakaran's orders display man's basest instincts.
On Thursday, the June 15, 2006, the LTTE terrorists carried out a claymore mine attack on a bus carrying at least 100 civilians at Kongollewa in Anuradhapura around 7.30 a.m. Among the casualties were about 15 schoolchildren and a few pregnant women on their way to a maternity clinic.
At least 64 civilians were killed and more than 70 wounded in a claymore mine attack on a passenger bus in North Central Sri Lanka prompting the government to launch air strikes on terrorist targets.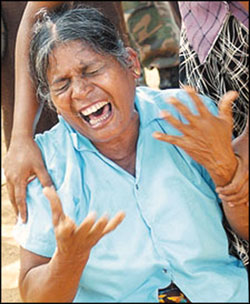 Two mines were triggered off simultaneously on an overcrowded bus carrying, mostly Sinhalese civilians passing the Thalgaswewa area.
Sixty four innocent civilians including 15 children were killed and 87 others injured as the LTTE detonated twin claymore mines targeting a jampacked civilian bus plying to Kebithigollewa, a week after the collapse of another round of peace talks by the government with the terrorist group.
All the victims were from the Sinhala villages of Yakawewa, Halmillawewa, Kanughawewa, Thalgahawewa and Nikawewa in the far end of the Anuradhapura district.
Most of them were attending the Kebithigollewa Hospital children's clinic.
Some of the dead and injured included students who were attending tuition classes for the year 5 Scholarship Examination. Among the dead was an extended family of 35 and a Buddhist Monk - Ven. Aparekke Suddassa Thera who was going for a funeral in Vavuniya around 40 others in the bus were also to attending the same funeral. Fifty eight of them died on the spot at least 160 persons had been inside the bus.
This crime was seen as the most serious violent act perpetrated against civilians by the LTTE since the signing of the so-called CFA in 2002.
Referring to the Kebithigollewa attack critics questioned would the pro LTTE media and others who are ever ready to justify the LTTE atrocities label this incident as another 'exercise' in the freedom struggle.