Price of gold at historic peak:
Demand for jewellery drops
The time is 11.20 a.m. The owner of a small scale jewellery store (he wishes to be anonymous) at Sea Street in Colombo was awaiting customers. In the first two and half hours of the day he had not transacted any business.
However, he said that this was normal in the gold jewellery market in Colombo where business has dropped by around 50 percent in recent years.
The price of gold is at a historic peak in the world market creating a serious impact on business as well as the social lives of people.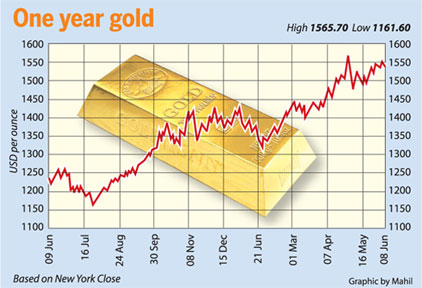 The manager of Saranka Jewellery at Sea Street Colombo, a mid range jewellery store, T.K. Moorthy said that the fluctuation in gold prices has created a lot of issues.
"We purchase gold from the Central Bank or Colombo bazaar. Prices change frequently and even within the day we get different prices, creating difficulties in pricing. We always have to vigilantly maintain a profit margin to avoid losses," he said.
Not sold for investment
However, the Central Bank said that demand for gold has increased and trading takes place as usual. The Central Bank is the leader in gold trading in the country. In addition, there are two commercial banks in the business. The Central Bank does not sell gold in bulk for investment purposes.
Most jewellery manufacturers purchase gold from the Central Bank. Small jewellery shops get jewellery from manufacturers. They said that due to advanced technology manufacturers can supply an order within a day.
Moorthy said that the price of their jewellery is yet low in comparison to today's global gold prices as they have old stocks.
"If we price our products at the current gold price we will loose business. Already there is a 15-20 percent drop in business" he said. Today, a 22 carat gold sovereign is sold in the Colombo market between Rs. 45,000-46,000. It was around Rs.42,000 three months ago and around Rs. 38,000 six months ago, traders said. Last Wednesday the Central Bank sold gold at Rs.556,500/100g or 12.5 sovereign.
The high price of gold has reduced demand for gold jewellery. But afford ability is not the only reason for the decline in demand. As gold is expensive wearing sovereign gold has become risky and the general fear in society is that of snatch thieves. Robberies have increased.
However, there are no statistics to verify this because obtaining statistics from the police is a long and difficult process.
There is a trend of women shifting to costume and imitation jewellery as fashion accessories. Some women, mostly office workers interviewed, said that the risk of wearing gold is the main reason for this shift.
Some said that it is the fashion today. Those who do not wish to wear imitation or costume jewellery now wear small gold jewellery that weigh less than 0.5 sovereign.
Moorthy said that most of the new orders are for jewellery weighing 0.25 or 0.5 sovereigns. Both the price and risk are associated with this trend.
Investment demand
General Manager of Saravanas Jewellers, a trader and manufacturer, B. Krishnaraj too said that high value orders mainly come for purposes such as a wedding rather than interest for jewellery. "We have changed our pricing to face frequent price fluctuations during the last five years. Business has dropped by around 30 percent", he said.
According to Krishnaraj, investment demand for gold has increased and as prices increase people tend to invest in gold. However, only the wealthy are capable of investing in gold. Speculation also takes place and people buy gold on credit and sell at a higher price.
The gold jewellery business at Sea Street in Colombo has also suffered by the removal of the St. John fish market.
Traders said that people engaged in fish trading who regularly came to Colombo from all over the country were their customers.
They had money and purchased gold jewellery. Moorthy said that since the fish market began business at 3.00 a.m. the jewellery shops opened at 8.30 a.m. to cater to these customers.
"When we open our shops the customers were waiting at our door step. However, now the shops open at around 9.30 a.m.," Moorthy said.
The manager of a private bank in Sea Street too confirmed that business in the area has declined after the fish market shifted to Peliyagoda.
They are waiting the renovation of fish market building and traders said that the gold bazaar will be opened in that building.
With affordability declining, the quality of the gold is also on the decline.
To sell at an affordable price some manufacturers use 18 or 20 carat gold. On the other hand, it is difficult to make small jewellery of 0.25 sovereign by using 22 carat gold. Since there is no standard imposed for gold in the country people are cheated.
The Government should impose a quality standard for gold, Krishnaraj said.
There are some jewellery manufacturers who are registered with the Gem and Jewellery Authority. However, registration is not mandatory and there is no quality assurance mechanism in place.
Singapore gold
Some wealthy and upper middle class people are moving away from the local market in purchasing gold jewellery.
They now purchase jewellery from Singapore. Big orders such as wedding jewellery now go to Singapore.
The quality issues in gold is one reason for this trend and Colombo jewellery shop owners said that they are willing to pay a higher price for gold jewellery made in Singapore.
As the price of gold has reached a historic peak, most of the financial institutions have expanded their pawning businesses.
They call it a 'gold loan' and now offer up to 80 percent of the value of the gold pawned on loan. However, interest rates remain as high as 15-18 percent per annum.
The high price of gold indicates economic, political or social crisis.
Today, the high price of gold is an indication of a fragile global economy and political crisis in many parts of the world.
Gold becomes the safest investment option at crisis situations and is used as a hedge.
The continuous increase in gold price over the last 12 months (See chart) is due to many reasons. For instance, disappointing US jobs data released last week fuelled fears of a slow-down in recovery of the world's biggest economy and the softer dollar pushed the gold price up.
US employers hired the fewest number of workers in eight months in May and the unemployment rate rose to 9.1 percent, stoking worries that economic growth may be faltering. This supported the sentiment in gold, which is seen as a safe-haven investment during economic uncertainties.
According to market analysts, gold is likely to be trapped in the range between $1 520 to $1 550. The weakness in the dollar is likely to buoy prices of commodities, as a soft dollar makes commodities cheaper for holders of other currencies.
Investors also continued to watch the ongoing Greek debt crisis for trading cues. Analysts expected that the country was likely to get a vital slice of aid in July to avoid default while the European Union raised the prospect of expanding the bailout of the euro zone state. All these political and economic factors caused the volatility in price of gold last week.