Scarcity of peelers hits cinnamon industry
Sri Lanka's spice industry needs to re-invest part of its profits for the growth of the industry, said Minister of Industries and Commerce Rishad Bathiudeen. He was addressing the Advisory Committee on Spice last week at the Export Development Board.
The Minister said that the Divineguma program of the government envisaged an increase in cinnamon production by enlisting households to grow cinnamon and other spices so that the families too benefit.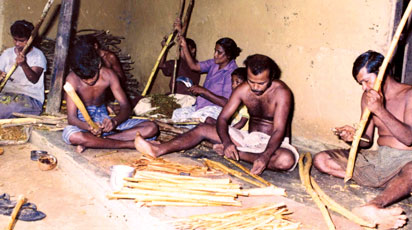 The Committee discussed promotional activities that the EDB and the spice industry had undertaken in the past few years.
Future promotional activities include the launching of the Ceylon Cinnamon Lion logo locally by President Mahinda Rajapaksa and thereafter internationally at the Anuga Trade Fair in Germany and IFT in New Orleans, USA.
This will be followed by registering the logo in the main consumer markets.
Sri Lanka can sell an additional 10,000 tonnes of cinnamon easily if it can be produced.
We need to double our production capacity so that we will be able to meet this extra demand, Minister Bathiudeen said.
According to the EDB, Sri Lanka's total spice exports value in 2010 stood at US $ 165 million and 51 percent of it belonged to Ceylon Cinnamon (US $ 84 million). Spice exports earnings increased by 27 percent in 2010 compared to 2009 while cinnamon exports revenues too increased by 13.3% compared to 2009.
Sri Lanka is the topmost exporter of cinnamon having 85 percent of world market share.
Mexico is Sri Lanka's main cinnamon export destination followed by USA. More than 85 percent of locally produced cinnamon is exported.
Advisory committee members said that of the 30000 hectares of cinnamon grown in Sri Lanka, 20 percent is peeled twice a year and 70 percent peeled only once a year, incurring potential forex losses.
Around 10 percent is peeled once in two years. According to the committee, Sri Lanka's cinnamon industry needs another 10,000 peelers to increase production from existing plantations.
Currently, a cinnamon peeler earns between Rs 30,000 to 45,000 per month, with a mere three months on the job training.
Committee members said that high labour costs are a serious burden.
Unlike in tea and rubber industries, there is a serious shortage of cinnamon peelers in Sri Lanka leaving the existing peelers to charge exorbitant amounts. Cinnamon peeling is skilled work and the communities involved in it for generations have begun to demand income sharing and no less.
We share a minimum of one-third (33 percent) of our cinnamon sales revenue with the peelers on a daily basis and some producers are compelled to share as much as 50 percent of their revenues, said Sarada M. De Silva, of Intercom Limited.
The committee pointed out that Sri Lankan spice is facing the risk of rejection in tough international market segments such as North America, due to the lack of various essential cleaning and sterilisation process facilities at pre-export stages.
A committee member said that post-harvest drying of spices before export is essential and if any moisture is left in the commodities, the export shipment could be rejected and compelled to be incinerated at the importers end.
The Sri Lankan exporters then have to bear additional charges for safe destruction of the entire shipment, the committee said.