In brief
AEL's Rs. 4.5b share issue fully subscribed
The share issue of Access Engineering Limited (AEL) for qualified investors identified by the Board including institutional and high net worth investors, which opened on June 6, has been fully subscribed.
The company issued 180 million new shares at Rs. 25/- per share, offering an approximate 18 percent shareholding of the Company raising a Rs. 4.5 billion in equity funds.
The offering was among the largest placements done in the recent history of Sri Lankan capital markets and was managed by NDB Investment Bank Limited with P W Corporate Services (Pvt) Limited acting as registrars to the issue.
AEL intends to seek a listing for its ordinary shares on the Main Board of the Colombo Stock Exchange via an Initial Public Offering within of one year subject to the requisite approvals from regulatory authorities.
---
Abans launches Toshiba Netbooks
Abans, authorised distributor for Toshiba recently launched two models of Toshiba Netbooks - NB520 and NB505 - the world's first netbooks embedded with state-of-the-art Harman/Kardon speakers.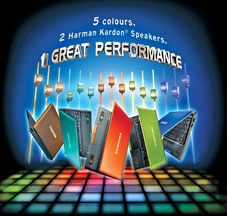 The NB520 and NB505 series offer a magic sound experience through the world's smallest Harman/Kardon speakers in a slim and stylish casing.
They support Dolby advanced audio to provide a natural sound experience while listening to music or watching videos in HD quality (720p) on the netbook.
Coupled with Sleep and Music features, the NB520 allows consumers who store their favourite music tracks on a MP3 player to connect it to the notebook and listen to the music through the netbooks advanced Harman/Kardon speakers without requiring turning the PC on.
The Slim NB505 series offers everyday computing consumption needs and is targeted at users who appreciate a slim, mobile device with basic computing consumption features at an affordable price. It is one of the thinnest and lightest netbooks in the market featuring an Intel AtomTM dual-core processor.
---
Acer opens computer care centre
Acer Singapore (Pte) Ltd recently opened a state of the art customer care centre at Vauxhall Street to offer a convenient and efficient service for Acer's laptop, desktop, LCD screen and accessory users.
"The service centre is dedicated to fulfill all service requirements for Canon and Acer products with a full range of solutions that direct a better customer satisfaction," said Director/CEO - Metropolitan Computers Pvt Ltd Niranjan De Silva.
Acer has a growing market share in Sri Lanka and specialises in its range of laptops sold and serviced in Sri Lanka by Metropolitan Computers (Pvt) Ltd.
---
Maliban wins National Quality Award 2010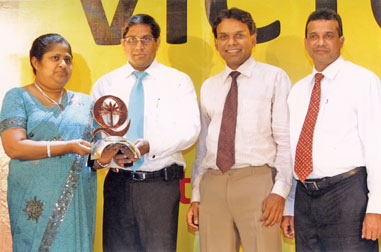 Maliban Biscuits was presented with the National Quality Award 2010 in the large scale manufacturing category, recently. Here Asst. General Manager - QA and RD Warna Fernando, Group CEO, Lakshman Weerasuriya, CEO-Sales and Marketing, Ravi Jayawardena, General Manager-Sales and Operations Ashan Kannangara with the award.
---
DFCC - Record profit boosted by a one-off gain
The DFCC Group recorded its best ever consolidated profit after tax (PAT) of Rs. 5,171 million in the year ending March 31, boosted by the capital gain derived by divesting part of the equity stake in CBC. This contributed an exceptional PAT of Rs. 5,361 million to DFCC, and a reduced amount of Rs. 3,001 million to the DFCC Group due to consolidation adjustments.
After eliminating gains from disposals of subsidiaries and associates, DFCC recorded PAT of Rs. 1,776 million, an increase of 19.6 percent.
The combined PAT of DBB after normalising for one-off gains was Rs. 1,990 million, an increase of 15 percent over the previous year.
---
Richard Pieris PAT increases 200%
Richard Pieris Group has posted an all-time high of Rs.3.4b profit for the financial year ended March 2011, a growth of Rs.1.5b when compared to the previous financial year.
The Group profit after tax was Rs.2.1b, a staggering growth of 200 percent. The results are from operating businesses and do not include capital gains.
The Group reported a turnover of Rs.27.2b an increase of 22 percent. The retail sector contributed 40 percent of Group turnover.
Tyres and plastics also recorded steady operating profits amounting to Rs.724m and contributing approximately 20 percent of Group operating profits.
The tyre sector which facilitates the entire tyre retreading value chain is the pioneer and market leader for tyre retreading in Sri Lanka.
The tyres being re-used has indirectly contributed to the country's economy by decreased transport costs and outflow of foreign exchange on imported tyres.
---
Sunshine records Rs 1,004 m net profit
Sunshine Holdings (Sun) recorded Rs 1,004 m net profit for the year ended March 31.
The 38 percent growth was steered by growth from the plantations and healthcare segments.
Sun's group revenue for FY 2011 increased by 14 percent to Rs 10,732 m supported by the Plantation and Healthcare segments, which recorded revenues of Rs 6,158 m, and Rs 4,329 m.
The packaging segment weathered a storm through the Dubai financial crisis and recorded a revenue growth of 35.5 percent to Rs 220m. Plans are under way to diversify the production range with a planned capital expenditure exceeding Rs.50 million.
The Group also plans to exploit the opportunities in the leisure sector through its subsidiary Sunshine Travels.
---
TFC - overall growth 92% in Q1
The Finance Company PLC (TFC) recorded an overall growth of 92% during the past three months.
This has been due to strict credit policies that have reduced non performing loans to just 0.2 percent of business done during the past two years.
The pawning business of the company has recorded an impressive growth of 55 percent during the past three months in a competitive market and is considered a significant contributor to overall revenue.
The company hopes to expand this business to the North East where it will commence operations shortly.
---
Malwatte records 50% profit in Q1
Malwatte Valley Plantations PLC ended the first quarter for 2011 with an unaudited profit of Rs.198m, almost 50 percent of the profit for financial year 2010, an all-time high in its 14-year history. The Q1 profits were 60 percent over the same quarter last year, which was Rs.119m.
Profits were buoyed by premium prices obtained by innovative forward contact trading covering the entire production of rubber harvested from its 2000 hectare rubber plantations.
---
LB Finance records Rs. 1.02b net profit
LB Finance marked its 40th year in the financial services industry with Rs. 1.02b net profit after tax for the year ended March 31, a 104 percent increase from the previous year's Rs. 500.16m.
LB Finance reported a 33 percent increase in its total income for the year ended March 31 from the previous year's Rs. 4.13b to Rs. 5.50b and a net interest income of Rs. 2.72b, a 6 percent increase from 2010's Rs. 1.7b.
The company's asset base stood at Rs. 28.08b showing an increase of 63 percent from the previous year's Rs. 17.2b, while its deposit base grew by 57 percent to Rs. 19.62b from Rs. 12.49b in 2010.
The company also recorded unprecedented growth in market capitalisation with a 465 percent increase from the previous year's Rs. 2.15b to Rs. 12.13b as well as 49 percent increase in total shareholders' equity from Rs. 1.76b in 2010 to Rs. 2.61b.
The company said that 95.74 percent of its total income came from its core business activities in the financial services industry.
---
Lunugamwehera Trade Complex opened

---

Siddhalepa achieves ISO Trinity
---
NDB Bank opens 50th branch
---
---
HSBC rewards high spenders at Keells Super