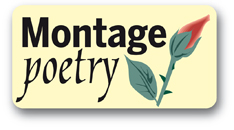 The window
When I come back
To this place
Where my memories
Still linger
I go miles along
The lane of my memories
From a window
Open towards my heart
I glimpse from the window
I still breathe his fragrance
Each facade my eyes capture
Holds a memory
Which rouses my sentiments
This room lives forever in my heart
Each time I enter into it
Each time I see it
He comes to my mind
Tickles my nerves
The Dawn and The Moon
The extreme ends of a day
What an irony of life!
I seek refuge in seclusion
And think and dream
But days are passing
Heaving me with responsibilities
But far away in my heart
I still have a place
Forever reserved
Until The Dawn bridges with
The eternity of The Moon
But I am desperate
Imprisoned in my own conscience......
I close the window.
La_Lune
The poet skilfully portrays the mindscape of a girl longing for her partner. The poet has aptly used the metaphor of window to recall the intense feelings for her partner. It is the window, the room and the familiar environment which stand like monuments of memory. The poem is noted for its brevity of expression and rich poetic diction.
---
Be cautious
When talking to a friend
Or talking to a foe
Mind your words
And be cautious
Conversation
Can lead to provocation
Talk in words
That are intelligible
And not misunderstood
Mind to whom you're talking to
And try to be impressive
Speak words that are indispensable
But not regrettable
At times we come across people
Who love to trifle
Around other people
There are some who are shrouded
They strive on the words
of an innocent one
Like a screw driver they twist
And they turn their words around
Speak words of love
Speak words of wisdom
Speak words of courage
And do not discourage
At times we meet
People who are frazzled out with problems
It makes them want to fade away
Be a mentor, give them courage
And not take revenge
If you meet a drunkard
Ignore him that you must
Cos he is sure to blabber much
Be observant when you meet obnoxious people
That seem so sweet
Temporise your words
And be less heard
Because words when uttered
Seen to stay in a mind someway
DILRUKSHI DE SILVA
In this narrative poem, the poet extols the virtue of being cautious of words. However, the poem, at times, sounds like an advice. The poem would have been more effective if the poet had used indirect form in expressing her ideas.
---
Lanterns will...
lanterns will light up
all over the island
vanishing your darkness of ignorance
light the lamp of truth in your heart
through the eye of Dhamma
see the great Buddha
Offer a flower in temple
throw bad blood and jealousy away
give kindness and humanity to all
through the eye of Dhamma
see the great Buddha
Just like a dying flower
or melting snows
everything is uncertain in our life
knowing that suffering is part of life
knowing that you will die someday
smile and be happy
live the best way you can
through the eye of Dhamma
see the great Buddha
we have got a golden chance
to be born as humans
use it to see the life
while getting wet in Dhamma rain
through the eye of Dhamma
see the great Buddha
UMESH MORAMUDALI
Although the poem is a wish that the doctrine or Dhamma of the Buddha may enlighten the lives of the masses, at some points, it sounds like series of advice.
The poet has used a down to earth language and metaphors associated with Vesak, the celebration marking the birth, enlightenment and the passing away of the Buddha.
---
"Having lost my way"
Having lost my way in this jungle of hope,
I roamed everywhere seeking a path to follow,
Then I asked a she-butterfly to show me the way
A creature, who had lost her own way
She was totally lost as to where she should go
without remembering where she had been
How can she tell me the way ?
when she has herself had no sense of the way
I do not know why we met each other
why did I ask her to show me the Way?
If we could put a stop to this journey today
Then we shall end this meaningless relay!
PREMARANJITH TILAKARATNE
It seems that the poet has lost his way in the jungle of hope and desperately trying to find a way. The poet has aptly used the metaphor of jungle referring to the hectic life which has almost become monotonous and meaningless.
What strikes is that the poet is fed up with the rat race and thinks that putting a stop to 'the journey' would end the 'meaningless relay'. The poem is noted for candid ideas and recreating a weariness of a man fed up with life.
---
Sound of fire and water
In front of the camp fire
I listen
To the roaring crackling fire
Pop, pop, and pop
We cook the catch of the day
Over the wood burning fire
We sing songs that we so desire
Politics and religion
Health and families
Dessert for our meal
Shared with friends
And bugs and black flies
In the sky I see amber
Over our heads
I hear owls and thunder
What the dark silent night feels, I wonder
I crawl back to my tent
Before the skies explode
Dousing our fire
An evening so dire
I stay still on the mat in my tent
Listening to the drizzle
Falling on our roof
Tick, tick, and tick
A clap of thunder roars
The angry sky explodes
I hear the same sound
Of the roaring crackling fire
Now on my roof
With every drop of hail
Water and fire
Sickness and health
Life and death
Seeing them alike
Perhaps is wealth.
ANANDA P. DASANAYAKE
In simple diction, the poet describes a splendid phenomenon of nature when thunder strikes midst of pouring rain. It is the mixed sound of water and fire reminding him of the camp fire. The poet has used apt metaphors to recreate the atmosphere of heavy rain and thunder.
---
Final moments
Have you ever thought...
Since the first day your heart started its first beat
Your time of eternal sleep crawls towards your throat?
Have you ever considered, all what you do
Is weighed on how you've played your role?
Imagined that one last moment
You fight against your own
You fight against your own, (I say it twice)
Trying to get that one last pull of your breath?
What would you do when you step into that one moment-
That last breath that says goodbye to this universe?
That last breath which shatters all your
laughs, your joys, your cries and your sorrows?
Ask yourself:
Do I have an account on all that I've done?
Will I be given a record of my own?
To be actually watched and heard?
Will I be looking at my own sins?
Knowing or not.... secretly or unseen?
Is there a reason for you to be born?
And actually dragged to death?
Will I be judged by all what I did?
You were once one in a million
But now six feet underground
Locked in four corners,
your soul screams out
But nobody will hear you,
Nobody will...!!
SHAAHID IQBAL
---
Masked
Masked hearts
Divided by love
Memories linger
from time to time
Bertholamuze Nisansala Dharmasena
The Haiku poem deals with a separation of lovers. Their hearts are masked and divided by love but memoirs linger in mind. The poem is noted for its brevity.