Speedy solution to national question:
Devananda advocates Select Committee
Traditional Industries and Small Enterprise Development Minister and General Secretary of the Eelam People's Democratic Party, Douglas Devananda presented a proposal to President Mahinda Rajapaksa and the visiting Indian delegation that a Parliamentary Select Committee be appointed to find a speedy solution to the national question in the country.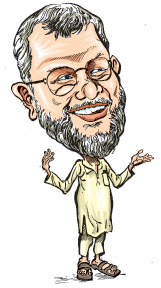 Minister Devananda has proposed to President Rajapaksa and the Indian delegation that representatives from all political parties in Parliament should be appointed to the Select Committee as it would enable all political parties to reach a consensus on the national question after the issue is discussed by the Select Committee within a stipulated timeframe.
The Minister said that the recommendations of the Select Committee could be implemented soon as agreed upon by all political parties in Parliament.
The Minister has submitted this proposal to the President and the Indian delegation since the discussions held by the Government could not reach agreement with the Tamil National Alliance, EPDP and other Tamil political parties after the talks were held separately on this subject.
He said that though he hoped to make this proposal at the discussion on June 23 with the Government, the Tamil National Alliance and the EPDP, he was obliged to make this proposal following the arrival of the Indian delegation to Sri Lanka prior to the meeting.
Minister Devananda said that the proposal has already been discussed with the President and the Indian delegation headed by the National Security Advisor Shivshankar Menon. RW