Access Engineering renovates Welisara Chest Hospital
Access Engineering PLC renovated and distributed essential items to patients and staff of Ward 2 of the Welisara Chest Hospital as part of the company's ongoing social responsibility initiative, 'More than Bricks and Steel'.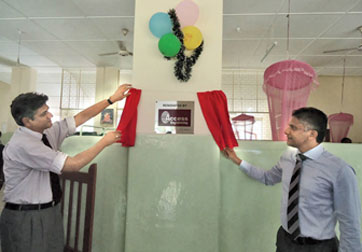 The Welisara Chest Hospital caters to patients from many parts of the island and is renowned for its expertise and quality of service. Access Engineering took the initiative to renovate ward 2 of the hospital to provide better facilities to patients, staff and visitors and the people of the area.
The refurbished ward was opened in December by Executive Director of Access Engineering, Christopher Joshua and Consultant Physician of the Welisara Chest Hospital, Dr. W. V. Senaratne.
Chief Operating Officer Rohana Fernando and Director, Business Development, Access Engineering, Dharshana Munesinghe were present.
Executive Director Joshua said that Access Engineering was pleased to help in the renovation of the ward so that better services could be offered to patients and people who visit the hospital.
He said that Access Engineering has assisted in the renovation of the Welisara Chest Hospital in the past and many other hospitals including the Maharagama Cancer Hospital and the Maharagama Dental hospital.
"Access Engineering has helped our hospital for a long period and we are grateful for their support. Our aim is to ensure that high standards are maintained in our hospital as an example to other hospitals even though we have to face many challenges," said an official of the Chest Hospital.