Sri Subramanya Swamy Hindu temple:
Consecration ceremony on a grand scale
With contributions from businessmen, devotees and well-wishers the Wattala Hekitta Sri Subramanya Swamy Hindu temple, which was in a dilapidated state, has been refurbished and renovated at a cost of Rs. 90 million and the "Maha Kumbabishekam" (consecration ceremony) of the temple was held at the auspicious hour recently, amidst a massive gathering of devotees.
The 48-day "Mandalabhishekam" poojas are now being held by Hindu priests led by Brammashri Somasakanda Gurukkal.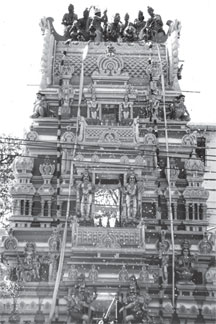 In keeping with the Tamil proverb "Kovil Illa Ooril Kodiyirukka Vendam" (Don't live where there is no temple) and considering the desperate need of the over 50,000 Hindus living in the Wattala, Hekitta and the surrounding areas, the temple committee members headed by its president Ravi Sivakumar initiated measures to have the temple renovated and constructed as a full-fledged temple on par with Hindu temples of the yore with intricately designed Raja Gopuram (the Gateway Tower), images of the deities and a sculptured statue of the presiding deity Shri Subramanya.
This was achieved after much hard work and perseverance and the roadside temple now poses a magnificent sight with devotees, who include Hindus and Buddhists, flocking in their hundreds every day.
The Raja Kopuram of this temple, which is an essential component of any Hindu Temple constructed in the Dravidian style, was intricately designed and completed by a team led by renowned Indian temple architect Vishwashri S. S. Sandanakumar who had also successfully completed temple architectural work at the Jayanthi Nagar, Ginthupiitiya Sri Sivbasubramaniyar Temple, the Sammangodu Sri Kathirveluatha Swamy Temple and the Nawalapitiya Sri Muthu Mariyamman Temple, to mention a few.
The temple's three-storey building has a Swami Vivekanandar memorial meditation centre on the third floor which will be opened to devotees on February 10 to coincide with the 150th birth anniversary of the Swamiji. Six hundred children of devotees are being imparted religious education in English.
A 38-foot high statue of God Kaliyugavarathan and a statue of Kali have also been consecrated. The presiding deity of the temple is Sri Subramanya, the Kataragama God, also known as Murukan, Kartikeya, Kumara, Skanda, Saravanabhava, Visakha or Mahasena, is a god of war.
In South India, he became known as Subrahmaniya and was eventually fused with another local god of war known as Murukan among Tamils. A Tamil rendition of the Skantha Purana known as as Kandha Puranam written in the 14th century CE also expands on legends of Valli meeting Murukan. Kandha Puranam plays an important role amongst Sri Lankan Tamils than Tamils from India, who hardly know it. Kataragama deviyo, became one of the guardian deities of Sri Lanka.
Numerous legends have sprung about Kataragama deviyo, some of which try to find an independent origin for Katargama devio from the Hindu roots of Skanda-Kumara.
Philosophers meditate on him in silence declaring him as the supreme God, Subramanyan - spirit of the universe, the essence from which all things are evolved, by which they are sustained and into which they are involved - who in gracious pity for humanity take form sometimes as the youthful God of wisdom, God of War when wicked asuras have to be destroyed. Sometimes as the Holy Child Muruga, always and everywhere at the service of his devotees.
He is regarded as in his essence formless and beyond speech and thought, but assuming form to suit the needs of his devotees and accepting their worship in whatever form, if only heartfelt.
This is normally the Hindu attitude in religious matters and accounts for its infinite tolerance.