Move to release Valikamam North lands to owners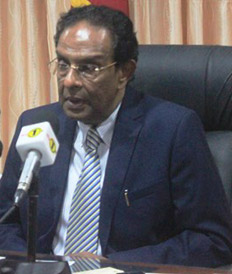 Rehabilitation, Reconstruction and Hindu Religious Affairs Minister D.M. Swaminathan said that the Government will release the hundreds of acres of land which were occupied by the Security Forces in the Valikamam North High Security Zone (HSZ).
He told a media conference on Friday morning that the UK government and other international agencies, including the UNHCR and the EU have assured support in resettling and rehabilitating displaced people when the lands are returned.
The media briefing followed his meeting with visiting UK Minister of State at the Foreign and Commonwealth Office Hugo Swire who was accompanied by the UK High Commissioner in Colombo John Rankin.
While lauding the Security Forcesí tremendous work for the welfare of the civilian population and their contribution to rehabilitate hundreds of thousands of displaced people since the war ended in May 2009, the Minister said that the lands used only for non-military purposes, such as entertainment, golf links and hotel projects are needed to rehabilitate the displaced people who are still in welfare centres.
Steps will also be taken to retrieve about 700 acres of the 1,600 acres earmarked for the Sampur Coal Power project and another BOI project in Trincomalee as the latter project will not be set up, the Minister said, adding that those displaced under the projects will be resettled.
The Minister said that the Government will also release over 800 Tamil political prisoners languishing in jails for several years and he had discussed the matter with Justice Minister Wijeyadasa Rajapaksa. The Justice Minister is confident that a number of prisoners could be released immediately and has appointed a three-member committee, headed by Additional Solicitor General Fernando, to submit a report within 10 days.
No sooner the report is released it would be possible as to how many prisoners could be released immediately and how soon the others could be released, the Minister said.