Call to ban asbestos use and imports
The Toxicology Information Unit of the National Hospital has called upon the construction authorities and the public to refrain from using asbestos sheets in houses due to the adverse health impact. National Toxicology Information Unit Head, Dr. Waruna Gunathilake told the Sunday Observer, "It is now medically proven that long-term exposure to asbestos can cause respiratory problems and cancer. Research in recent years has proved this," he said.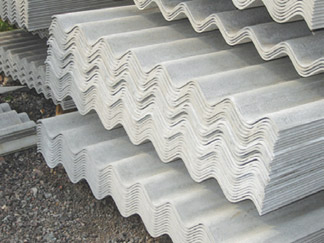 "Many Western countries including Canada, Britain and Australia had banned the use of asbestos in the building industry following these studies. "It is mostly used in our region mainly due to its low price", he said.
Those who have asbestos ceilings should replace them with safer substitutes such as Sinhala ulu or Amano sheets.
However, since this switch cannot be done overnight, we call upon the housing and construction industry to phase out the use of asbestos in Sri Lanka during the next few years, till people obtain suitable alternatives."
On the high risk groups affected by asbestos use, he said, those working in construction sites were particularly vulnerable."They should wear protective masks especially when cutting asbestos sheets since particles could enter their lungs and lead to cancer", he said.
Commenting on the lack of a proper disposal system for asbestos waste in Sri Lanka, he said, "this is an urgent need. Asbestos is non biodegradable".
"We need to dispose of it quickly and safely without endangering the public's health," he said.