In Brief
She needs help for corrective surgery
Monika Liyanjali Illangasinghe (24) of Wawinna Road, Walala, Menikhinna, Kandy is suffering from Idiopathic Thoracic Scoliosis, a deformity-related disease.
Consultant Orthopaedic Surgeon Dr. H.T. Suraweera of Teaching Hospital, Peradeniya has recommended Positive Deformity Correction surgery at the Apollo Hospitals, Chennai, India at a cost of around Rs. 1,000,000.
She appeals for public contributions which could be remitted to
A/C No. 1184 5468 7265, Sampath Bank, Menikhinna.
---
Entries for photo contest close in Feb 23
Exhibits are now being accepted for the Annual Photography Competition and Exhibition, 'Digesiya Netha Rendi Roo' organised by the Lanka Prabha Lekika Sansadaya, affiliated to the National Photographic Art Society of Sri Lanka, to be held on March 6 and 7.
Women photographers of any age group could submit pictures which will be adjudicated by a selection committee of veteran photographers.
Entries could be sent on or before February 23 and they could call on 0718 183669 or 0714 452322 for further details.
---
Appeal for public donations
Mohamed Musthaffa (30) is suffering from a rare disease called Hemangioma of the tongue.
He needs to undergo surgical excision of the Hemangioma and jaw correction surgery at the Balaji Dental and Craniofacial Hospital, Chennai, India.
The total expenditure estimated to be incurred by the patient for surgery would be Indian Rupees 550,00 approximately.
---
Anatomy Professor passed away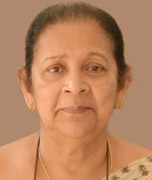 Senior Professor of Anatomy, University of Peradeniya, Prof. Malkanthi Chandrasekera passed away. A member of the University Grants Commission, she was a past pupil of Visakha Vidyalaya, Colombo. She leaves behind her son Dr. Deepthika and daughter-in-law Kalpani.
Cortege leaves residence, 17/7 University Square, Dangolla, Kandy tomorrow, February 2 at 3.00 pm for public viewing at the Faculty of Medicine and burial on the same day at 6.30 pm at the Mahaiyawa Cemetery, Kandy.