Parliament to be dissolved after April 23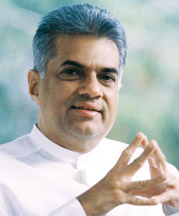 Prime Minister Ranil Wickramasinghe said at a United National Party rally in Kandy, said that the Government will dissolve Parliament after April 23 and elections will be held in June.
He told party supporters that the party must ensure victory and be ready to form a national government with the Sri Lanka Freedom Party.
The Presidential election manifesto of President Maithripala Sirisena stated that following the 100-day program an election will be held for the people to make their choice. Prime Minister Wickramasinghe also emphasised the importance of steering the country in a new direction.
According to Cabinet spokesman Minister Rajitha Senaratne, the Government is ready to dissolve Parliament on the completion of the 100-day program which falls on April 20.
"The Government is taking every essential step to ensure that the development activities under the 100-day program are completed," he said.