'Wele Suda' opens a can of worms:
Politicos in the ring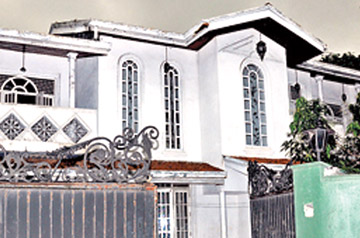 One of the seized mansions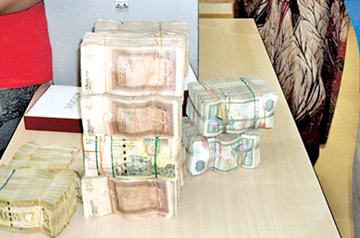 Bundles of cash recovered from a house safe
For those who are not so familiar, 'Scarface' is a popular crime fiction film based on a Cuban refugee who arrives in Miami and rises to become a powerful drug kingpin. Although this is not an attempt to infuse heroism to a local narcotics dealer who was captured recently, the story of the most influential drug lord Wele Sudha has semblance to the blockbuster. Gampola Vidhanage Samantha Kumara alias Wele Sudha or Badowita Sudha has been recognised as the one of the most influential drug barons of all time not because of the two hundred million rupees worth of assets he had amassed in a short period but due to the number of high profiled individuals in the political arena and the law enforcement authorities he had befriended.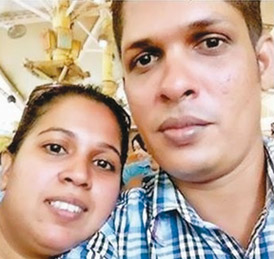 Samantha with his wife Suji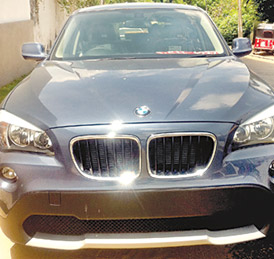 One of the luxury vehicles
Although his assets comprised of several luxury houses and apartments in Colombo with three super luxury vehicles, Samantha as a youth struggle to earn his bread and butter about 17 years ago. He had three brothers and two sisters and was living in a shoddily built house with timber pallets in the Badowita field. He was called 'Sudha' at home and maybe because he was
living in a house in the field, was later called 'Wele Sudha' or Badowita Sudha.
The police first arrested Samantha in 1998 when he was 19.
Walana Panadura Anti Vice Striking Unit led by now DIG D R L Ranaweera and now Chief Inspector Duminda Balasuriya raided this small house on a tip off. The police team break open the timber door to find a scrawny youth engaged in making small sachets of Heroin.
It was learnt that he was supporting his father's business of distributing Heroin in Dehiwala, Mount Lavinia and Badowita areas. His father, Gampola Vidhanage Dayaratna was a notorious Kasippu dealer in Dehiwala area. He had a well established distribution network of illicit liquor in the Dehiwala town and its suburbs for a long time before he was addicted to heroin.
Later he started distributing heroin which was a lucrative trade. He associated his four sons for the illicit business but only Samantha had managed to take over the lucrative trade, whilst his siblings simply became addicts.
At the day of the raid Samantha was packing heroin in tiny sachets which his father paid him Rs.50 per sachet.
The Walana Panadura Anti Vice Striking Unit handed Samantha over to the Mount Lavinia Police, who was then produced before Mount Lavinia High Court and remanded. After spending a year in the prison he was released on bail. His career never ends there.
He was again nabbed by the Police Narcotics Bureau in 2001 with a kilogram of heroin and an assault rifle. When the case was being heard at the Colombo High Courts he was granted bail and released by his father. Since then not a single clue of Samantha was found. Yet his illicit trade was flourishing day by day.
According to narcotics specialists the secret behind the success of Wele Sudha's business was that he never tampered heroin with rubbish to gain big profits. Amidst other substandard distributions of heroin Sudha's products quickly captured the market making him a trusted distributor. He even included a brand logo to his sachets such as an eagle, a pigeon and a bear. The addicts are pretty much familiar with his products due to unmatched quality.
Soon he became the leading distributor on the Southern coastal belt and then through out the island. He has a well established distribution network involving a large number of people who engaged in dealing and distributing.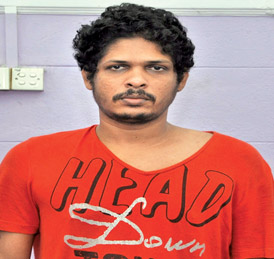 Wele Sudha
Sudha had used his own unique methods to carry out his illicit business which is far advanced than the conventional methods the dealers used to sell their Heroin. Because of this it has been an impossible task for the law enforcement authorities to track him.
It was learnt that even close associates who are spending long term prison sentences were also actively engaged in his ring of dealers and also act as links between him and other fresh buyers to avoid police decoys.
In early 2011 Sudha leaves Sri Lanka with his wife Gayani Priyadarshani alias Suji with fake passports. After spending sometime in Dubai and Malaysia in 2012 his wife returns to the country, where she was taken into custody at the Bandaranaike International Airport. Having questioned her police recover a large sum of cash and gold jewellery as well as a list of luxury property Sudha had owned.
Luxury residences included a Rs.25 million property in Colombo 07, a Rs.20 million property in Rajagiriya, Rs.15 million property in Pannipitiya, Rs.10 million property in Madiwela, two houses in Kollupitiya worth over Rs.50 million, two lands in Dehiwala and Nedimala worth over Rs.30 million. He had owned three luxury vehicles including a BMW, over three kilograms of Gold worth around Rs..20 million and cash amounting to Rs.18 million deposited in the People's Bank.
Since 2011 Sudha was operating from Pakistan, Singapore, Malaysia and Dubai engaged in high scale international drug trafficking syndicates to send Heroin to Sri Lanka. Even several recent major detections of heroin is reportedly linked to Sudha and his associates.
The Interpol arrested Sudha while attempting to leave Pakistan and was handed over to a special CID team that brought him back to Sri Lanka on January 14. The story never ended there. Everybody thought by arresting Sudha the heroin menace would be over in Sri Lanka but each and every detail he divulged on interrogation made the case more complicated and controversial.
It was then realised that the arrest of 'Wele Sudha' was just the tip of the iceberg, which revealed that the narcotics problem in the country ran much deeper with sharks of the industry and those who have been protecting his trade to be brought to light.
There is evidence to show that he had alleged connection with a leading politician in the previous regime and a former Inspector General of Police as well as several other persons who were in his monthly payroll of millions of rupees.
A police investigation last week revealed that Colombo District UPFA Parliamentarian Duminda Silva had allegedly been receiving money from 'Wele Sudha'. Samantha had reportedly divulged MP Silva's name as one of the closest politicians to whom he had paid Rs.2.5 million a month.
The detectives acting on this information sought a court order to check
all the bank accounts of MP Silva, Wele Sudha and his wife to understand any alleged transactions between these parties. They will check over 50 accounts in top banks and financial institutions with the assistance of the Financial Investigation Division of the Central Bank.
Earlier the officials of the Criminal Investigation Department found that six persons were directly involved with his trade. They included a Colombo District Parliamentarian, a former IGP, two Police Sub Inspectors and a Police Sergeant and renowned drug dealer in Maradana.
Gathering information from one of the many other suspects questioned the police finally learnt that former IGP and former Secretary to the Ministry of Law and Order Mahinda Balasuriya was also connected. But it was later reported that Mahinda Balasuriya had left the country few days ago.
Some of the latest investigations had revealed that 'Wele Sudha' had paid in thousands of rupees for foreign prostitutes associated by a Parliamentarian in a luxury apartment.
Likewise many more secrets are coming to light every now and then that may connected to certain controversial political hierarchy of the previous regime.