Returning home but where
Having lost their loved ones and their homes to a massive landslide in the Aranayake area, survivors are now reluctantly returning to their damaged homes and the villages buried under mounds of earth.
Almost a fortnight after the Aranayake landslides, having seen death and destruction, the survivors are trying to get back on their feet, albeit falteringly.
The affected communities settled in over 20 camps in and around Aranayake are of two types: directly affected by the landslides, losing family and homes, and those who evacuated due to their homes being situated in a hazardous zone.
Certified as deceased
Ajith Thilakarathne who lost his wife, son, mother, younger sister and brother-in-law together with his home to a sliding hill, said he was not allowed to go to the Kevilipitiya camp to find out whether his brother's body was among the bodies recovered.
Having taken temporary shelter at the camp at the Rajagiriya School in Aranayake, he has duly provided the police information on his missing family. He said they weren't allowed to lodge police complaints about deceased members anywhere else, but in their present camps.
"Our statements recorded at any other camps were not taken into consideration," he said. Many families died leaving nobody to lodge police complaints, in which case, police records do not indicate the actual number missing, he said.
Thilakarathne said those who lost families and houses were taken away from the Rajagiriya camp, to a Pavilion in a ground nearby, infested with fleas. "We lost everything and that's how they treated us," he said.
However, OIC Aranayake P.R.H.K. Gunathileka said, "Whenever a body was recovered, we inform all the camps and accommodate people to identify the bodies if they think they resembled their missing family members."
Many funerals have been held in Aranayake, for the deceased and the missing. Common religious ceremonies were held at temples and schools where temporary camps have been set up to remember those who disappeared under the Samasara Mountain.
According to the Registration of Deaths Act 2010, persons missing due to natural disasters or calamities can be registered as deceased. Though many of the affected are positive their relatives are buried under the mountain that once hovered over their houses, they think the issue would remain unconfirmed in the eyes of the law, which could have long term implications on their lives.
To return or not to return
However, Senior Deputy Registrar General T. M. Premasiri said that as soon as the Registrar General has issued the gazette notice declaring Aranayake and other affected areas as 'National Disaster Areas', the process of issuing death certificates would commence and the certificates would state the person as deceased, not disappeared. "We have requested information from District Secretaries and are yet to receive the reports. With continuous speculations that there can be more landslides in Aranayake, the report may be delayed," he explained.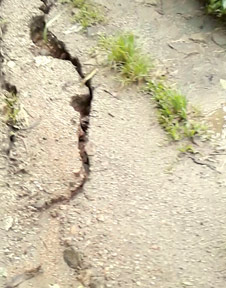 People in camps told the Sunday Observer they are given plenty of food and clothes. However, two dengue patients from the hospital have been brought to the camp. Though they are afforded special living arrangements, people are sceptical about their protection. A case of diarrohea reported was cured immediately, the Public Health Inspectors in the area confirmed. Education of the children however is a problem; some children are living in camps while some schools are being used as camps. Principals and teachers are having classes for Grade 5 and O/L students in schools.
Although many politicians and officials have said it is safe to return home, seeing the mountain they once called home cracked, about a foot or two wide and five feet deep in some areas, people are refusing to return home. It meant losing their livelihoods as they had been living by cultivating tea, cloves, pepper and fruits across acres in the Samasara Mountain.
I. W. Amarasuriya, whose house is situated in the hazardous zone said, some politicians and Grama Niladaris had requested them to return to their villages on the mountain slope, assuring them that there won't be any more landslides. "However, the day after that, the Kabaragala Podaya area had been hit by a landslide." Even though the people have been told to return to their houses, a proper assessment of the area is yet to be conducted.
The children in the camps told the Sunday Observer team that they saw the landslide and are scared of the mountain. They appeared to be afraid of all loud noises.
H. A. Sunanda Lal said the villagers are yet to be officially informed of the three acre land offered by Kapuru Banda in Wariyapola to resettle the affected communities, and are disgruntled over continuous camp life without a foreseeable future.
However, Suranga Hathurusinghe, the Grama Sewaka of Elangipitiya and Pallebhage, two affected villages, said he is not aware of the villagers being asked to return home. The District Secretary of Kegalle was not available for comment.
---
Ambuluwawa: A catastrophe weighing in tons
Approximately 75,000 tons of garbage, coupled with dirt and rocks, slid down Ambuluwawa Mountain on 17 May, displacing over 70 people and polluting the water springs starting from Ambuluwawa Mountain and flowing through Mawanella to Ma Oya.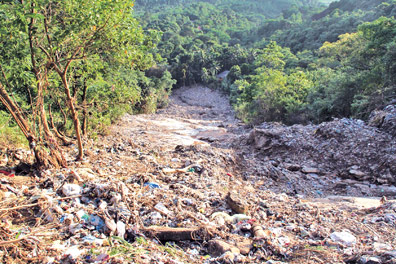 Unanvitiye Shanthabhadra thera (aka Ambuluwawe hamuduruwo) said the villagers lost their houses, crops and livestock as well as herds of goat to the five year old garbage dumped on the mountain top by the Urban Council.
"The garbage containing plastic, glass, metal and biodegradable stuff, all slid along with the rocks and dirt." S. H. Bandara, a resident whose house and livelihood was affected said the court case filed against the Urban Council for dumping garbage on the mountain ended with the latter agreeing not to dump garbage at the said locations, but continued to do so.
He said the people are faced with political oppression, and inefficiency of the Council, which has failed to find a solution to the problem.
People request the garbage to be removed and the areas to be cleaned, for them to return home.