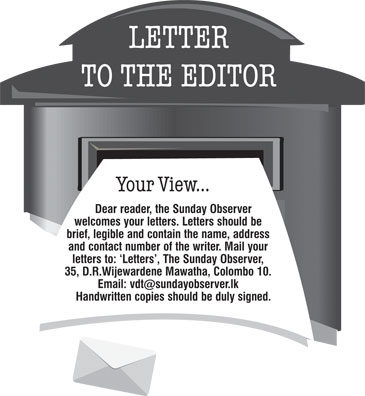 Disgusting Customer Service at financial institutions
It is with disgust that I write about the Customer Service(CS) of financial institutions of Sri Lanka. CS is an illusion that is limited to words for media publicity for these institutes.
My husband passed away at a relatively young age, where we had never dreamt of a separation. Hence there were many gaps that needed to be filled by us in an adverse atmosphere. When I contacted these institutes to cease my husband's accounts, little did I know that I was exposing myself to a series of nightmares. My misery still continues though it is six months now. I have listed the following common issues I faced.
When opening accounts the institutes rarely gather information about the next of kin or nominees, but when it comes to funds of a deceased, it is a different question altogether.
None of these institutes had a Standard Operating Procedure (SOP) to handle a deceased's case. Hence they failed to clearly state what documents were needed. I had to submit documents in installments over the last five months as they kept adding documents, each time I called. It was an added burden, as I had to get these documents attested by a JP, Grama Niladhari and at times the District Secretariat.
The CS staff had very little knowledge on the procedures. They were limited in their vocabulary.
Communication with the client never existed. It was I who had to call them to check on the progress and the result was that I had to make visits to gather information for my next step. The worst was that it was only when I called that they gave me news about a new document I had to submit. To provide the entire set of required legal documents I had to waste over 16 weeks. Having given them my contact details including my street address, mobile number, landline and email address, they failed to contact me to give me any information.
Inter-department communication was nil. I was made to feel that the Head-office, Branch Offices, the Legal Department and Recoveries Departments worked in isolation. In some instances I did not even know in which Department my documents were lying dormant. I was pushed from one department to another to trace my documents. But the Recoveries Departments kept calling me frequently to remind me of the payments of credit cards.
Networking between the branches was a farce. I had to submit documents to each of the branches my husband had accounts. Some banks blocked credits to the accounts but the debits were honored. I even had an insurance company inventing a mystery car which led to a controversial trail of communication.
I was made to feel that my husband's demise was a pilot project for these institutes. I still have questions about the credibility of the information they have provided regarding funds.
I was fortunate to have soul-binding friends who ventured -out on my behalf to solve mysteries and controversies that these institutes created for hapless me. They were on call 24X7 and compassionate and professionally helped me in my time of need. I was subjected to untold hardships, at one point I thought of giving up (I am literate and tri-lingual and if I was treated in this manner, I fear the plight of a widow who is otherwise)
In my understanding it would have been easier to clear my name from the Panama Papers (if I were that rich) than get information deleted from the SL data bases.
Even at this moment before me are two renewed credit cards for my husband which I received this week. This means his accounts are still active in some banks. I will leave it as it as I do not want to waste time on mundane acts. If I should be prosecuted for violating a monetary regulation, so be it!
Dear professionals, I may have narrated my woes to your good offices a hundred times or more for service. My voice may have been mere syllables to you. But remember it was my wounded soul that you chose to torture for no crime of mine.
Niranjali Motha
Ratmalana.
---
The menace that is drugs
The massive haul of narcotics in the recent past,
And the culprits in the racket ending behind bars,
The collective efforts against the Drugs Drive,bring a ray of hope to this tormented isle.
Menacing Drugs leave a torturous scar, in the hearts and minds of addicts – making their lives a nightmare.
This money-spinning racket continues due to greed,without much thought that it's a destructive deed.
Honest officers conduct raids with diligence and bravery.
While some get entangled in the net of bribery.
The Government's commitment to the cause is most welcome, and for the successful raids we say Well done!
Jessica Thompson.
---
Unforgettable 'Gentleman Jim'
Although in 1964 I did not know who Jim Reeves was, the article 'Remembering the legend on his death anniversary' in the Sunday Observer of July 31, 'Time travelled', took me back to my school days, in 1964.
It was just over two years after joining a Roman Catholic private school close to Colombo, that a classmate of mine told me about the death of Jim Reeves who had died in a plane crash.
We were in the carpentry workshop at that time while studying in grade 7. At that time I did not know about any English singers and it was just another name. It had no impact on me.
Confined to the 'Sinhala Only' background and attending a Roman Catholic Sinhala School in the Kalutara district, this name was not familiar.
The only singers that I knew at that time were our own Ivor Dennis and Anton Jones.
It took many more months to be familiar with an English- speaking environment in my second school and I came to know Tom Jones, Engelbert Humperdinck, Elvis Presley and Frank Sinatra. However, later I became fond of songs sung by Jim Reeves because of his voice.
It was from this article I came to know that the plane crash occurred on Friday, July 31,1964.
I vividly remember the day, the following Monday, August 3, 1964 was the day my classmate told me about the death of this great American singer, 'Gentleman Jim'.
Lalith Fernando
---
Galle Road bus service
Private passenger buses have been granted a fare revision, but the all-important question that begs an answer is whether commuters enjoy any facilities which justify the demand to pay more for a journey from one point to another.
Buses operated by the Sri Lanka Transport Board (SLTB) are limited and private operators are way ahead in terms of numbers and they call the shots.
The buses that ply on route 155 are notorious for being driven frustratingly slow, to pick up more passengers, stopping for a long time at bus halts. It looks as if the SLTB has deliberately opened the flank for a monopoly by private busmen on this lucrative route.
Despite this being the only service which cuts across the Colombo University, Town Hall, Maradana, Armour Street, Kotahena and up to Mattakkuliya on the Galle Road, commuter traffic is very heavy. Many patients board these buses to seek treatment at the National Eye hospital. At Bambalapitiya junction, passengers, mostly university students are sardine packed and travel in agony, with many on the footboard at the risk of their young lives. (Surprisingly, the traffic police tend to ignore this violation).
While this nightmare continues for helpless travellers, SLTB bigwigs detail buses from Town Hall when most of the passengers have disembarked mostly near Colombo University, Thurstan Road, Royal and Nelum Pokuna during morning hours. The buses are almost empty after they reach Town Hall as the National/Eye hospitals and offices draw hundreds of people to this area on a daily basis.
Depending on luck, a SLTB bus or two could be available from Bambalapitiya junction, but one cannot count on it. Private busmen have a field day due to the nonchalance of the SLTB, which, I repeat, sadly lack route planning.
How many half empty SLTB buses can be seen plying from Moratuwa to Pettah (a route cluttered with private operators), when there is a virtual monopoly allowed on highly lucrative routes? Apart from 155, 183, 255, 163, 154 and 194 are among profitable routes with heavy volume of traffic, but remain neglected. The SLTB seems to be more interested in running empty buses to Pettah!
Why is that the SLTB is not keen in operating the 154 from Angulana (to Kiribathgoda) rather than opt to push in a bus or two from Bambalapitya junction in the mornings? This is another route where private bus operators hold sway much to the agony of commuters.
There is a plethora of authoritative institutions with its rank and file paid with public funds to improve public transport but even after reading this heart-wrenching narrative, will there be relief? As hope springs eternal in the human breast, let's give it a try as there's no other option, anyway.
- Suffering commuter