20th death anniversary of Dr. Chanaka Amaratunga
A life of novel thinking
The 20th death anniversary of Dr. Chanaka Amaratunga, founder-leader of the Liberal Party fell on August 1. It was twenty years ago on that fatal day that Chanaka succumbed to an accident. He was full of novel ideas and actions.
When Chanaka founded the Liberal Party with Asitha Perera and Dr. Rohan Edirisinha as members of the Council of Liberal Democracy (CLD) another prominent member Dr. Rajiva Wijesinghe opposed the idea of forming a political party and yet he accepted the post of president on his return from abroad.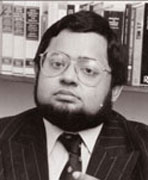 Chanaka's death in 1996 created a great leadership vacuum in the Liberal Party. The unanimous successor was Dr. Rajiva Wijesinha and he was by that time lecturer in the Sabaragamuwa University. Rajiva was never a full timer in politics as Chanaka but was fascinated by liberal ideas and views.
In 1993, when Lalith Athulathmudali and Gamini Dissanayake formed the Democratic United National Front (DUNF), Chanaka's leanings were towards President R. Premadasa and that decision resulted in three prominent members of the party leaving. They were Dr. Rohan Edirisinha, Dr. Paikiasothy Saravanamuttu and Tissa Jayathilake.
The party formed an umbrella alliance with the United National Party under President R. Premadasa and Sirisena Cooray in 1993. With the assassination of President Premadasa, political hopes for the Liberals through the UNP were shattered and in 1994 the party under Chanaka smoothly formed an alliance with the Sri Lanka Muslim Congress (SLMC) under A.H.M. Ashraff. This alliance worked out but for many reasons Chanaka was not nominated to Parliament on the SLMC national list and instead Asitha Perera became the first Liberal Party parliamentarian through the SLMC.
Chanaka was unhappy and was frustrated, he finally felt that his ambitions for him and the party had failed and in the subsequent national committee meeting he resigned from the leadership, yet, we did not have any choice but to appoint him once again as leader.
Chanaka held the post of leader and secretary general and with his death, the president of the party Dr. Rajiva held the post of leader and president. The secretary general was Alex Weerarathna. He resigned from the party in a short time and Harim Pieris became the secretary general. Kamal Nissanka was elected deputy secretary general. From 1996-1999 we faced a few provincial council elections and took the party out of Colombo.
Our major political event after the death of Chanaka, was the 1999 election of a president, where Dr. Rajiva was placed sixth. Harim Pieris resigned and Kamal Nissanka was elected as the secretary general.
The Liberal Party formed an unofficial alliance with Prime Minister Mahinda Rajapaksa in 2005 and secretary general was the frontline political activist on behalf of the party.
---
U.B. Wijekoon:
A gentleman politician
Yet another gentleman politician U.B. Wijekoon who adorned the political arena of yesteryear passed away last month, leaving a void which cannot be filled in our political field. Mr. Wijekoon, U.B. to his close friends and relations, hailed from Welimada from the Uva province. He entered the Peradeniya University from Welimada Central. He displayed his leadership qualities and acumen to serve from his school days as a student leader devoting his time and energy for the welfare of his student colleagues as well as undergraduates of his university batch.
Having graduated, he entered the Administrative Service starting his career as a D.R.O. or Divisional Secretary and served in Vauniya, Anuradhapura and Kurunegala. In the 1970s, he served as Divisional Secretary in Dambadeniya Hatpattu. While serving in Dambadeniya that he fell victim to political revenge under the SLFP regime and was destined to end his career in public service and was forced to join the then opposition U.N.P. The late President J.R. Jayewardene chose him as a suitable candidate from Sathkorale to ensure his sixth polls victory in 1977.
From then on, he started his political career which spanned over four decades. He was not from Dambadeniya and did not own even an inch of land there. He said it was his duty to pave the way for a person born and bred there. What a lofty, magnanimous and exemplary leader! Will such thoughts ever occur to politicians these days?
U.B. was the Divisional Secretary, MP and a Minister who served the Coconut Triangle, which had the best and highest yielding coconut plantations but he never used his office to acquire wealth. He chose a plot of land from a middle class housing scheme in Pallekelle to build his house to live in retirement. I say this since I know politicians and high officials connected to them who have doled out properties vested under the Land Reform Law in their names.
The quality of the man was such that in his biography the A.G.A at the time says that U.B. as the area MP never interfered into his duties. Once U.B. was driving back to Colombo by himself. On the way a police constable stopped the vehicle and requested a lift from U.B. not knowing who he was and he obliged. It was much later that the constable realised who the man was, when a fellow constable saluted the 'driver' of the vehicle.
During his retirement, he spent time as a freelance journalist. I remember the article written by him where he said, a separate hell will be created for politicians. On the last occasion I met him he told me he had undergone an operation and that he had got it done at the Teaching Hospital without any cost to the taxpayer. Our politicians get the attention at private nursing homes and even abroad at the tax payer's expense.
U.B. did not wish to be cremated or buried but that his corpse be handed over to the Medical Faculty for medical students to use it. His wish was carried out. With the passing away of U.B. Wijekoon we have come to the end of an era where leaders lived by example. May he attain the supreme bliss of Nirvana.
S.B. Karalliyadda