Rohan Joseph:
The musician, the man
by Karel Roberts Ratnaweera
We could go on and on about Rohan Joseph de Saram the musician.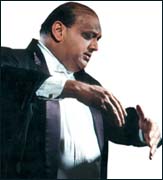 A fine study of Rohan Joseph de Saram on the conductorís rostrum.
Not many know much about Rohan the man, a tremendously humanistic and compassionate human being whose love of life encompassed almost the whole of Nature, as it were. Who, for instance would befriend a rhinoceros? In the midst of all his hectic music schedules, practising, not to mention entering into a new domestic existence with Shiranee, his life's partner and, indeed, soulmate, Rohan found the time to often visit the Dehiwela zoo to see his beloved Momella, the lady rhino he named. Birds abounded in his home garden as did his beloved roses which he took a personal interest in growing.
Rohan loved his food and being a good cook would sometimes go into the kitchen to prepare gourmet delicacies; at those times the sacred stage of culinary orchestration would be declared strictly out of bounds to Shiranee and daughter Praveena! He had a sweet tooth and would savour a chocolate eclair at Mayfair in Bambalapitiya, one of his childhood haunts, as much as an orange sorbet at Le Palace.
Another passion was miniature trains. He had a set of originals including the exclusive 'Das Rheingold' named after Wagner's opera, which he was hoping to set in motion; they are still unopened at home, in their packaging, together with his huge collection of music.
Rohan would enjoy talking about cricket as much as about music. He knew as much about Nkaya Ntini as about Luciano Pavarotti - one of the great mega stars he was planning to bring to Sri Lanka in his Opera Lanka programme.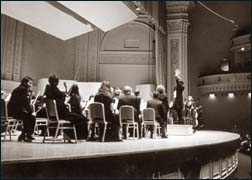 A young Rohan Joseph de Saram conducts the American Philharmonic Orchestra.
Rohan Joseph de Saram was practising the great piano work by Franz Liszt - one of his favourite composers - the Petrarchen Sonnets which was first performed in Colombo by one of the most celebrated piano virtuosi of our time, the South American Claudio Arrau who gave an unforgettable recital at the Savoy cinema in the mid fifties.
Joseph de Saram suddenly noticed that he could not trill as well as he used to. He mentioned it to his wife Shiranee, but they both put it down to the strenuous travelling they had done recently in Europe, what with lugging suitcases and the like.
Some time later, while practising the 'Sonnets', he found that it was the same story with the fingers of the other hand - he was unable to trill as well as he always did, being a virtuoso pianist himself.
The couple mentioned it to a doctor friend who did not take it lightly; he advised them to get medical advice. It was the initial tentacles of the disease that was to fell him one year later, only a few months after his 50th birthday on July 20,2003.
Rohan was also playing Beethoven's colossal Sonata opus 111 which has been described as a combination of sansara and nirvana and which also Arrau played at his Colombo recital.
That was the beginning of the end; diagnosis confirmed the existence of a malignancy that had started in the kidneys and spread to the brain - and lungs. Rohan did not drink,except for a glass of champagne on the kind of occasion that calls for champagne.
But he did smoke,had been doing so from his schoolboy days at Royal. When his condition was diagnosed, he said to his wife: 'Sue the tobacco company!'
Rohan Joseph de Saram came back home to Sri Lanka in the early eighties on the invitation of President Premadasa. After a brilliant record at the prestigious Julliard School of Music in the US, and studying conducting under Prof. Carl Bamberger who found his pupil astonishing, he stayed on in America, doing concerts with the American Philharmonic, of which he became the Music Director.
On his return to Sri Lanka Rohan Joseph de Saram founded the Philharmonic Society of Sri Lanka . He said at a press conference that the society was to be a 'not-for-profit charitable trust/organization, incorporated under the laws of Sri Lanka. The Society was set up to serve as the parent of Opera Lanka which was intended to be the national opera company of Sri Lanka, enjoying a working partnership with Opera India.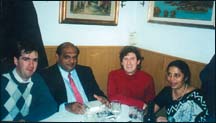 Rohan with two members of the famous Trio di Parma in Italy. The third member of the trio was busy taking this picture! Rohanís wife Shiranee is at extreme right.
It was decided that under the Society's corporate umbrella would be the Lanka philharmonic and Petite Philharmonique orchestras, all pit orchestra members to play on stage as the Lanka Philharmonic Orchestra augmented by local musicians. Joseph de Saram also had a plan to found a bona fide Music Academy to be run by the administration of the Philharmonic Society. The Society would also serve as the vehicle wherein international mega stars would perform in Sri Lanka.
Some of the benefits of the existence of such a Society and its components would generate positive publicity in the international media for the country, and in association with its Indian counterpart would garner major media coverage in such publications as TIME and NEWSWEEK magazines, the Wall Street Journal, Financial Times, BBC, CNN, CBS, AP, Reuters and others. It was also envisaged that such an entity would counter any negative press and be a boon to tourism for Sri Lanka.
Foreign players to be incorporated into the orchestras were expected to 'contribute mightily' toward improving the standard of local players, especially children.
Rohan Joseph de Saram conducted some memorable concerts at the Elphintone Theatre, the Lanka Oberoi - now the Colombo Plaza - and other venues including the BMICH.
Very recently he conducted a Dinner-Theatre series which proved to be immensely popular in Colombo.
What would have been a tremendous triumph for Joseph de Saram was the planned performance in London's famous Royal Festival Hall, conducting the Philharmonic orchestra of which Britain's Prince of Wales is the Patron, in the Bruckner Cycle.
It was to coincide with a Sri Lanka exhibition Week at the RFH which was to showcase what the country has to offer the rest of the world, from its celebrated precious stones and jewellery to tea, handicrafts and other products.
Bruckner was one of the pianist/conductor's favourite composers. Others included Wagner, Mahler, Verdi, Brahms, Beethoven, Tchaikovsky and as already mentioned, Franz Liszt, very masculine music indeed, but he adored the waltzes of Johnn Strauss and other 'lighter' composers. As far as compositions for piano were concerned, his adoration of Chopin was supremo.
Steadily deteriorating health in the past few weeks made his family decide to take him to Italy, a country he loved for its art and culture. Rohan Joseph de Saram was admitted to a Rome clinic.
However, his wife Shiranee complained of shortcomings in the service despite the exorbitant rates. They are all grateful to Sri Lanka's Ambassador in Italy, Rodney Perera who was often at Rohan's side, and to members of the staff of the Sri Lanka Embassy in Italy who extended all their support.
Rohan passed away peacefully on a Rome evening on October 14 with his beloved wife and daughter on either side. A Buddhist, his remains were flown home a few days later where they were cremated. The strains of the Bruckner Symphony he was to have conducted in London wafted through the cemetery that sad, rain swept evening, devastating everyone who felt the poignancy of the minutes as the Wagnerian Bruckner swelled in the twilight sky.