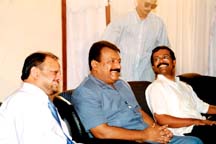 AT EASE.. LTTE supremo Vellupillai Prabhakaran in a relaxed mood shares a moment of levity with his US based legal adviser Vishvanathan Rudrakumar (L) and Chief Political Negotiator S.P. Thamilselvan (R), during their recent meeting with the Norwegian facilitators. Rudrakumar, a frequent visitor to the Vanni these days has been playing a major role in both the negotiatory process and in drafting the LTTE proposals for an Interim Self Governing Authority.
PM, full UNF team for second meet with President : SLMM intensifies monitoring of frontlines
by Ananth Palakidnar
Sri Lanka Monitoring Mission is intensifying its patrolling and other monitoring activities along the North-East frontlines, the Sunday Observer learns.


Full story
Tamil Tigers changing for better since truce - President
COLOMBO, Nov 15 (AFP) - Sri Lanka's Tamil Tiger rebels have "changed quite a bit" for the better since a Norwegian-arranged truce went into effect last year, their arch critic President Chandrika Kumaratunga said in remarks published Saturday.


Full story
Prelates back National Government
by Deepal Warnakulasuriya
Two leading members of the Buddhist Clergy, Amarapura Sri Dhammarakkhitha Chapter Mahanayake Most Ven. Weligama Gnanarathana Nayaka Thera and Ven. Prof. Bellanwila Wimalarathana Nayaka Thera, of the University of Sri Jayawardanapura, have welcomed President Chandrika Kumaratunga's call for a government of National Reconstruction and Reconciliation, and urged all political parties to forget their differences and work together for the good of the country.


Full story
---
Other Stories